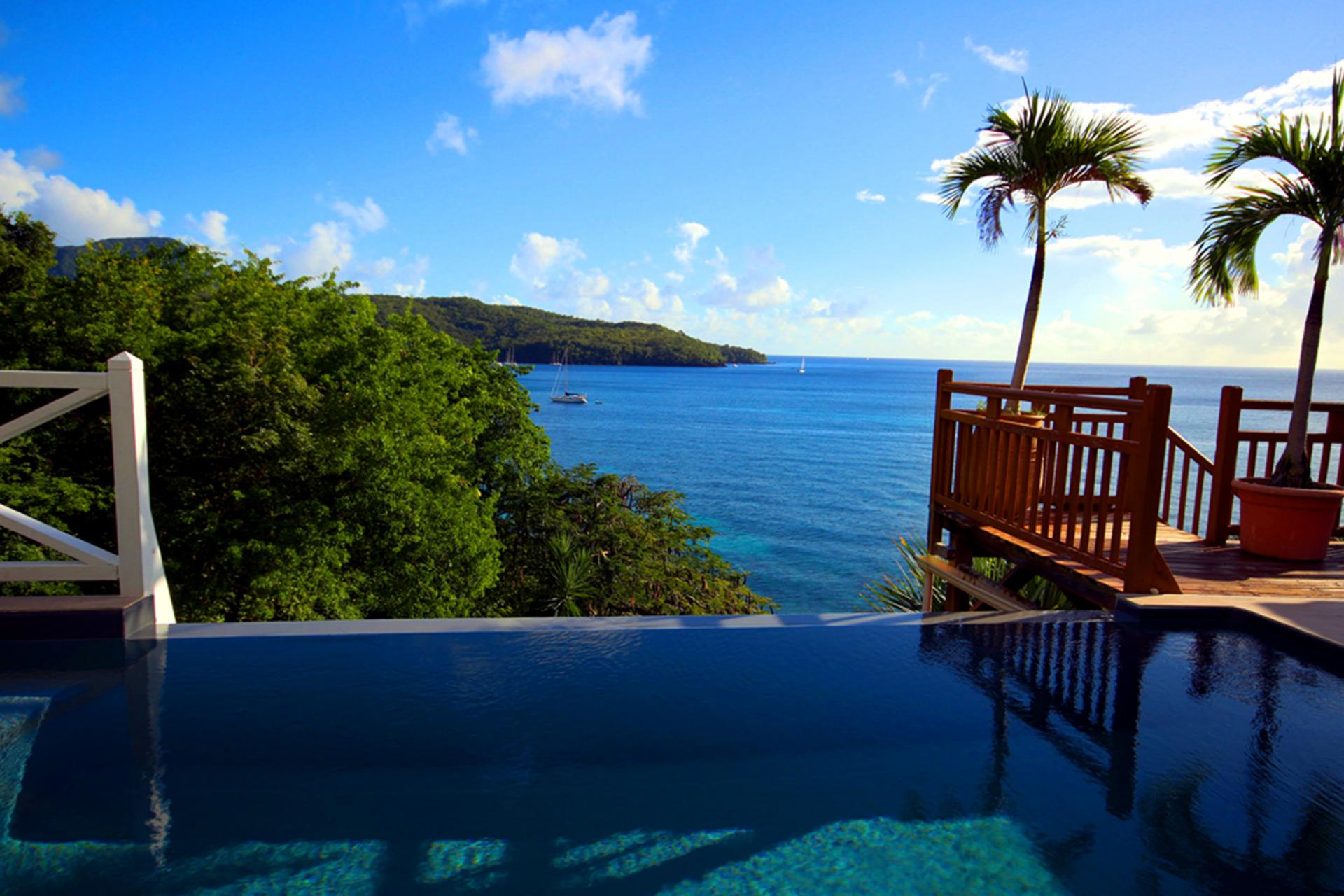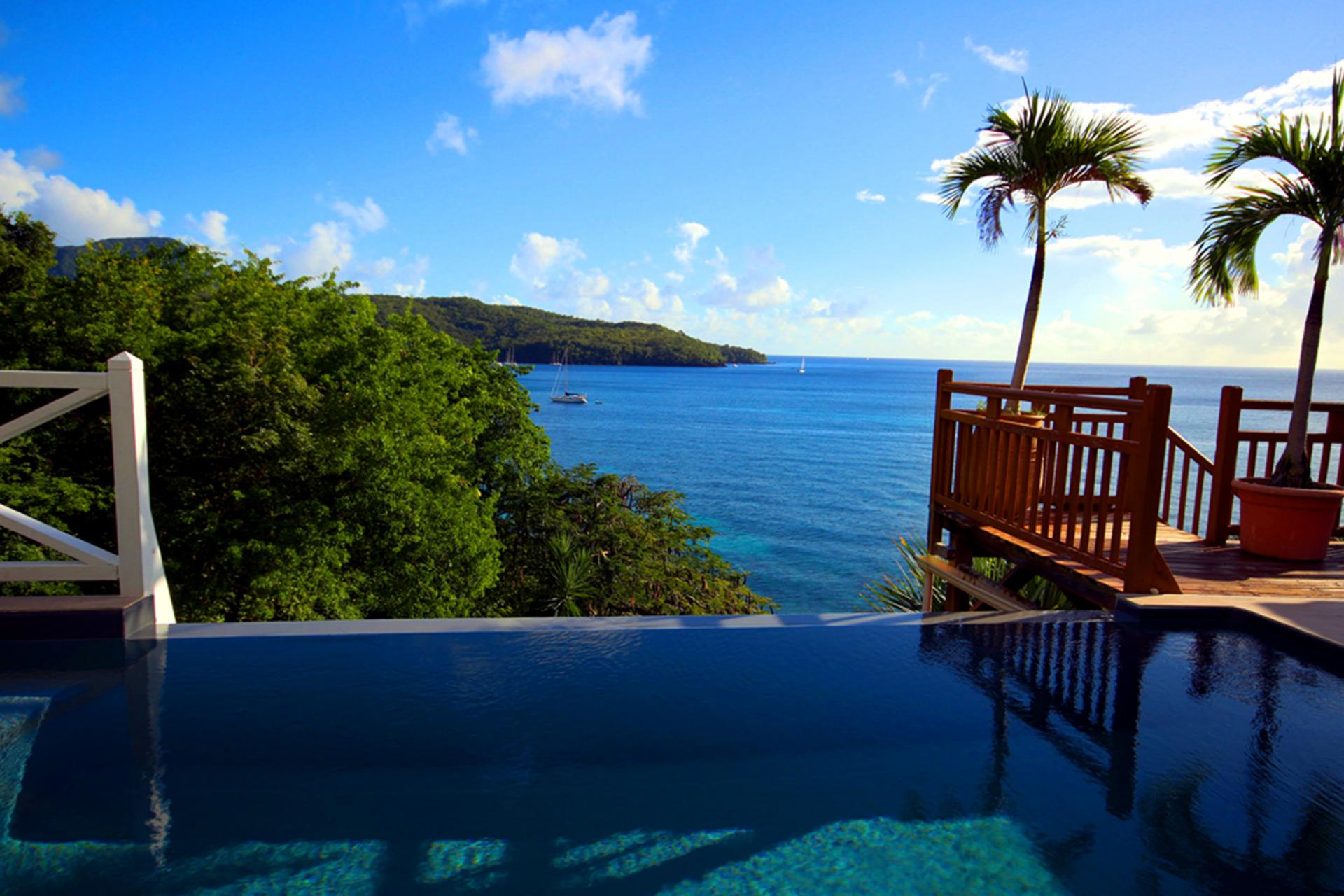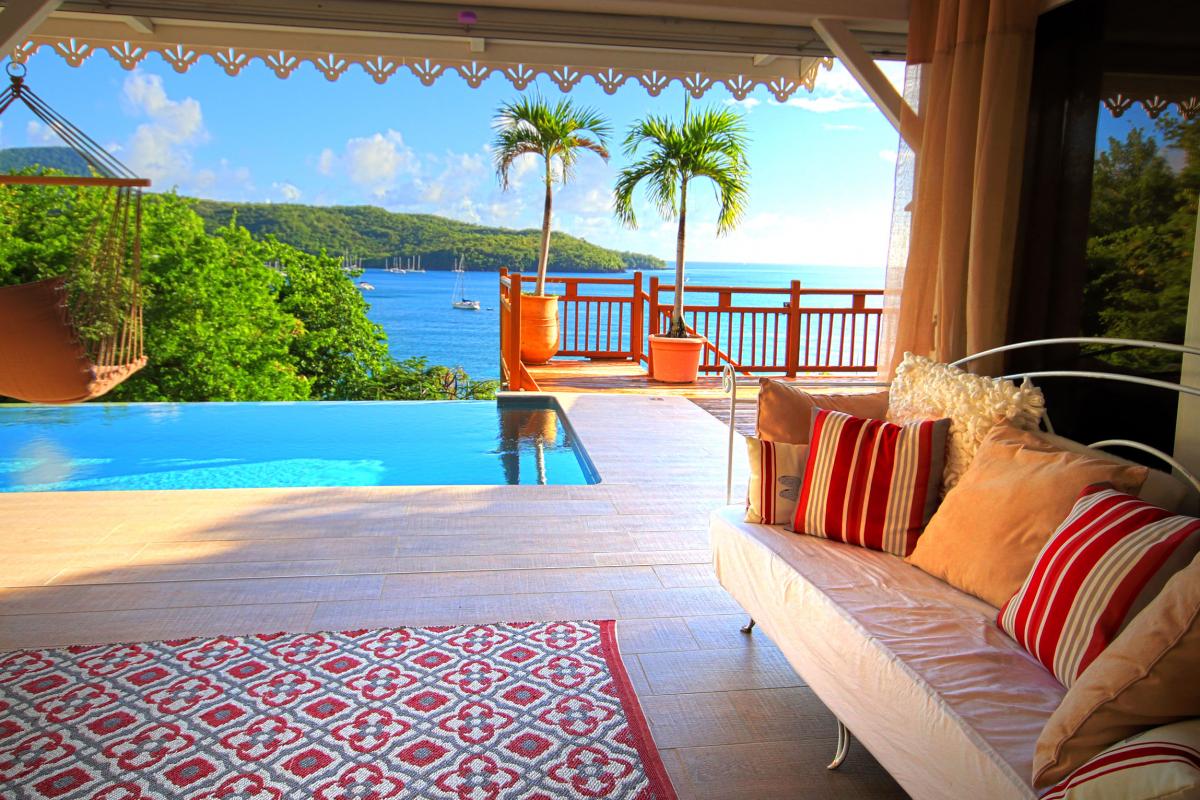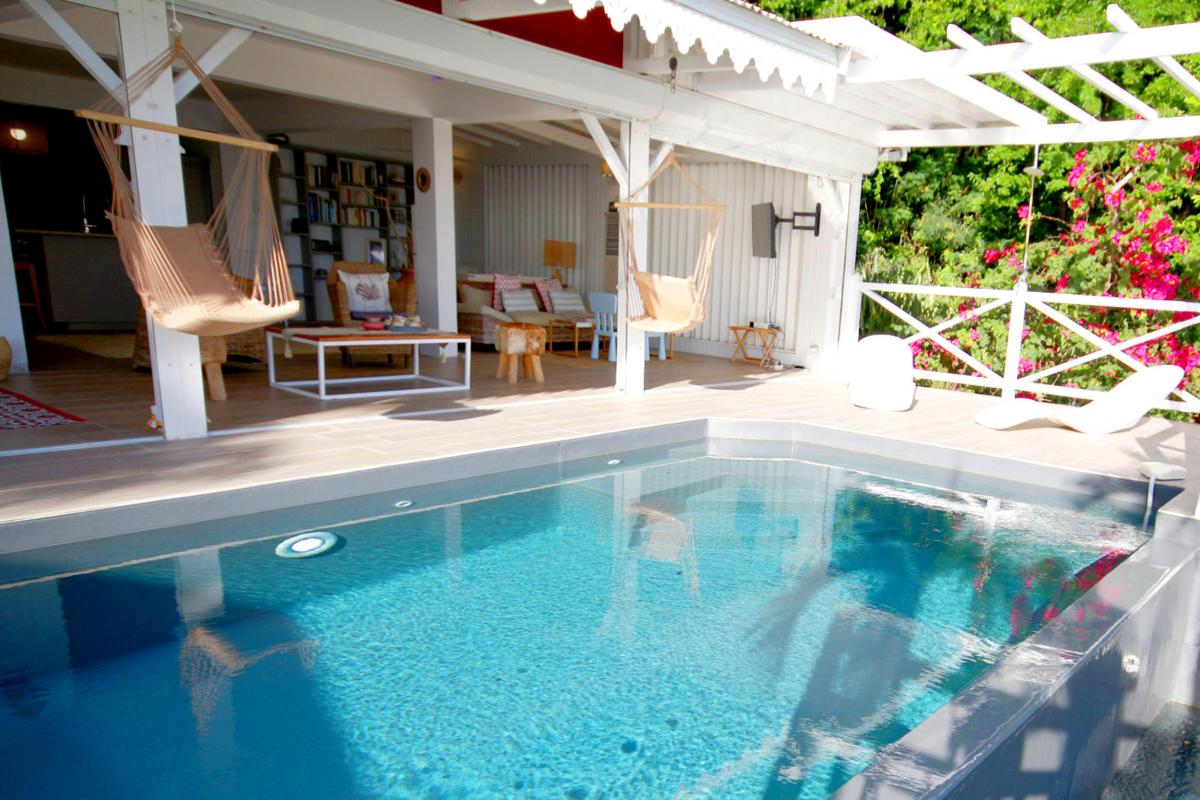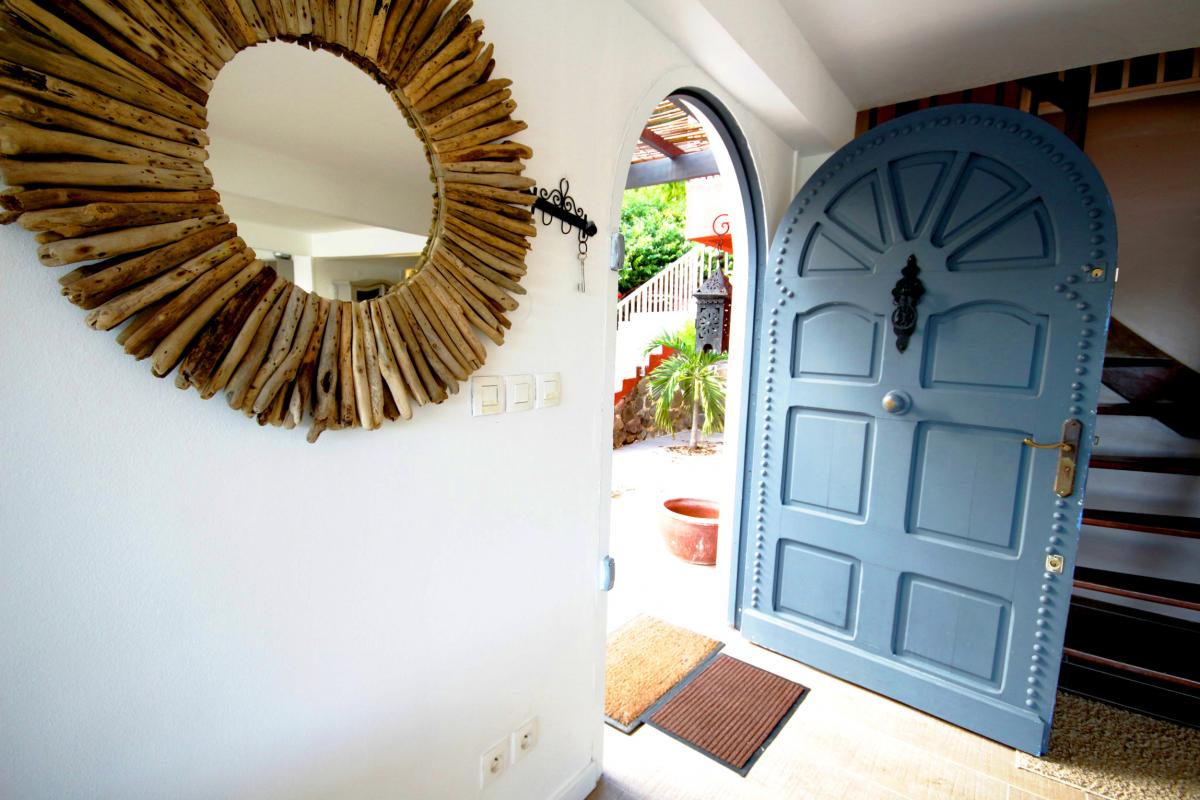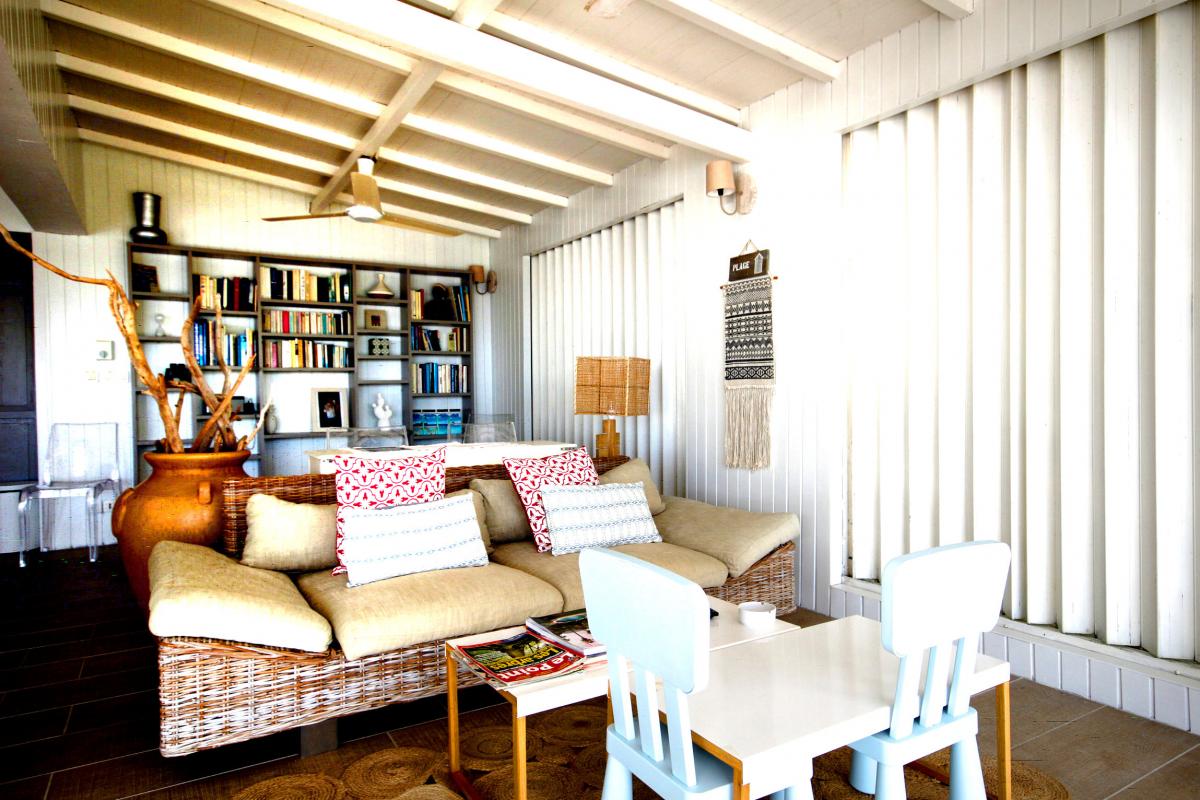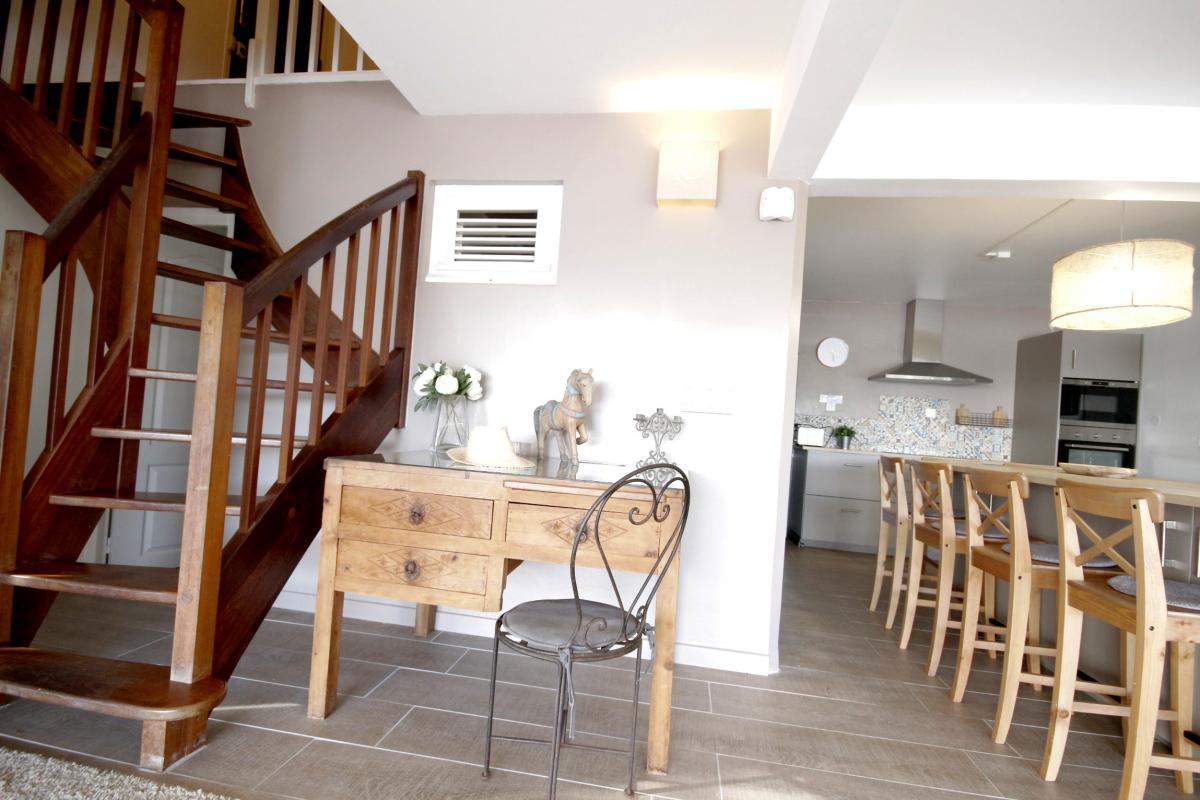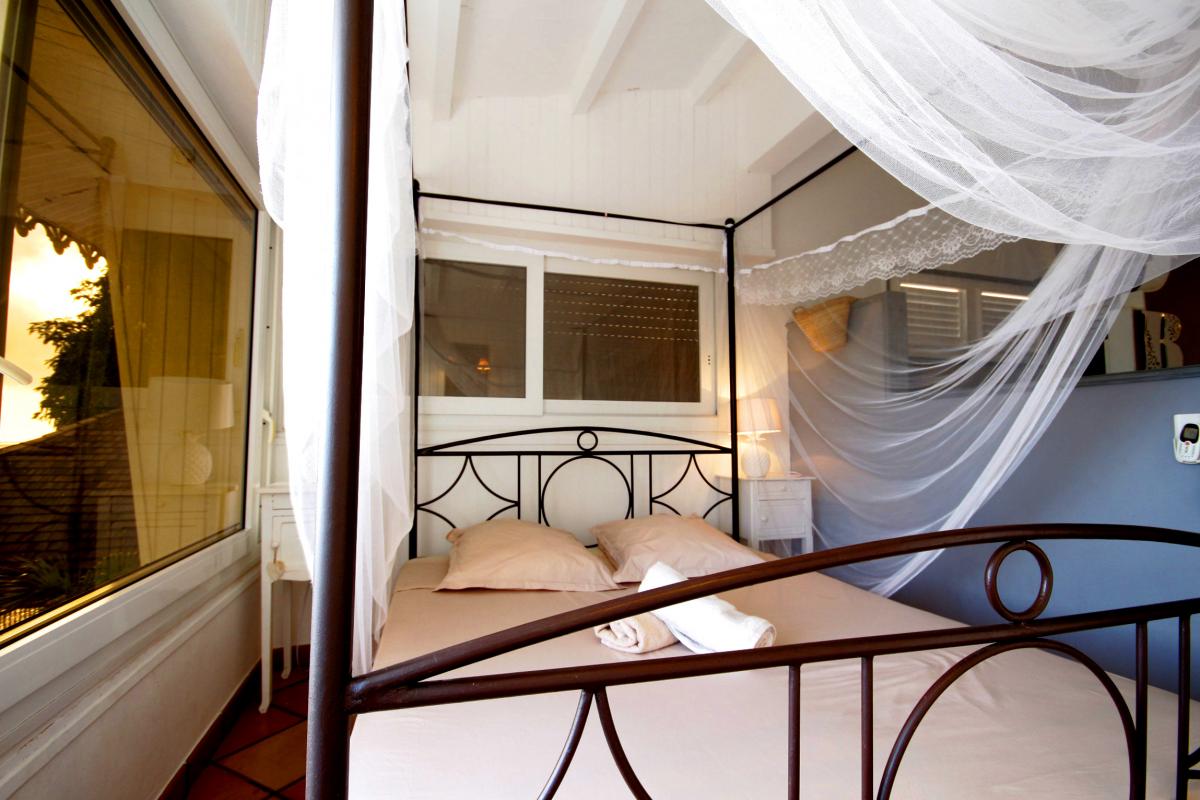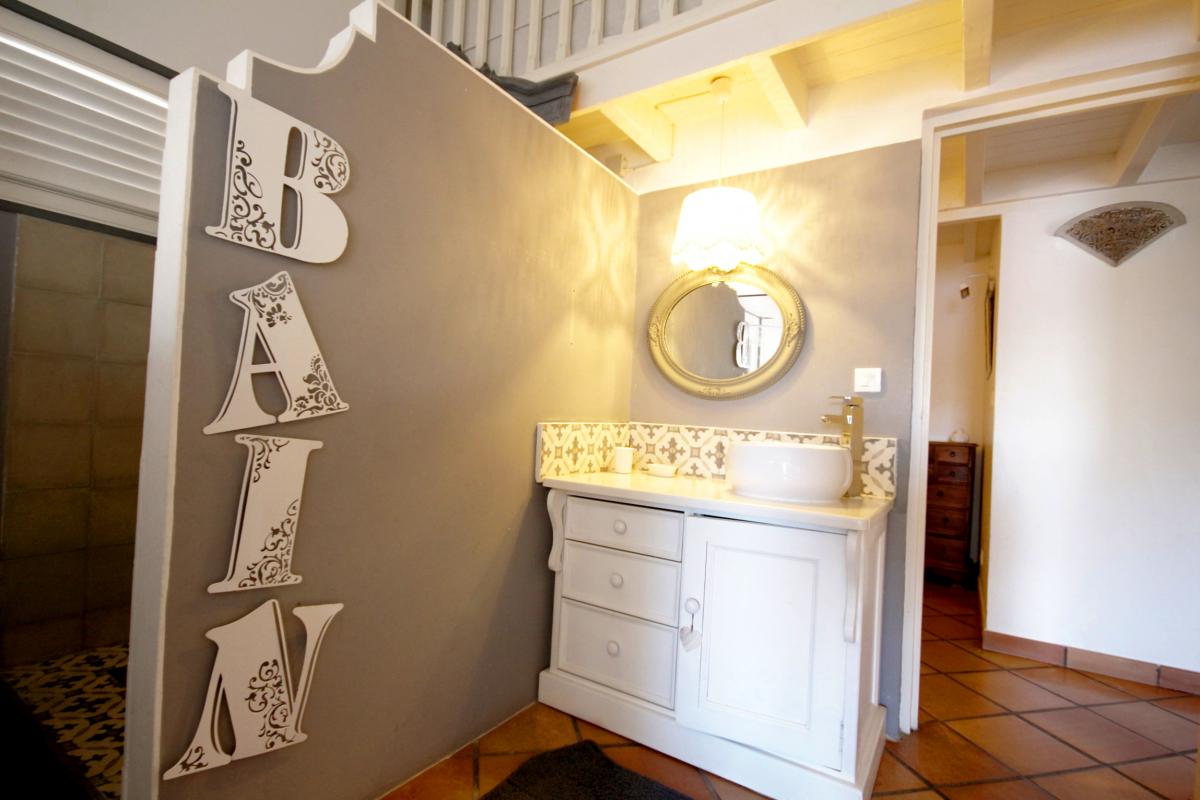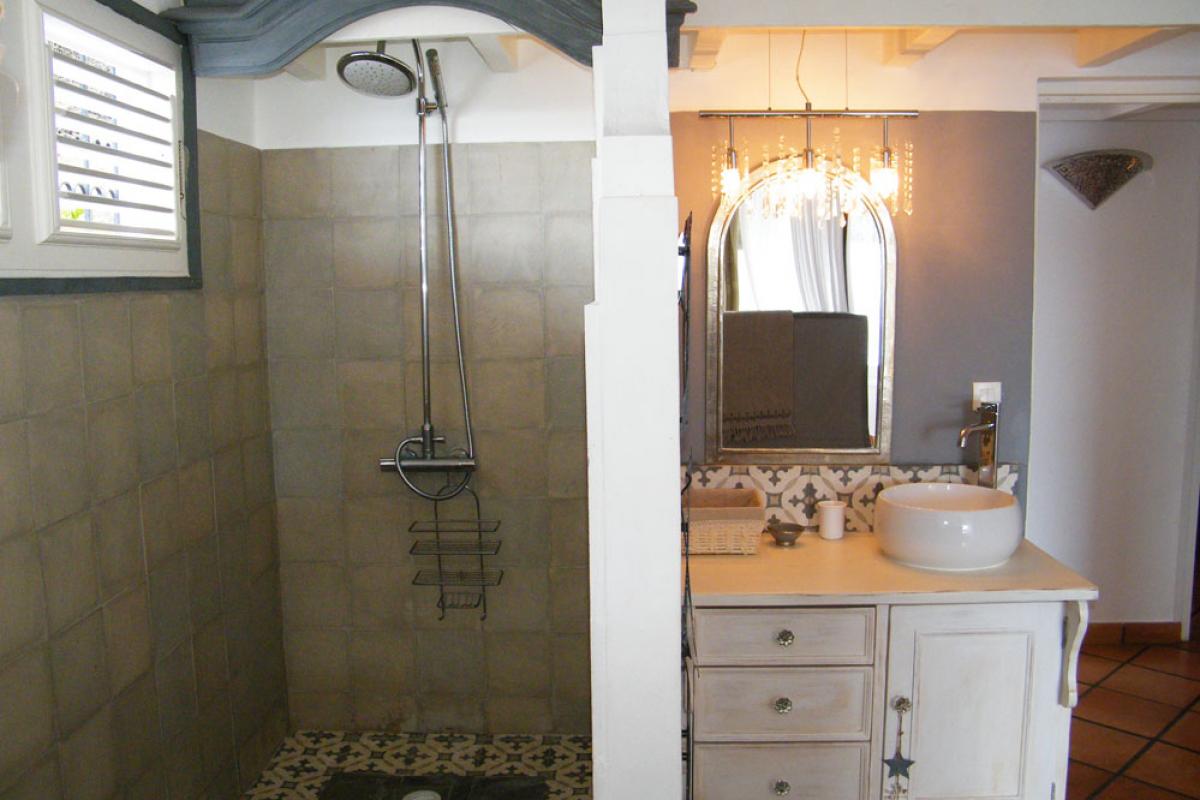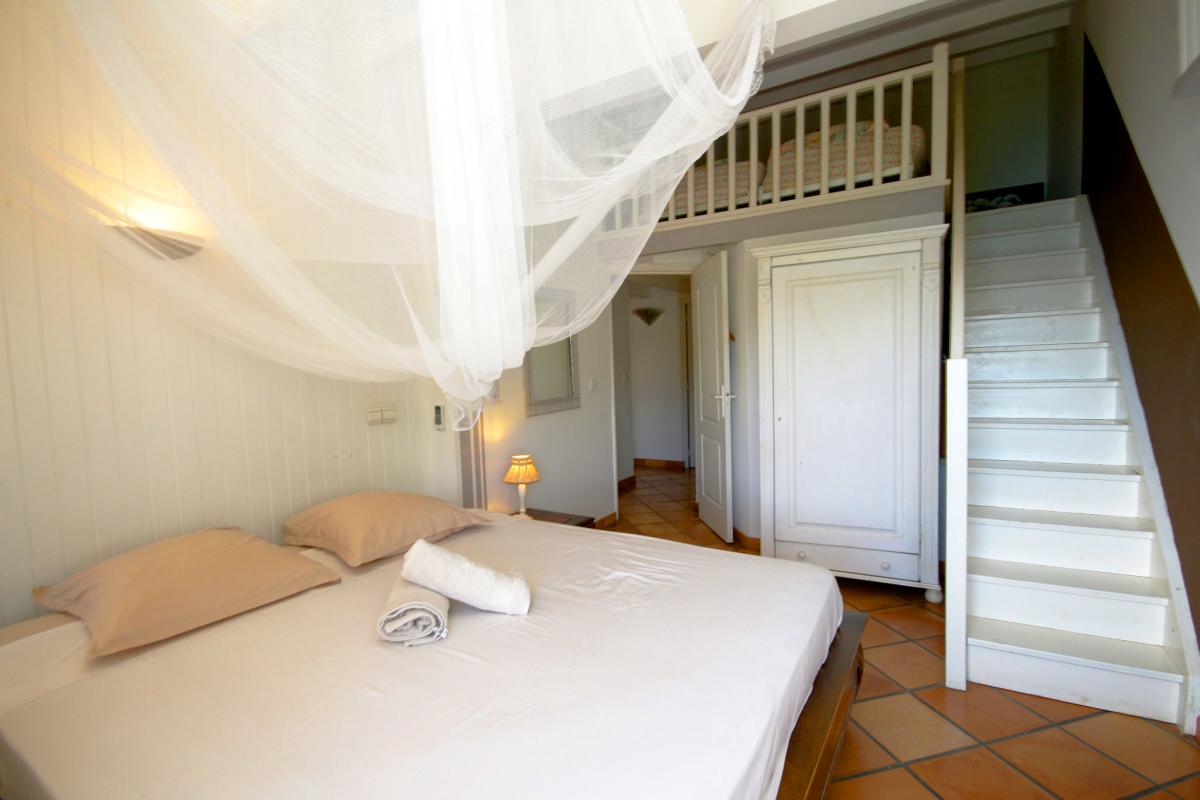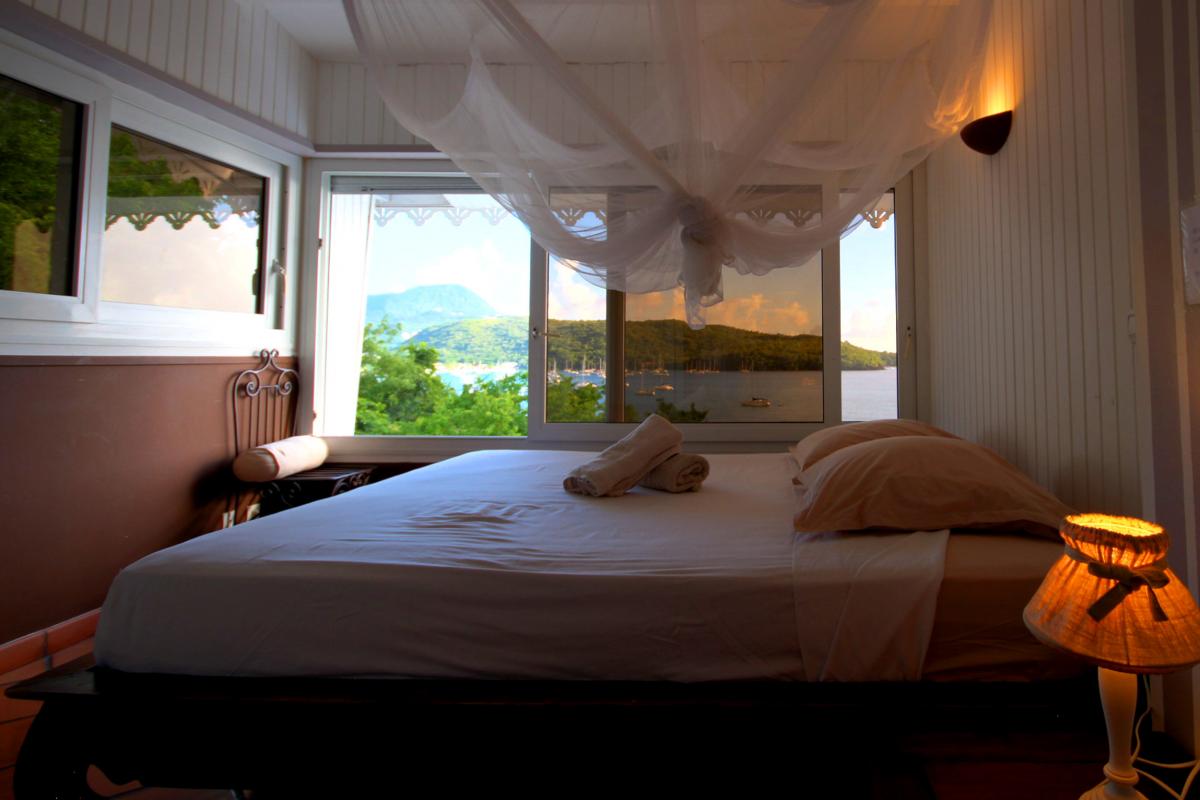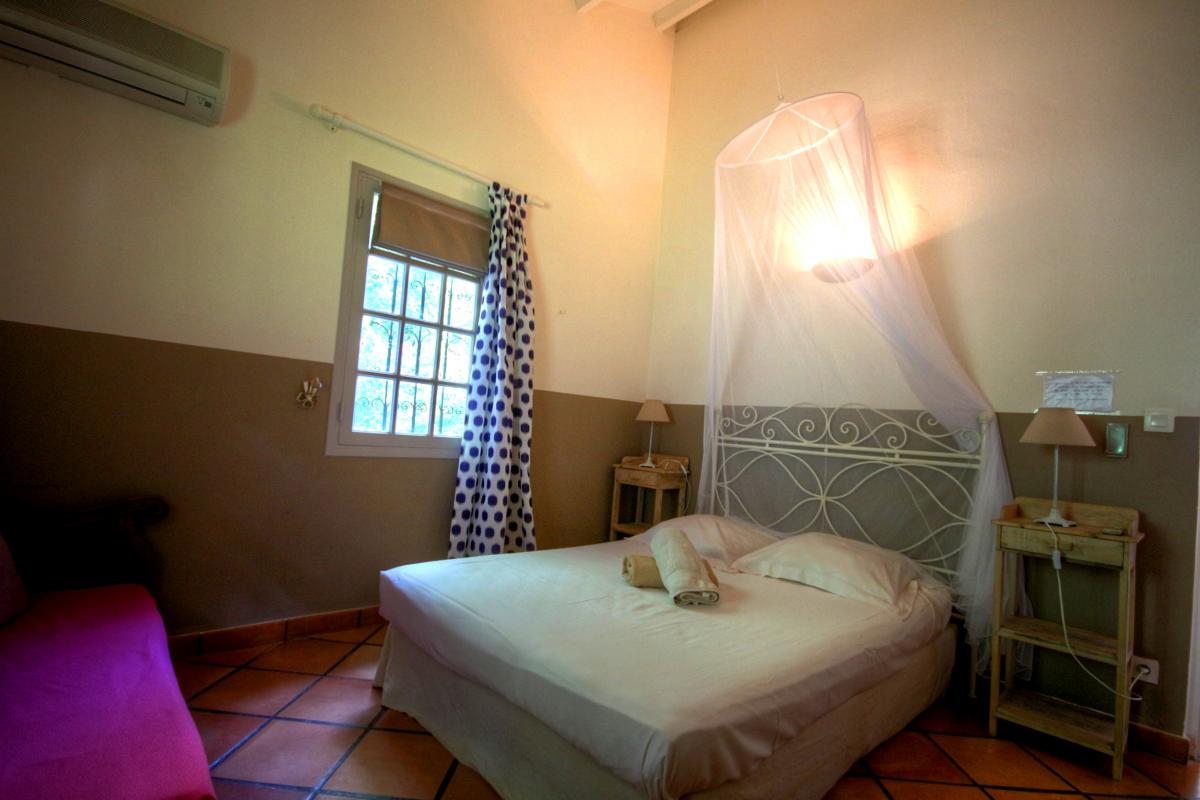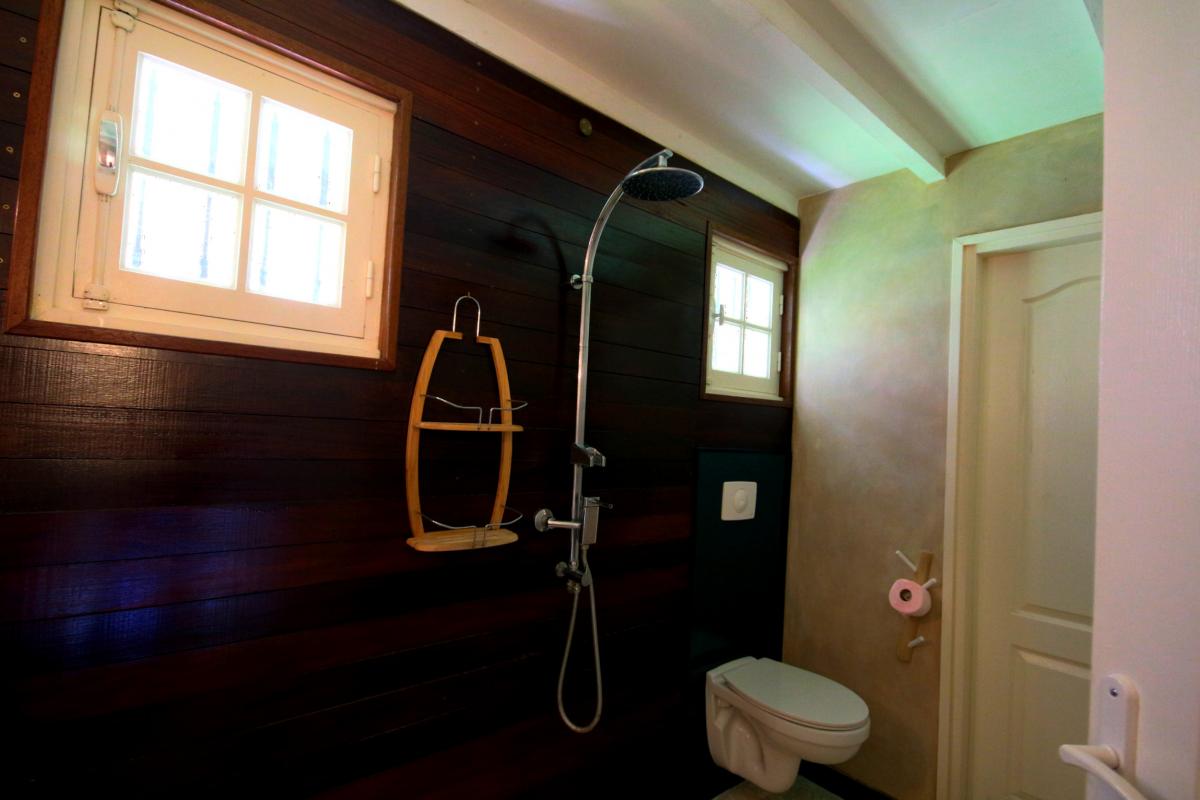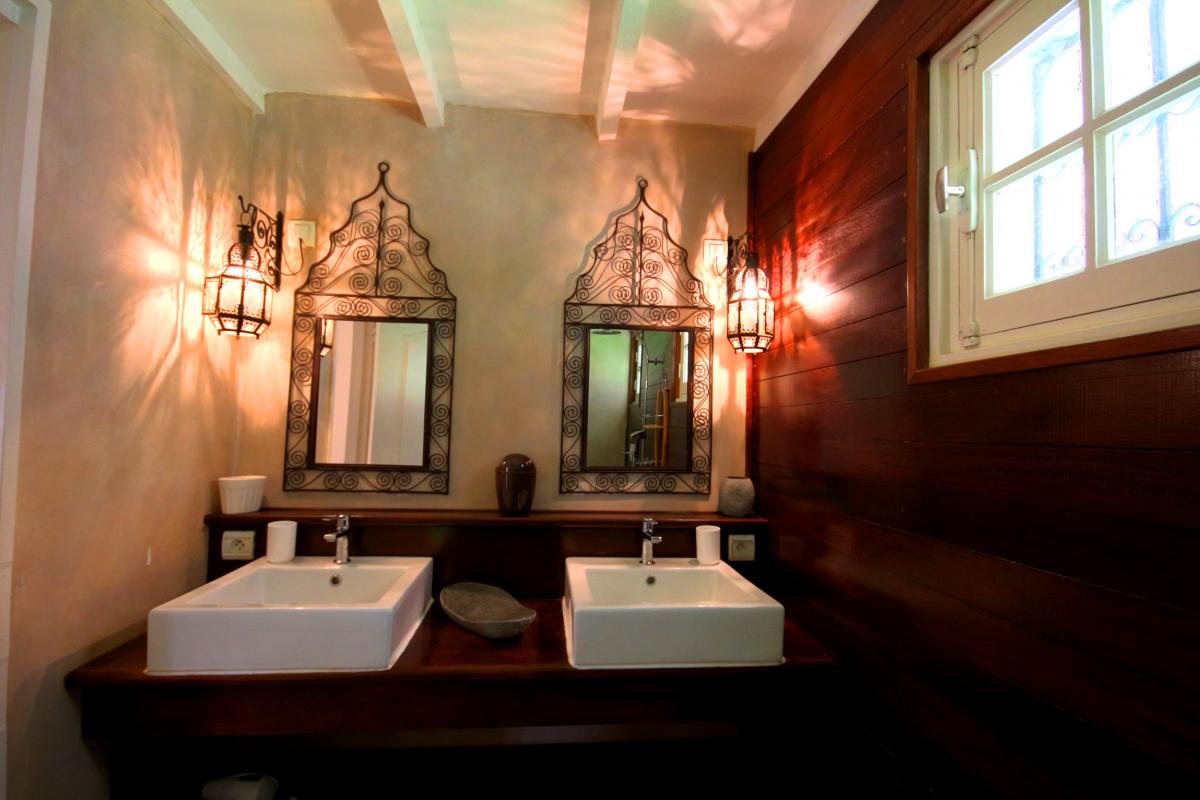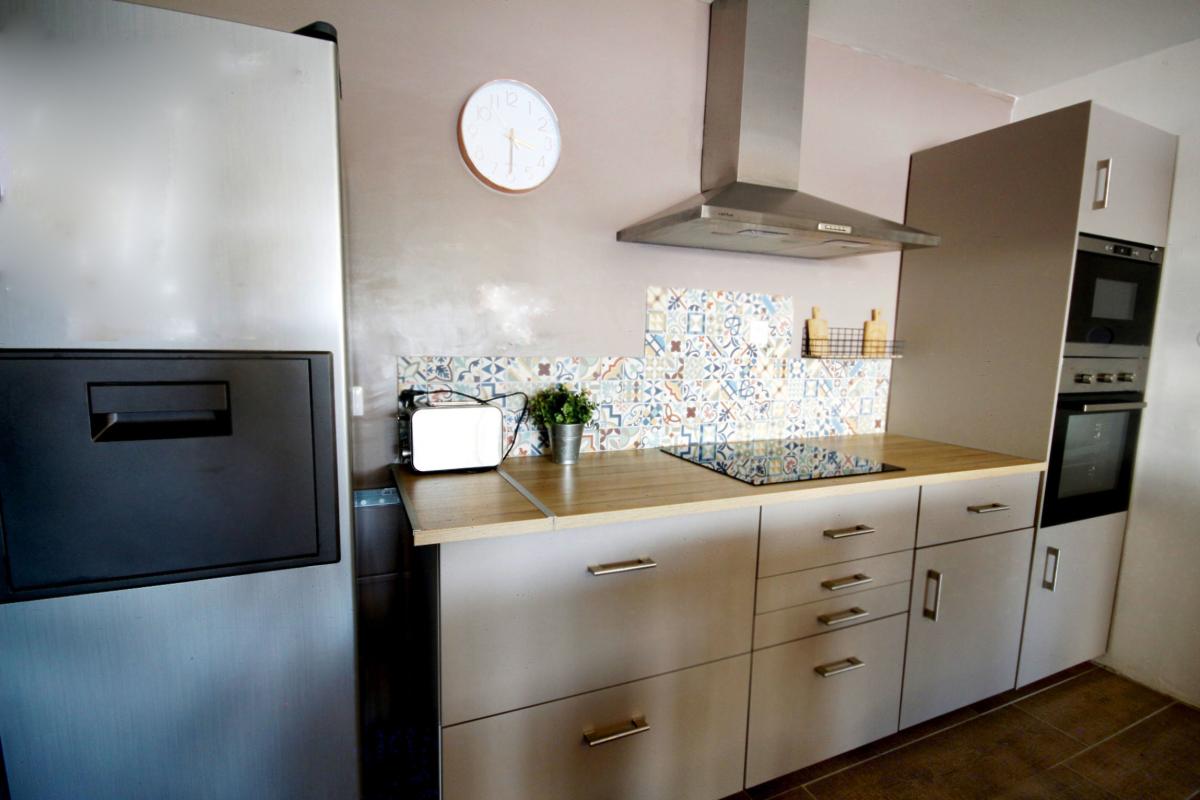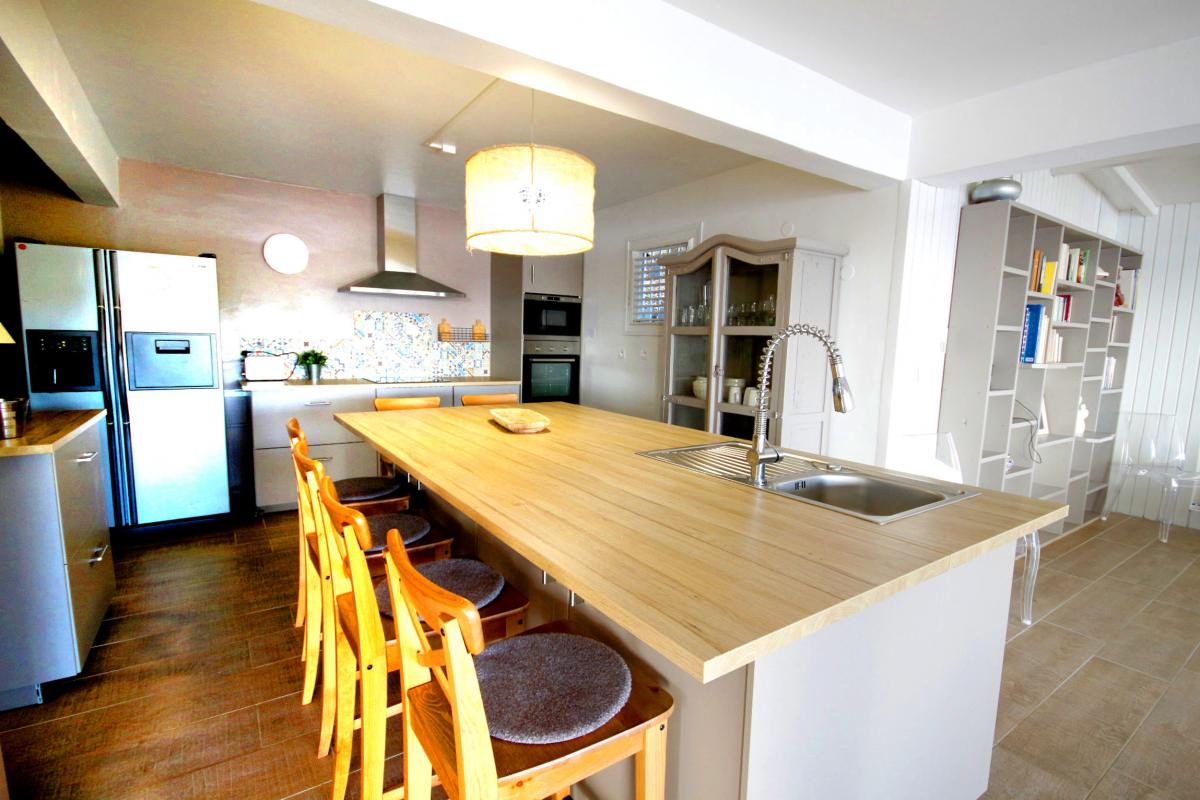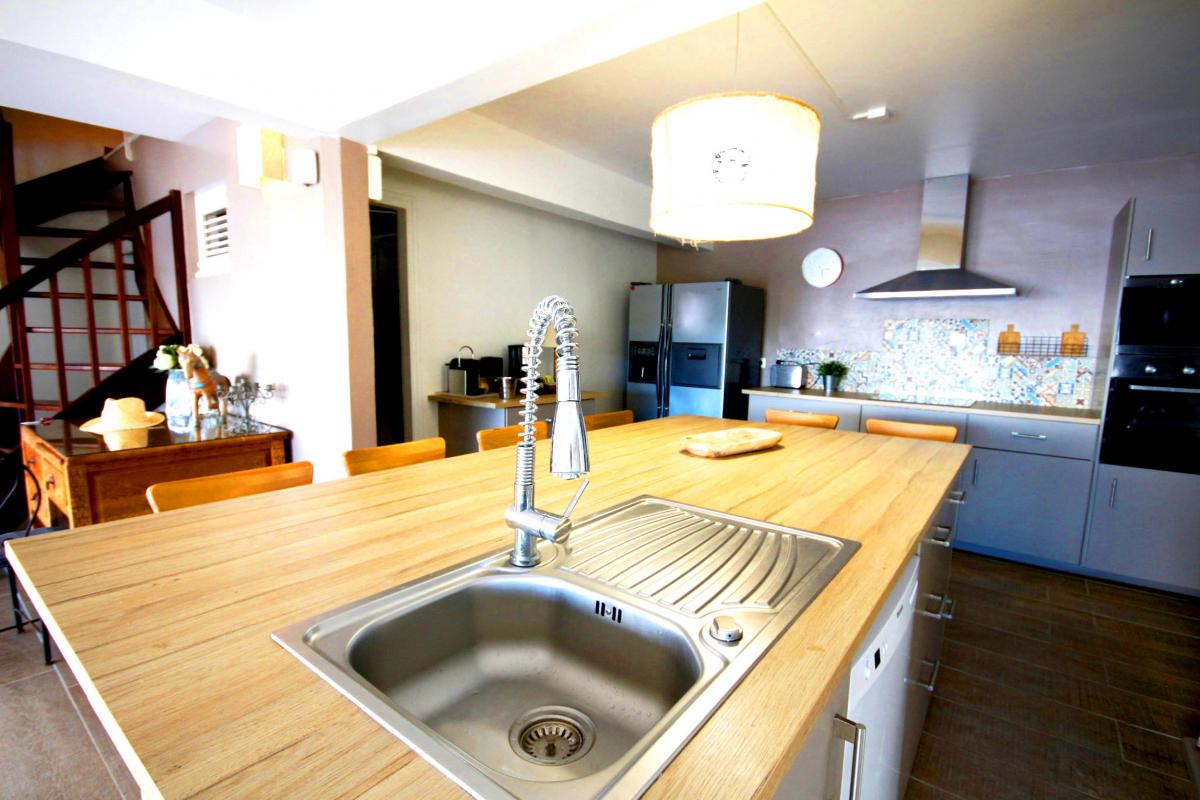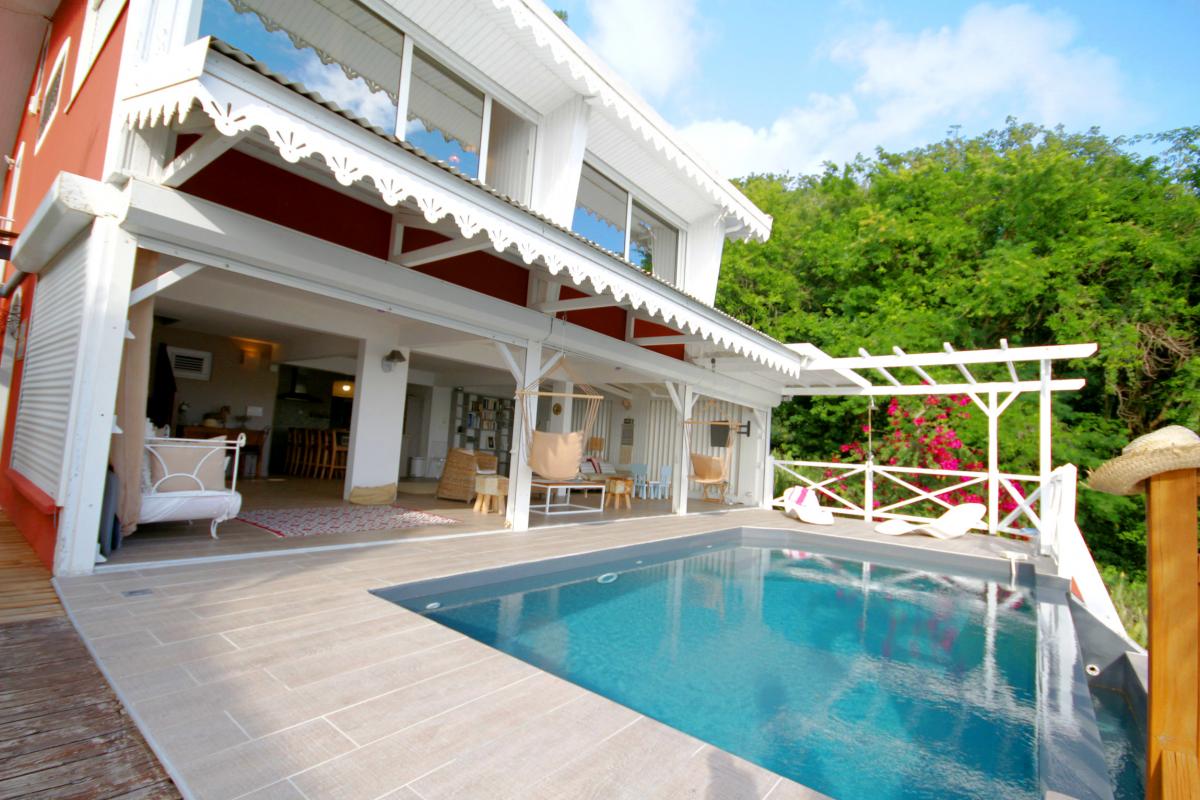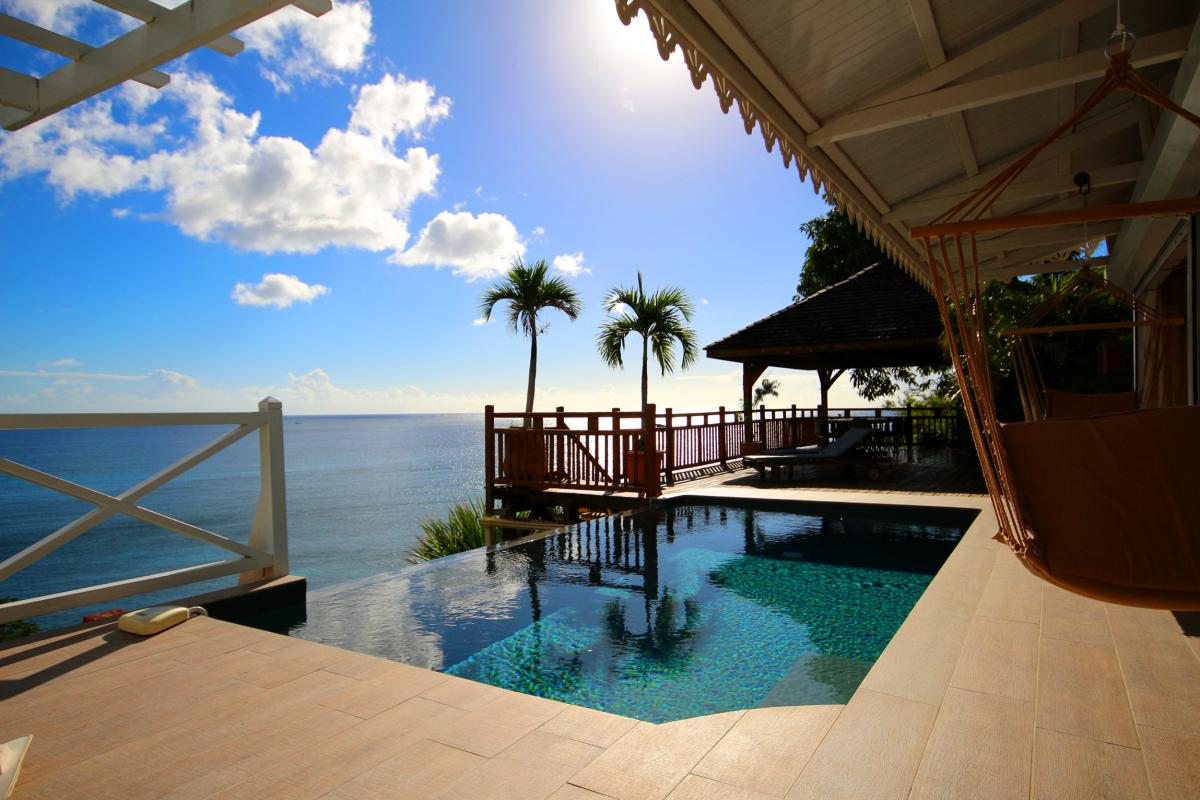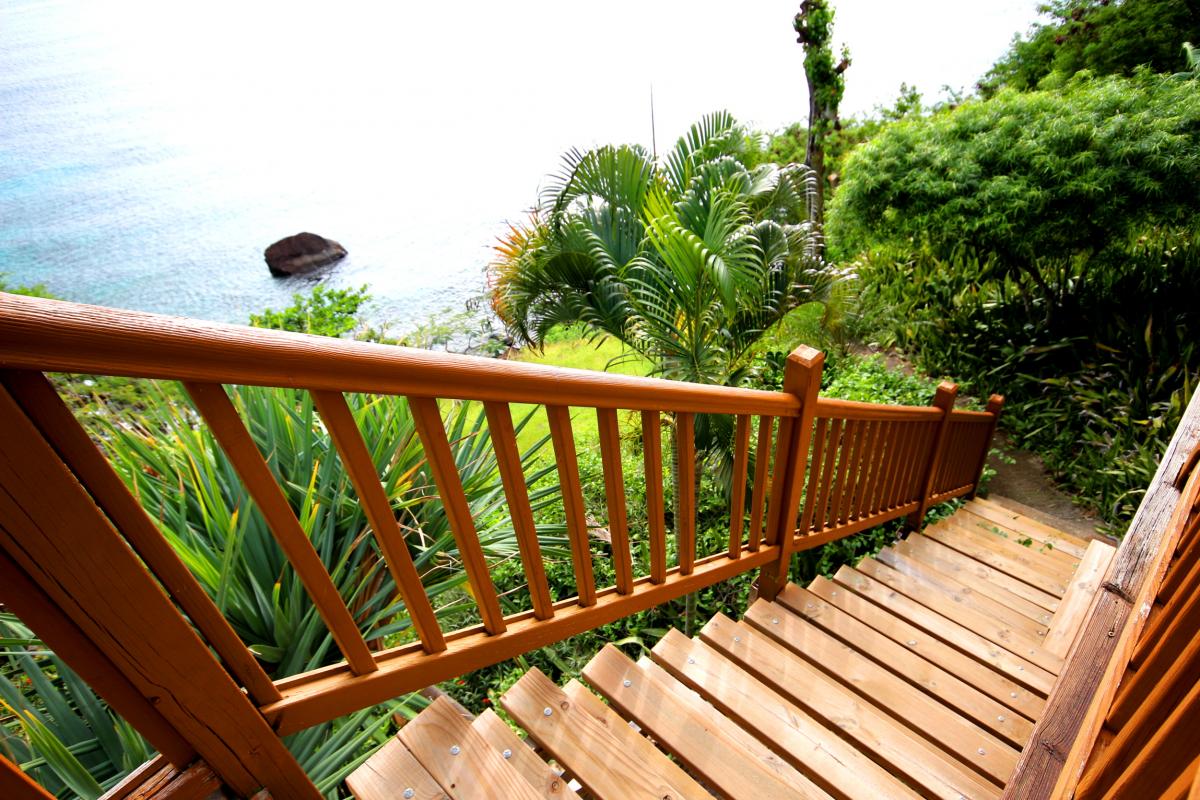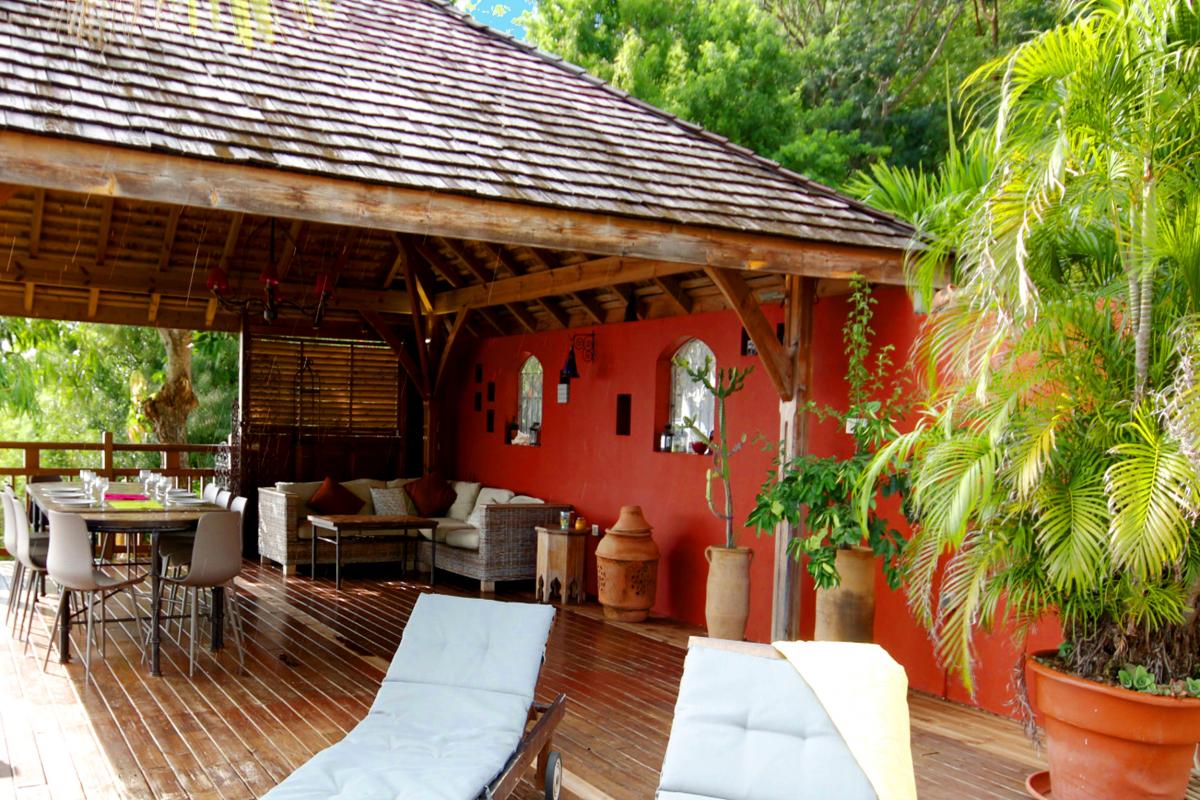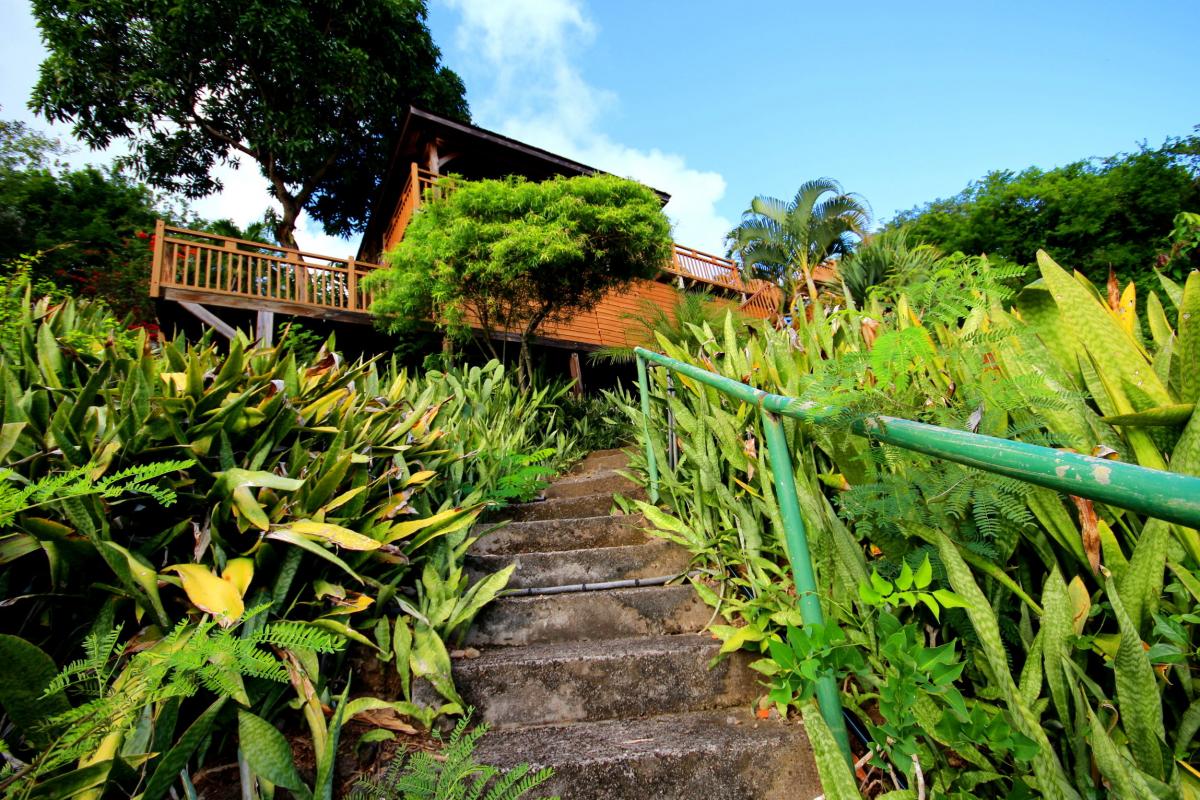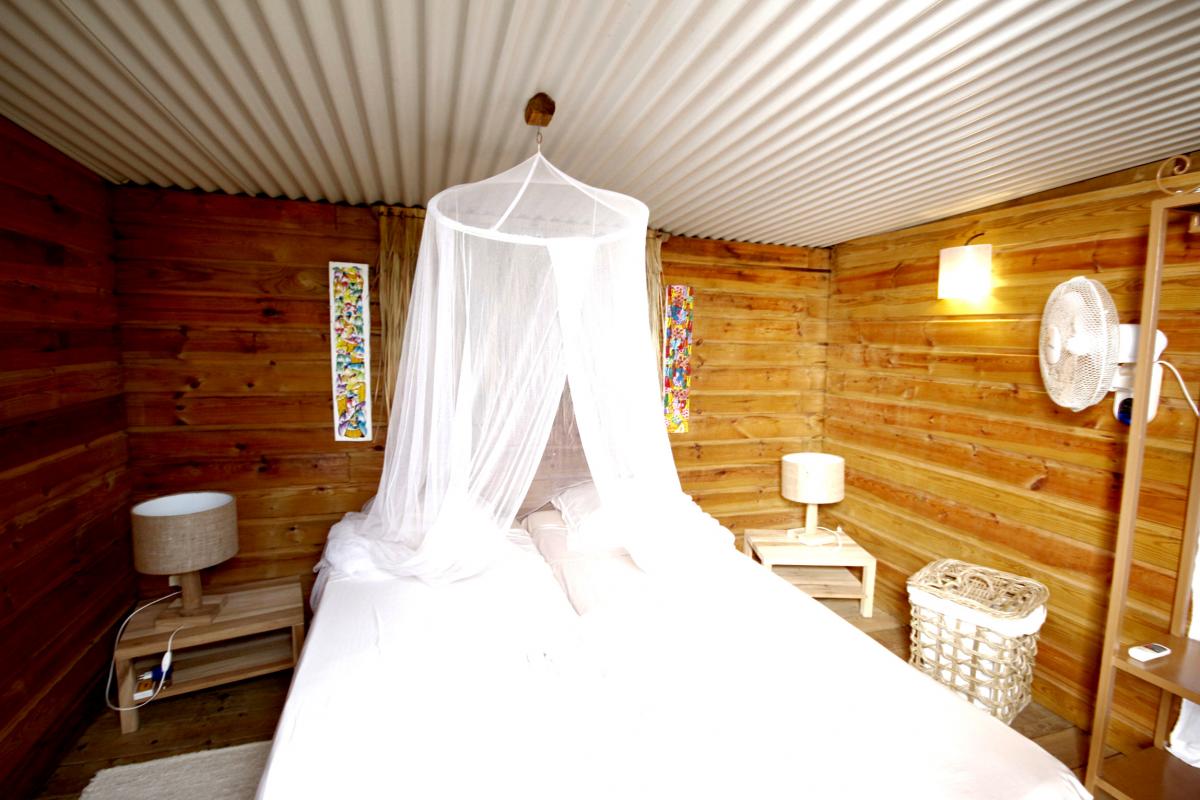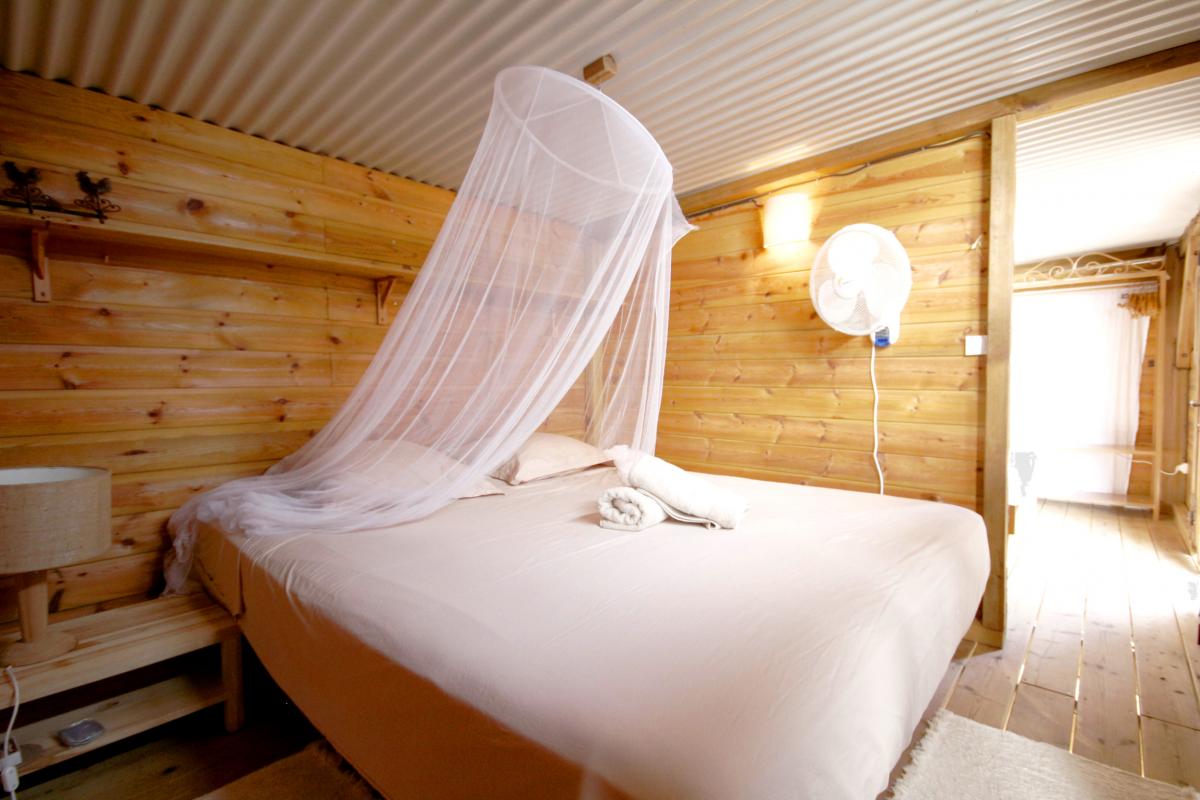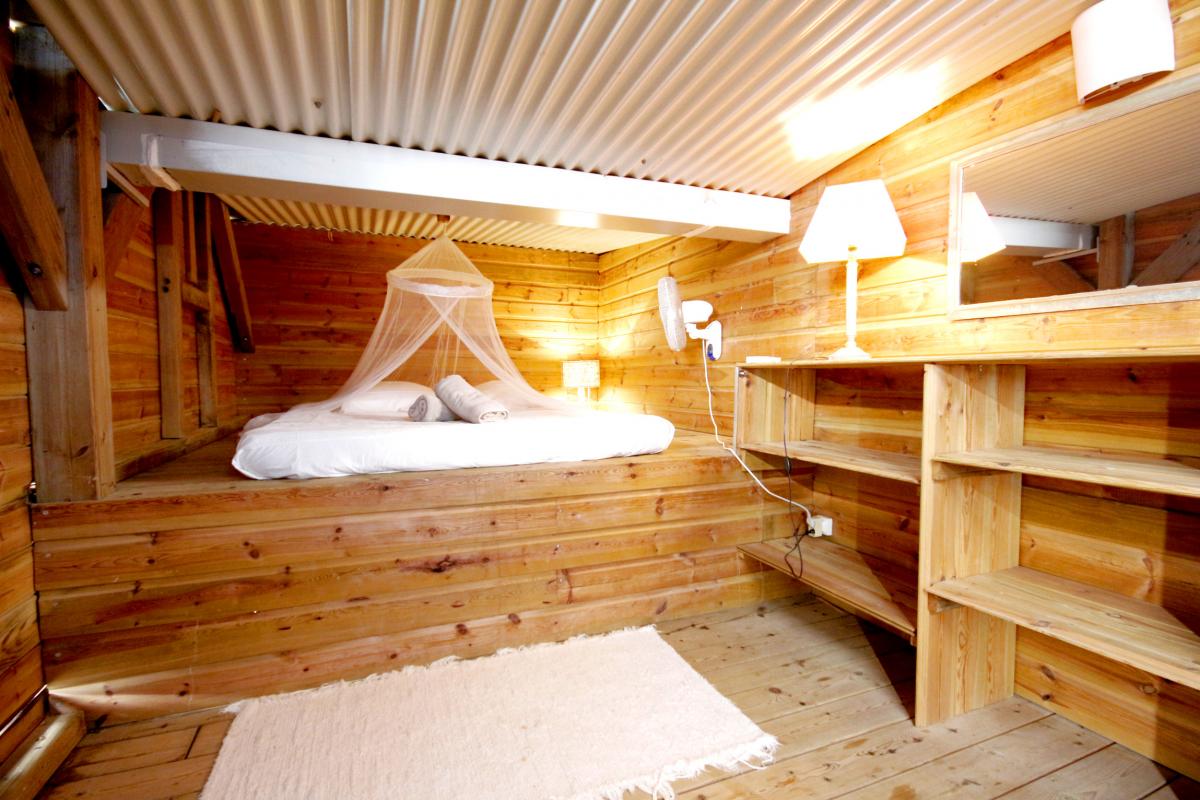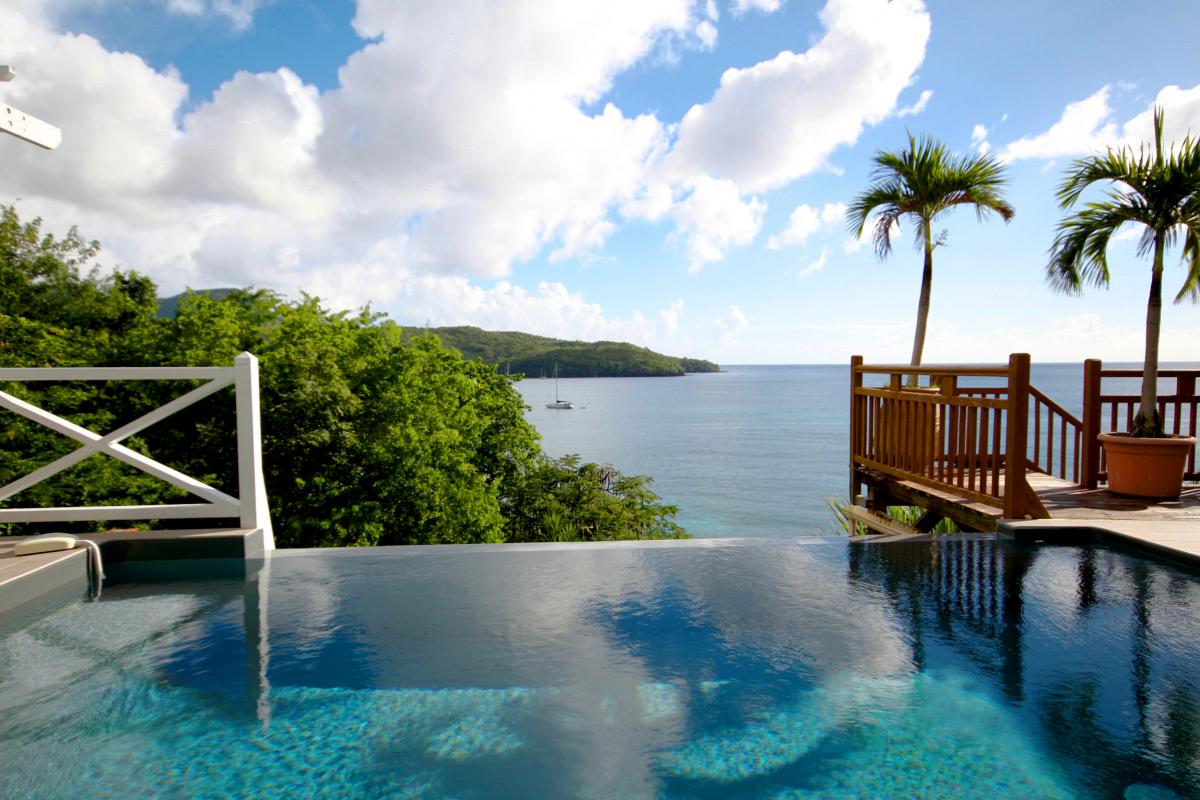 Luxury villa swimming pool and seaview
---
---
Price :
$569

-

$846

/ night
---
Swimming pool

Safe

Internet

Wifi

Television

Hi-fi

Washing machine

Linens
Location of the villa
Far from the tourist bustle, this villa, surrounded by nature, overlooks the bay of Grande Anse. A staircase allows you to walk directly to the sea and its magnificent rocky bottoms. The Grande Anse market town and its large white sandy beach are at about 250m. In the village you will find many small restaurants and some shops.
Property
This large three-level villa offers:
On the main level:
A big living room pleasantly furnished and totally opened onto the terrace and the swimming pool
A spacious and very well equipped open kitchen
A vast wooden terrace facing the infinity swimming pool that one would believe is on top of the sea!
A large shelter on the terrace, furnished with refined Moroccan furnitures with a sitting area and a dining area with a wonderful view.
On the top floor:
3 Air-conditioned bedrooms each with a double bed, and one of them with its own shower room
1 Shower room
On the lower floor: 
3 small bedrooms in a row made of tropical wood. Simpler but nevertheless comfortable, they are ventilated by the breeze coming from the sea
On the small terrace adjoining the last room, is an outdoor shower arranged under a mango tree and sheltered from glances.
You will certainly appreciate the calm, the proximity of the sea and the magnificent view of this villa.
Private concierge
When you choose a luxury villa, you get much more than a simple accommodation: Antilles Exception offers its concierge service reserved for Antilles Exception customers. These high quality and personalized services are numerous:
Many great amenities for you to select, such as…: In-house breakfast or breakfast+dinner, home chef or grocery delivery, daily cleaning, baby-sitting, home massage, manicure...
Unique excursions: Catamaran or motorboat outings (possibly privatized), deep-sea fishing, dolphin outings, dune buggies, horseback riding, exotic ballets at the villa, rum discovery...
And tailor made services: You imagine, we make it happen!
More infos about the villa
Services and Amenities
Groceries for the first breakfast included
Linen provided (sheets, towels, kitchen cloths)
Barbecue
Washing machine
Foldable baby crib available upon request at time of booking
Flat screen TV with satellite channels
Internet and Wifi
To do close to the villa
The possibilities of activities are quite numerous within the vicinity:
Hiking on "Les Mornes"(hills)
Snorkelling, especially at Anse Noire beach, Anse Dufour beach or at Grande Anse beach, don't miss the opportunity to observe sea turtles
Scuba diving
Sports activities and visits are accessible in few minutes at the Diamant or Les Trois Ilets.
Details
Neighbourhood name : Grande anse d'Arlet
Distance to supermarket or shop : 300m
Distance to airport : 25km
Nearest beach : Grande anse d'Arlet Beach at about 300m
Air conditioning in some bedrooms
Private pool
Small pets accepted
Surface : 180m2
Nb extra bed (s) (possible addition) : 2
Nb toilets : 2

Living room
Surface : 60m2
Nb sofa 2 seaters : 1
Nb sofa 3 seaters : 1
Fan

Bedroom 1
Floor : 1st floor
Nb double bed(s) : 1
Air conditioning
Exclusive shower room

Bedroom 2
Floor : 1st floor
Nb double bed(s) : 1
Air conditioning

Bedroom 3
Floor : 1st floor
Nb double bed(s) : 1
Air conditioning

Bedroom 4
Nb double bed(s) : 1
Fan

Bedroom 5
Nb single bed : 2
Fan
Mosquito net

Bedroom 6
Nb double bed(s) : 1
Fan
Mosquito net

Kitchen
American fridge (separate freezer and ice dispenser)
Dishwasher
Coffee pot
Nespresso
Toaster
Terrace
Surface : 100m2
Coverage : Partially covered
Table capacity : 10 to 12
lounge_capacity : 6 to 8

Swimming pool
Surface : 20m2
Largest length : 6m
Larger width : 3.2m
Maximum depth : 1.7m

Infinity pool
Salt water
Out of sight
Garden
Surface : 400m2

Services
Linens provided : sheets, towel, kitchen towels
Baby cot loan (on request upon booking)
Provision of the 1st breakfast

Parking
Mask
---
Très belle maison, conforme à la description et aux photos. Vue imprenable, environnement calme et reposant. Très bonne prise en charge de nos demandes. Check-in et check-out à l'heure fixée. Très bon accueil à la villa. Nous recommandons chaleureusement Antilles Exception, qui nous a tenu informé régulièrement avant le départ de la situation sanitaire et sociale en Martinique.
---
Très belles vacances malgré les circonstances dans cette superbe villa avec une vue unique .
---
Un séjour super dans une maison accueillante et confortable située dans un secteur superbe et qui offre une vue extraordinaire sur la grande anse.
See more reviews
---
Le site est exceptionnel : une vue magnifique sur la mer. Si on est observateur on peut même apercevoir des tortues depuis la terrasse de la maison. Merci Muriel pour cette belle maison accueillante et confortable !
---
UN SEJOUR TRES AGREABLE, DEPUIS L'ACCUEIL PAR L'EQUIPE D'ANTILLES EXCEPTION, EN PASSANT PAR LA QUALITE DES PRESTATIONS OFFERTES PAR LA MAISON JUSQU'A SON EMPLACEMENT QUI EST SANS DOUTE L'UN DES PLUS MAGNIFIQUE DE MARTINIQUE. NOUS AVONS BIEN L'INTENTION DE REVENIR. UN SEUL BEMOL POUR LES CHAMBRES DE L'ANNEXE SOUS LE CARBET, UN POINT D'EAU ET DES TOILETTES
---
Great place with a great view and the social areas were extremly nice !! Three bedrooms was good standard, but 3 is very sparten. The location of the house, is really great, a little bit "off" (and upphill) but still close to the small center and the beach and you have the sun on the altana the whole day ! Grand Anse as such is a really cosy place to be at Martinique
---
Très belle villa, situation exceptionnelle avec vue sur la baie de Grande anse. Accès directe Mer pour nager dans une eau claire au milieu des poissons et tortues. Et cette piscine à débordement..... que du bonheur sans parler de tout le reste.
---
La villa est située dans un endroit paradisiaque avec une vue et un environnement exceptionnels. La villa en tant que telle est très bien conçue avec différents lieux de vie et bcp d'espaces, ce qui est agréable lorsque l'on est nombreux. La décoration et le mobilier sont de bon goût. Néanmoins pendant notre séjour nous avons regretté qu'il n'y ait pas une sdb complémentaire et un WC facilement accessible pour les chambres du bas. Globalement, le séjour a été très agérable
---
Très belle villa - confortable, bien équipé et un emplacement de rêve ! Le seul bémol est l'accès à la baignade. Il faudrait noter que les chaussures spécials sont obligatoires et qu'il n'y a pas de plage de sable en bas de la villa.
---
Nous avons passé une très belle semaine à Grande Anse. La maison est superbe, une vue magnifique et un cadre dépaysant à souhaits. Accueilli par un cocktail de bienvenue et des accras maison, la personne sur place était tout à fait charmante. Seuls petits bémols, quelques dysfonctionnements qui n'ont pas été résolus durant notre séjour : - l'halogène qui est censé fonctionner automatiquement avec un détecteur et qui restait allumé en permanence (obligé de couper au disjoncteur pour l'éteindre) - la lumière de la piscine ne fonctionnait pas Malgré cela, je recommande vraiment cette maison et y retournerai volontiers
---
Nous sommes très satisfaits de l'organisation de notre séjour, et de l'assistance que nous avons reçu tant avant le départ que sur place. Merci à l'équipe d'Antilles Exception. Nous avions choisi de séjourner à la villa Grand Large aux anses d'Arlet, à proximité de la grande anse d'arlet et nous sommes revenus enchantés. Cette région est magnifique et l'emplacement de la villa, exceptionnel, tant pour la vue qu'elle offre des chambres, du salon, des terrasses ou du Carbet, que l'accès maritime idéal pour le snorkeling. Pour parachever le tout, l'accueil sur place est très bon, avec un panier d'accras à déguster avec un planteur. Un petit paradis.
---
Très belle maison, bien entretenue, correspondant à l'annonce, avec une vue magnifique. Pièce à vivre très agréable prolongée par la piscine à débordement et le carbet. Chambres climatisées agréables et fonctionnelles, 2 avec une très belle vue et de grandes baies, celles du carbet sont cependant peu accueillantes et doivent être réservées à un dépannage. Ce serait bien d'avoir deux lits dans la petite chambre. Cuisine très bien organisée, spacieuse et agréable, coin bar accueillant, très belle vue. Jolie décoration intérieure, jardin bien décoré également et très fleuri. On se sent bien dans la maison dès l'arrivée. Assistance bien organisée, contacts faciles et agréables à l'arrivée et au départ. Accès un peu difficile, mais l'arrivée spectaculaire efface ce désagrément. Environnement très calme. Accès à la mer par escalier privé appréciable. Accés au village difficile à pied en raison du relief.
---
Villa de standing , vue magnifique, piscine agréable. Dommage que les meubles en bois de la cuisine ne soient pas en bon état. Carbet très agréable pour manger. Problème réglage de clim , programmation horaire déjà enregistrée et impossible à modifier. Sinon nous avons passé un très bon séjour. L'emplacement de la villa est idéal, très calme, pas trop touristique.
---
Très belle villa, très belles prestations Site idyllique Très bonne agence Très bon séjour
---
Maison située au- dessus de la très belle plage, de la grande anse d'Arlet. La maison est grande et confortable dans sa partie principale. Les 3 chambres situées sous le carbet sont rustiques et sans salle-de-bains, éventuellement peu pratiques avec de jeunes enfants. La terrasse est très agréable, la vue très belle sur la baie. La maison est sans voisin à gauche et calme (sauf éventuels travaux de jardinage chez les voisins soit 2 jours pour nous sur 10 jours de séjour). Possibilité de descendre et monter de la plage à pied même si la côte est assez raide . Dans l'ensemble, belle prestation pour un séjour agréable
---
Nous avons été très satisfaits du dîner préparé par votre nouvelle cuisinière: qualité du repas excellente, quantité plus que suffisante et ponctualité. Vous pouvez de nouveau faire appel à elle. En ce qui concerne la villa grand large, l'accueil a été parfait, le site est extraordinaire et l'agencement de la maison à la mesure de nos attentes. Deux points de faiblesses: des odeurs de fosse septique désagréables par moment et le coffre qui n'a pas pu être ouvert ! Bien à vous, Frédéric. Information Antilles Exception - janvier 2014 : Les problèmes d'odeurs de fosse septique ont été traités. Depuis décembre 2012, de très nombreux locataires ont séjourné à la villa. Aucun n'a mentionné de problème d'odeur.
---
Mask
---