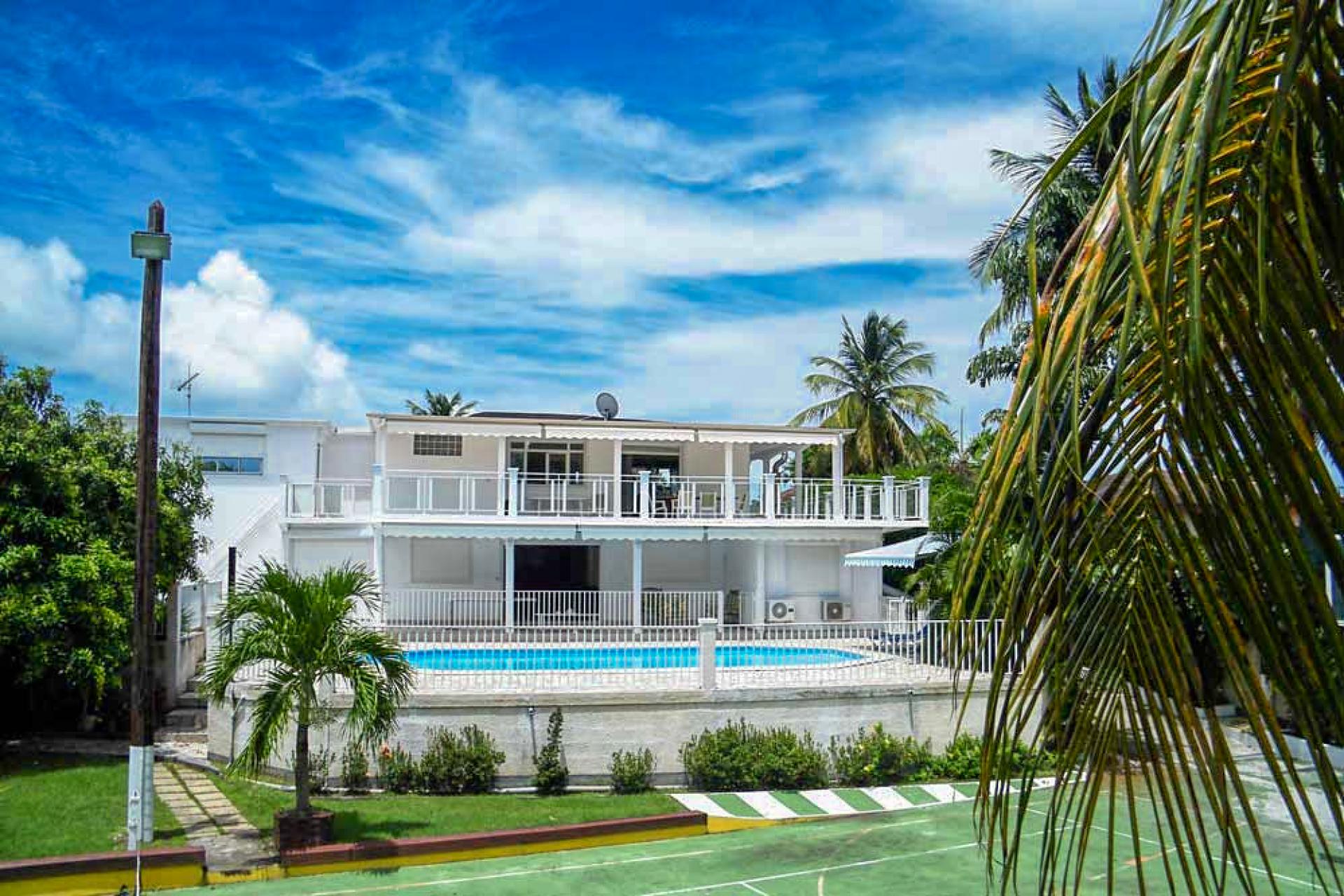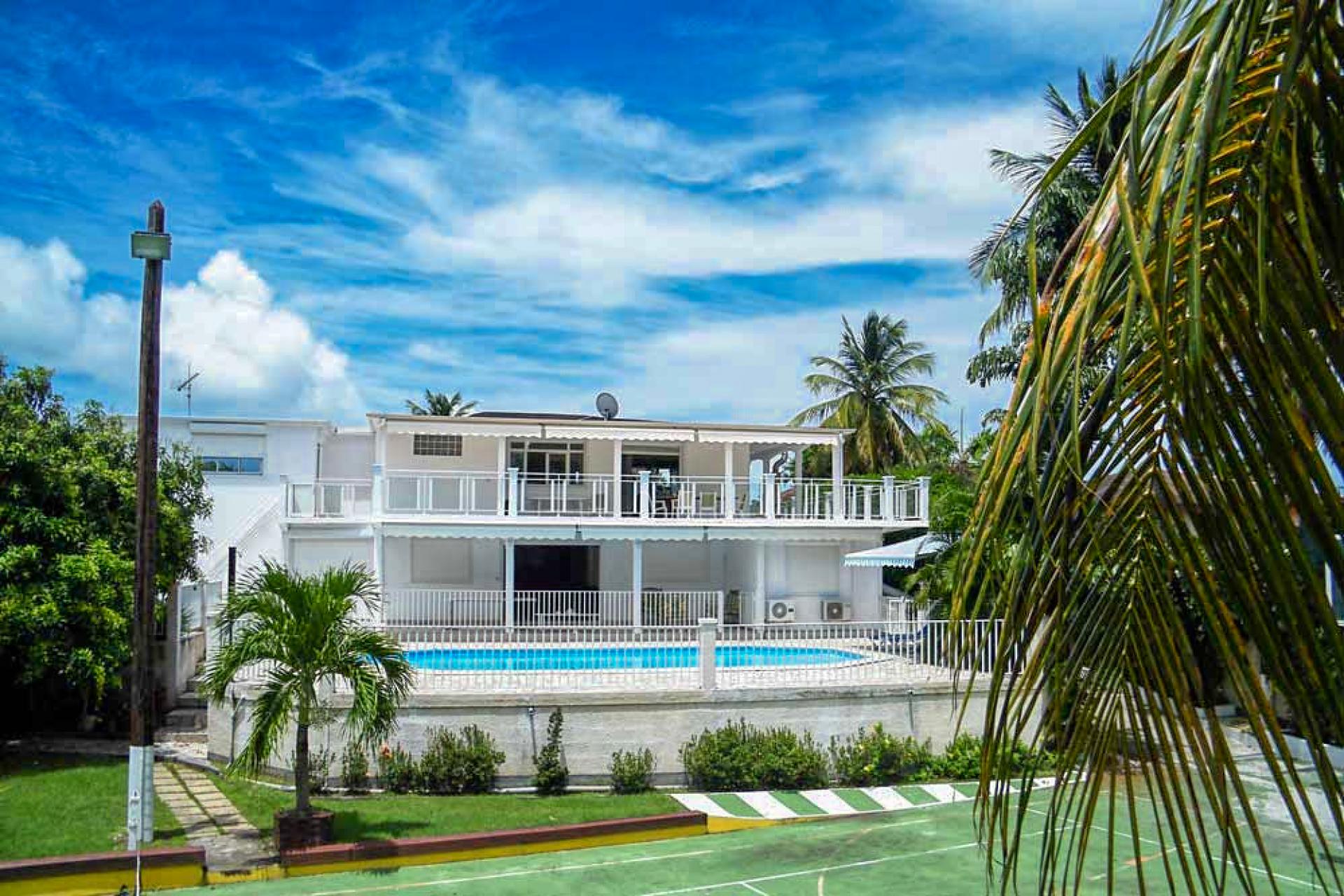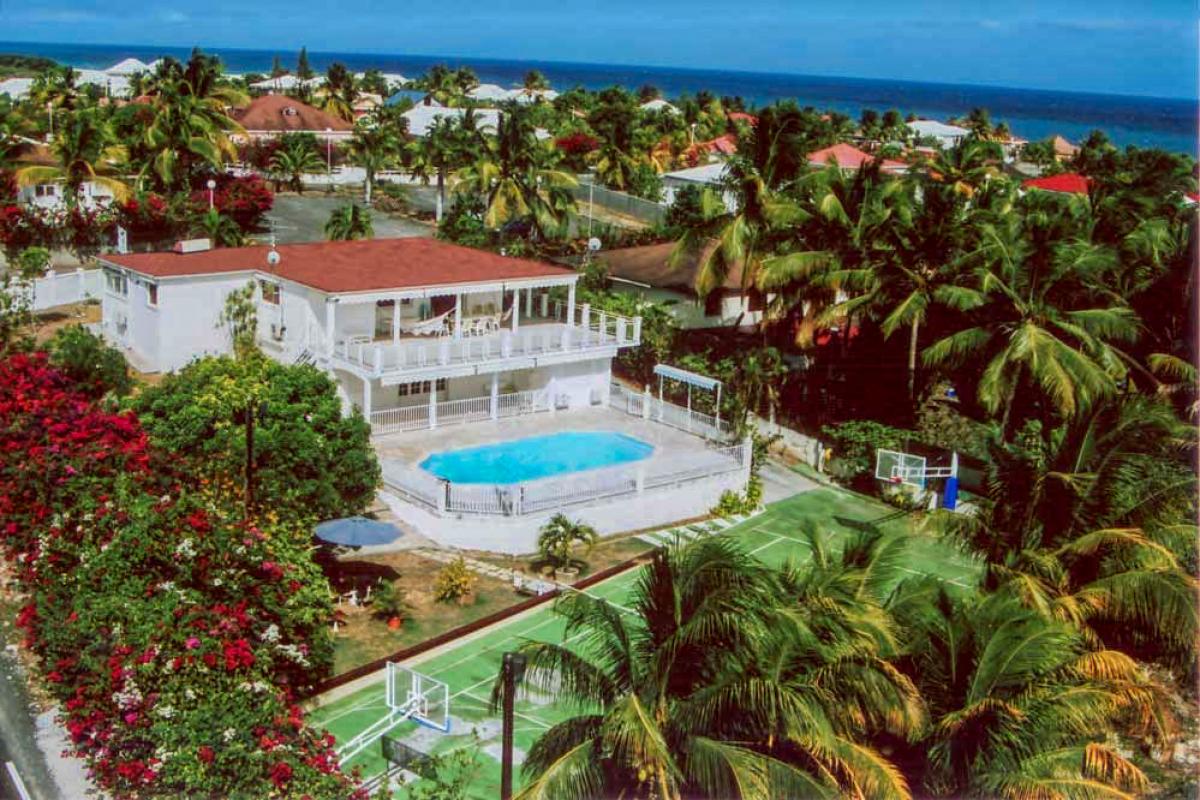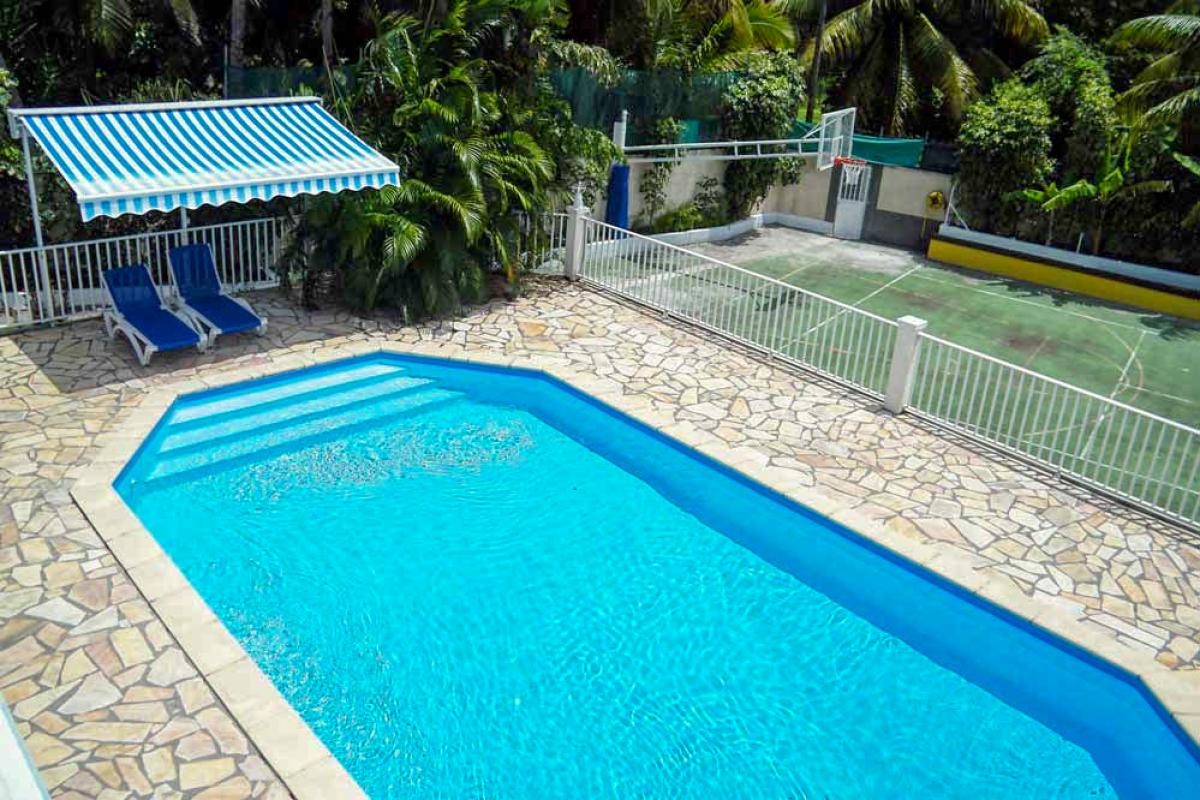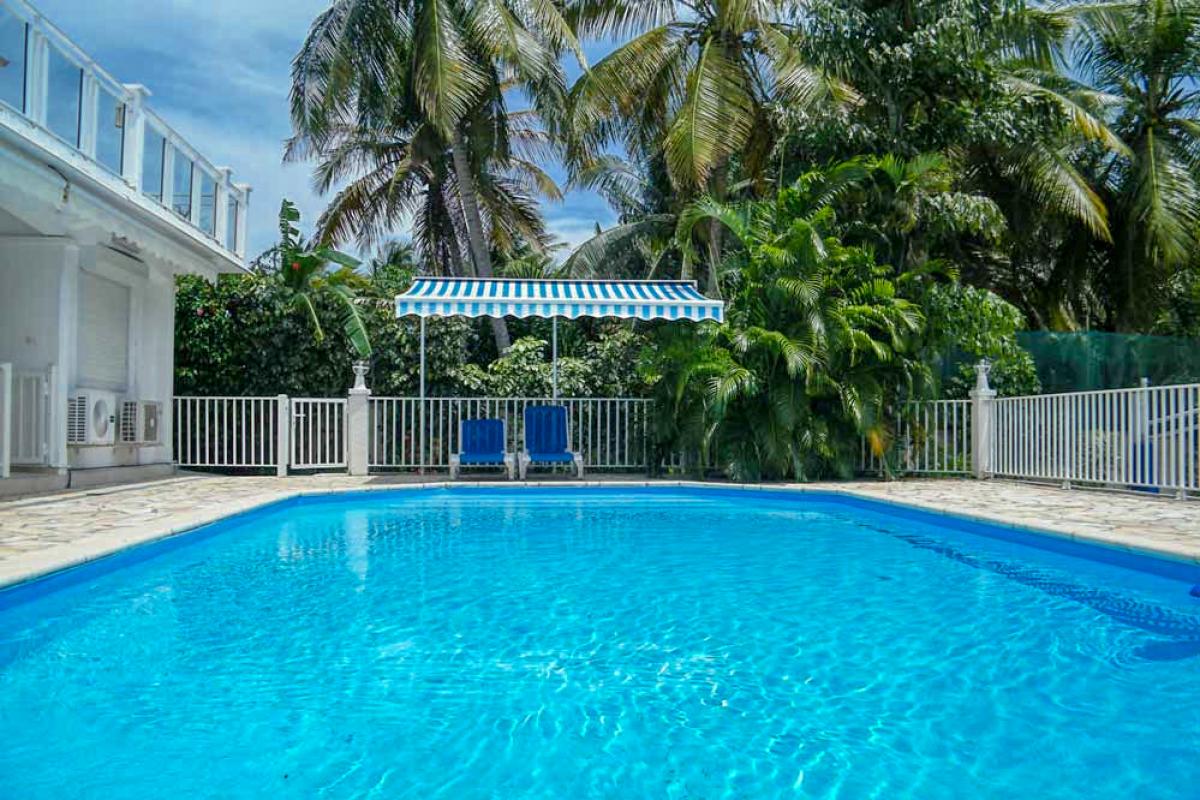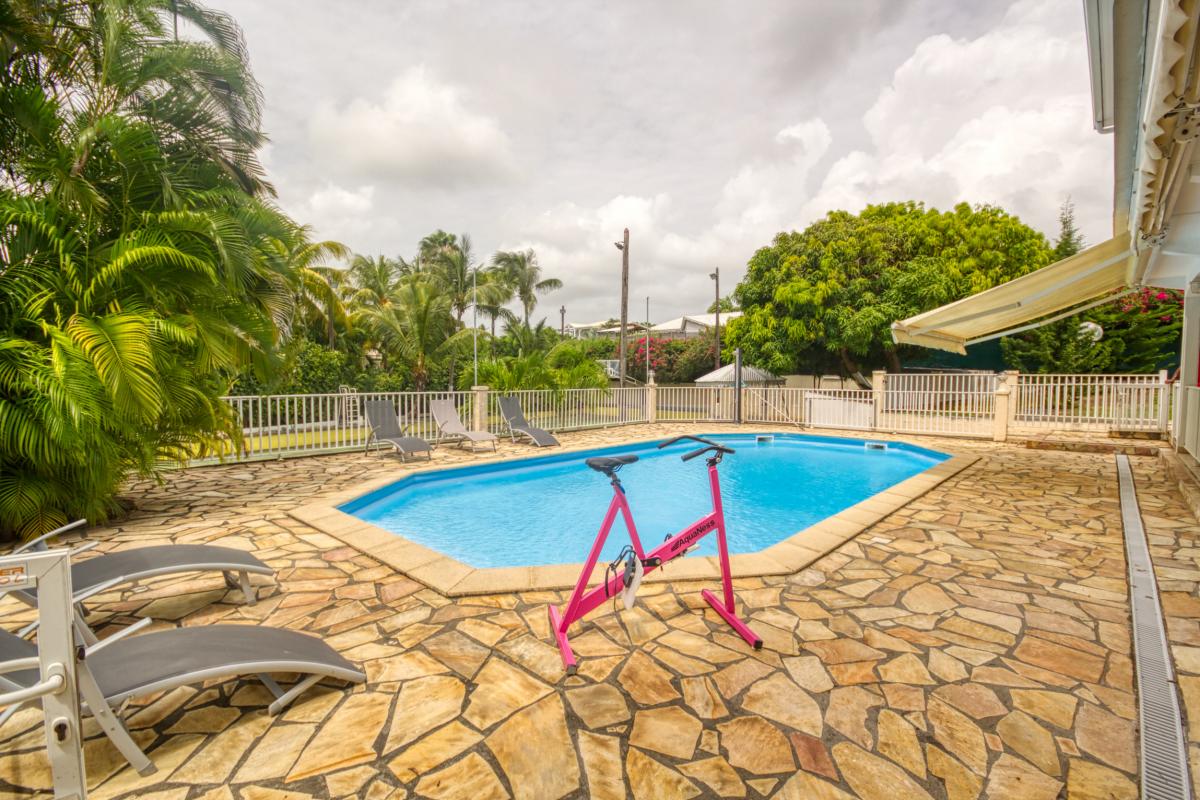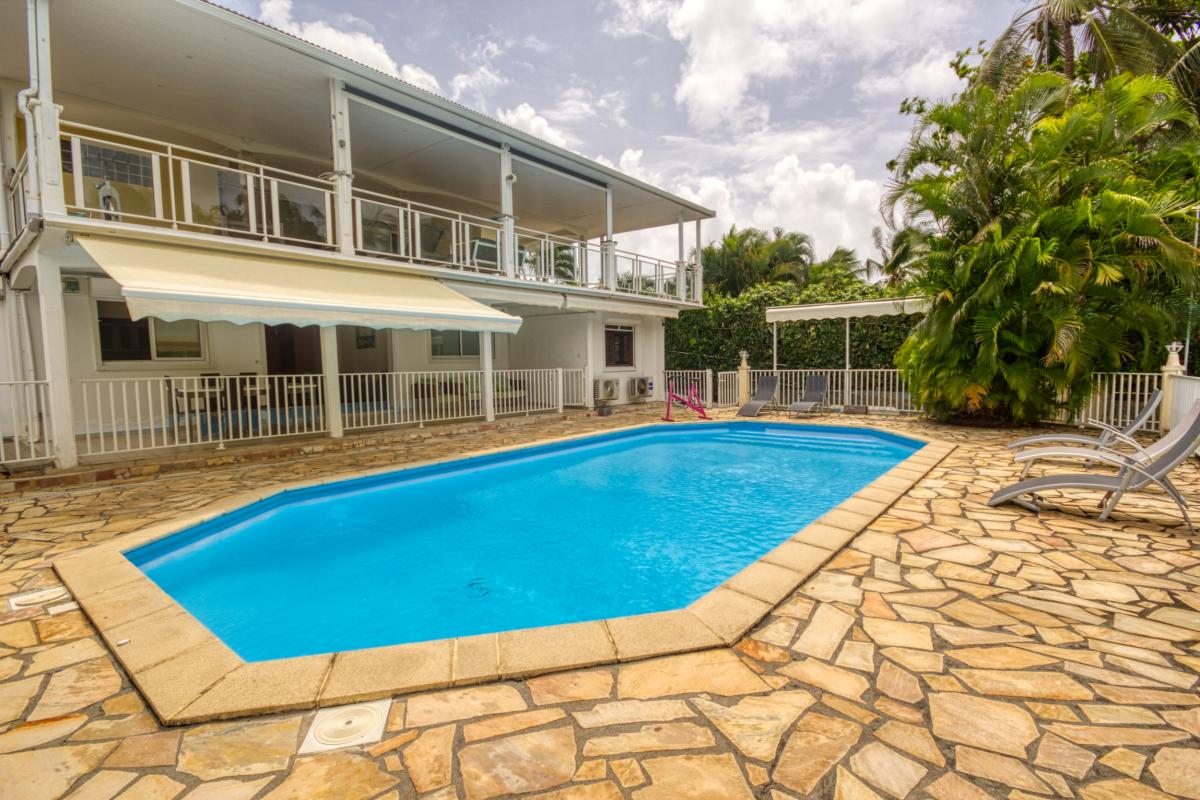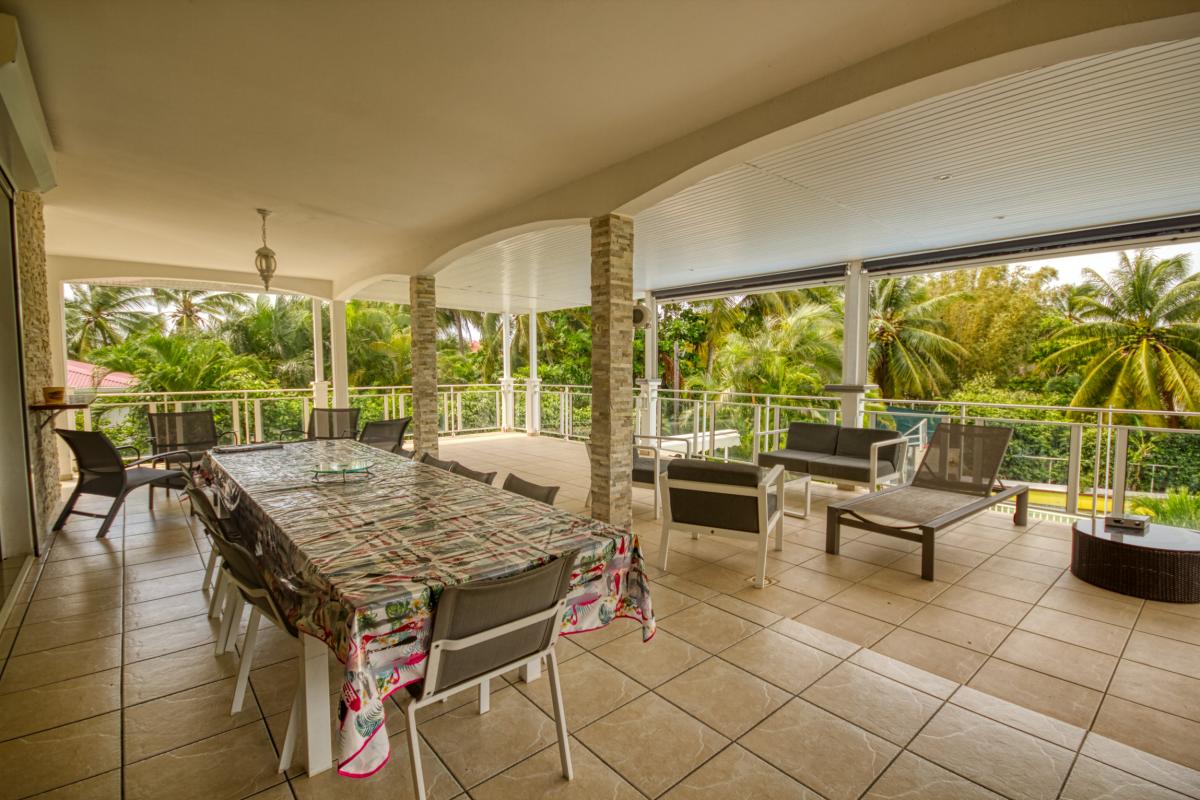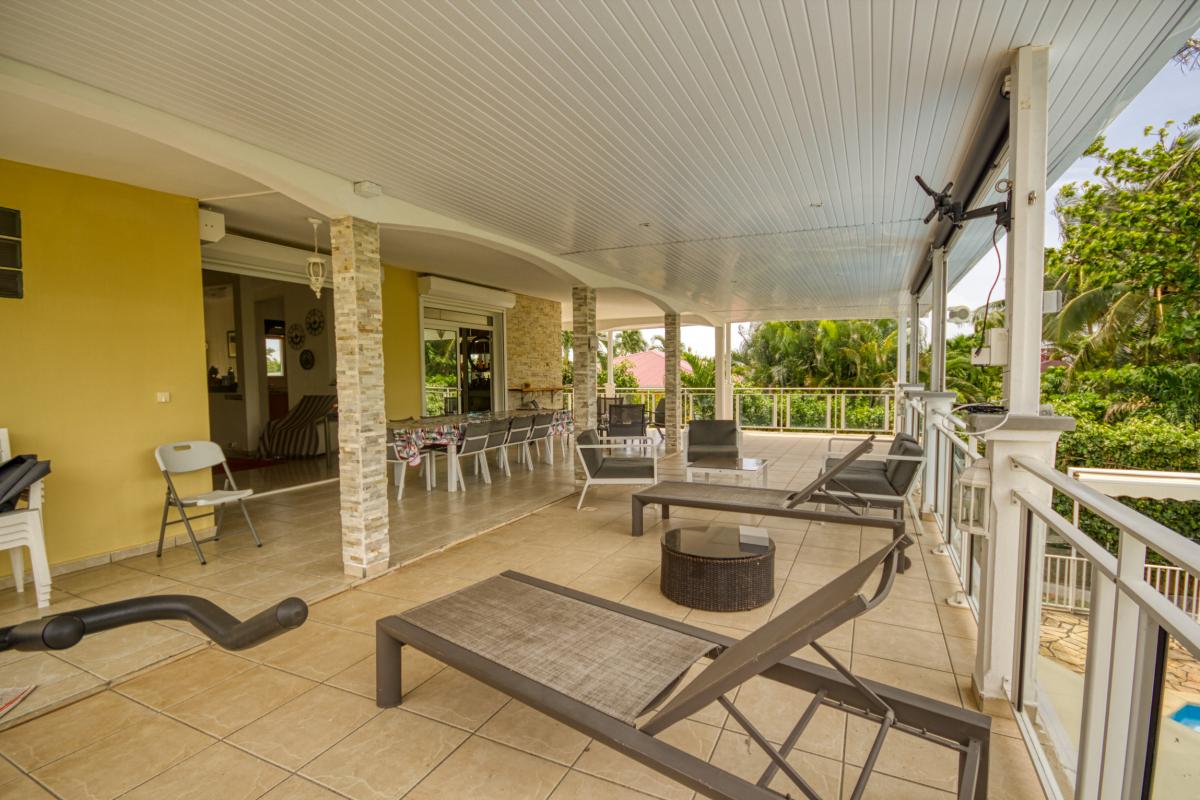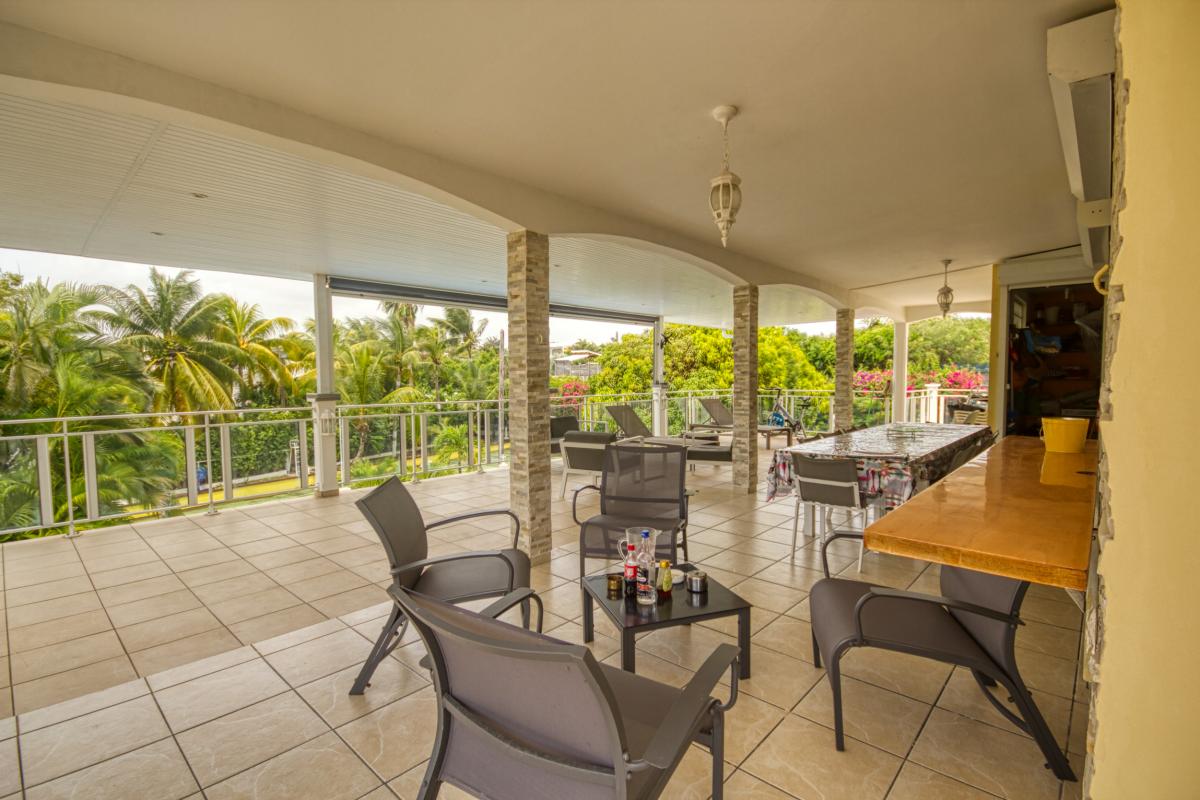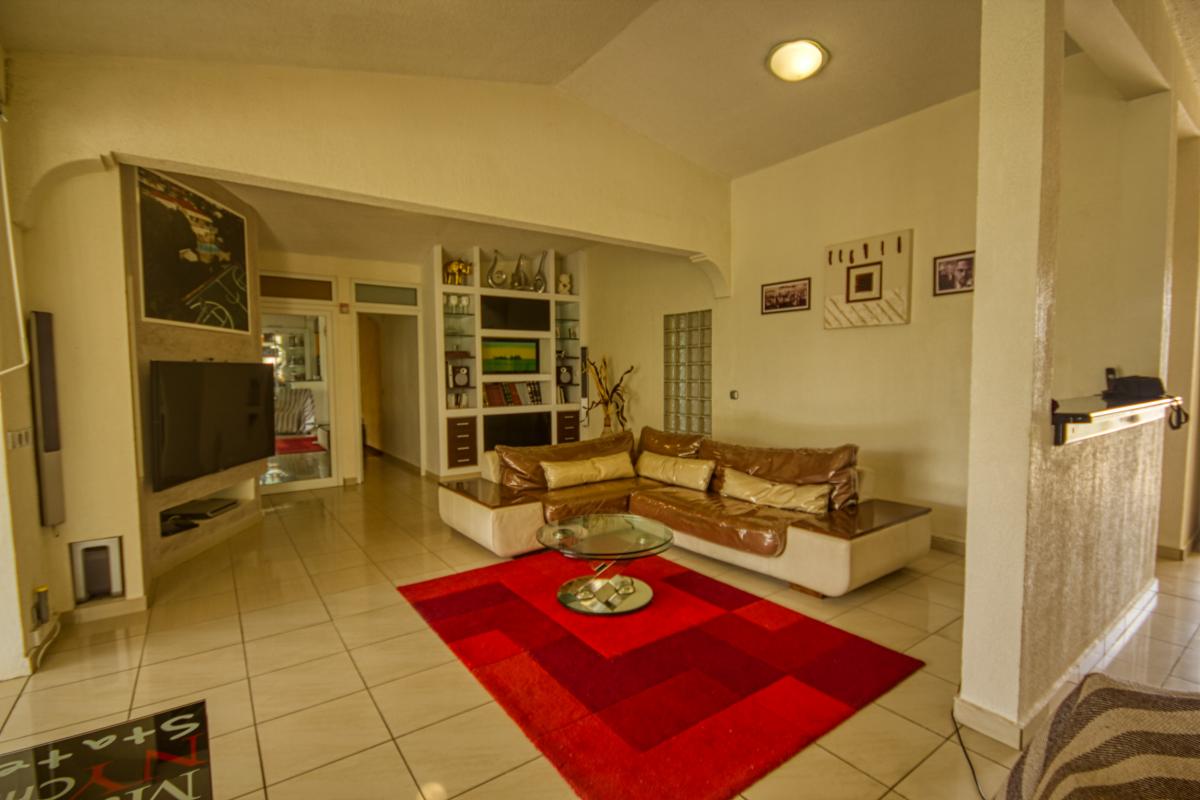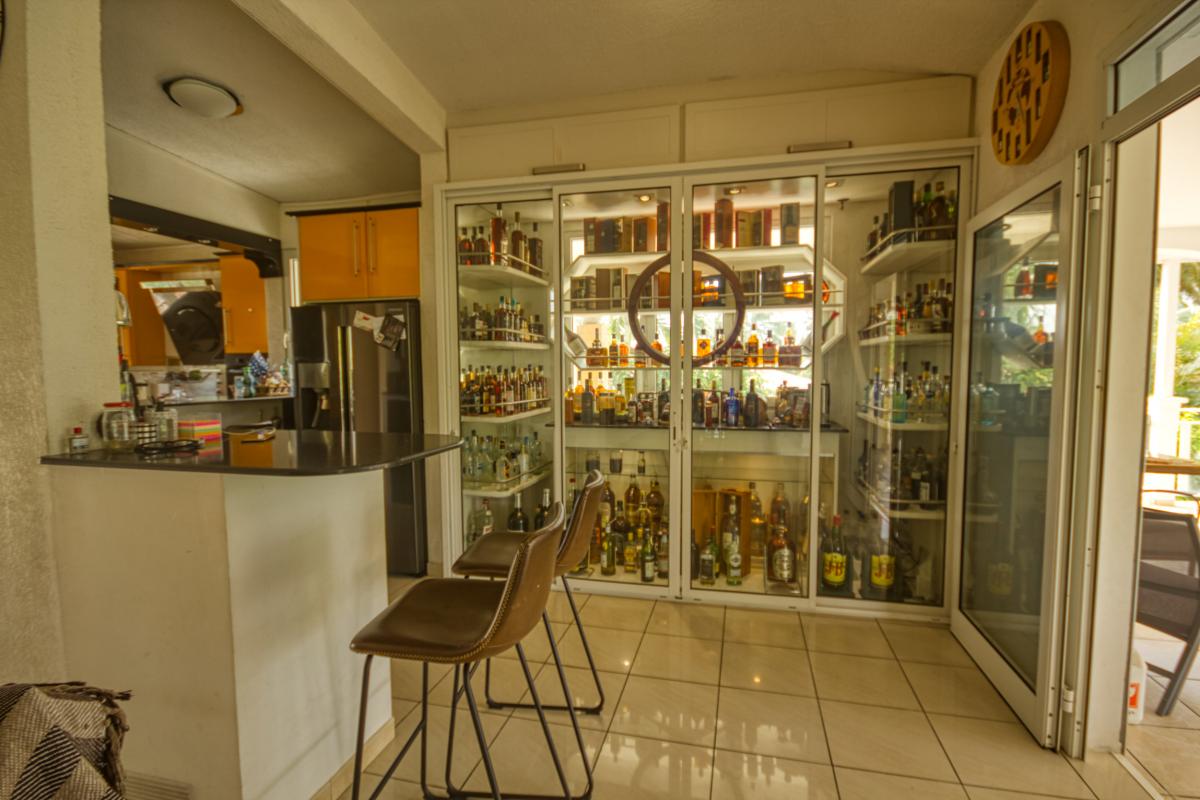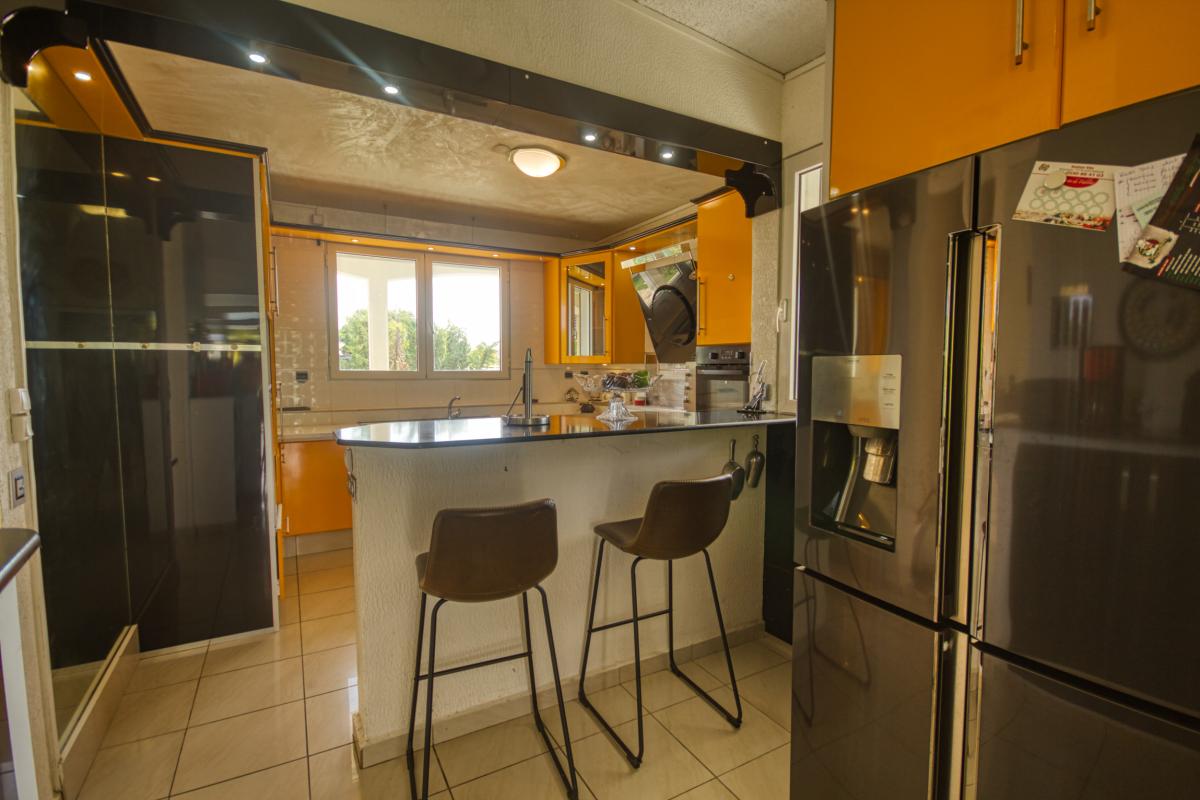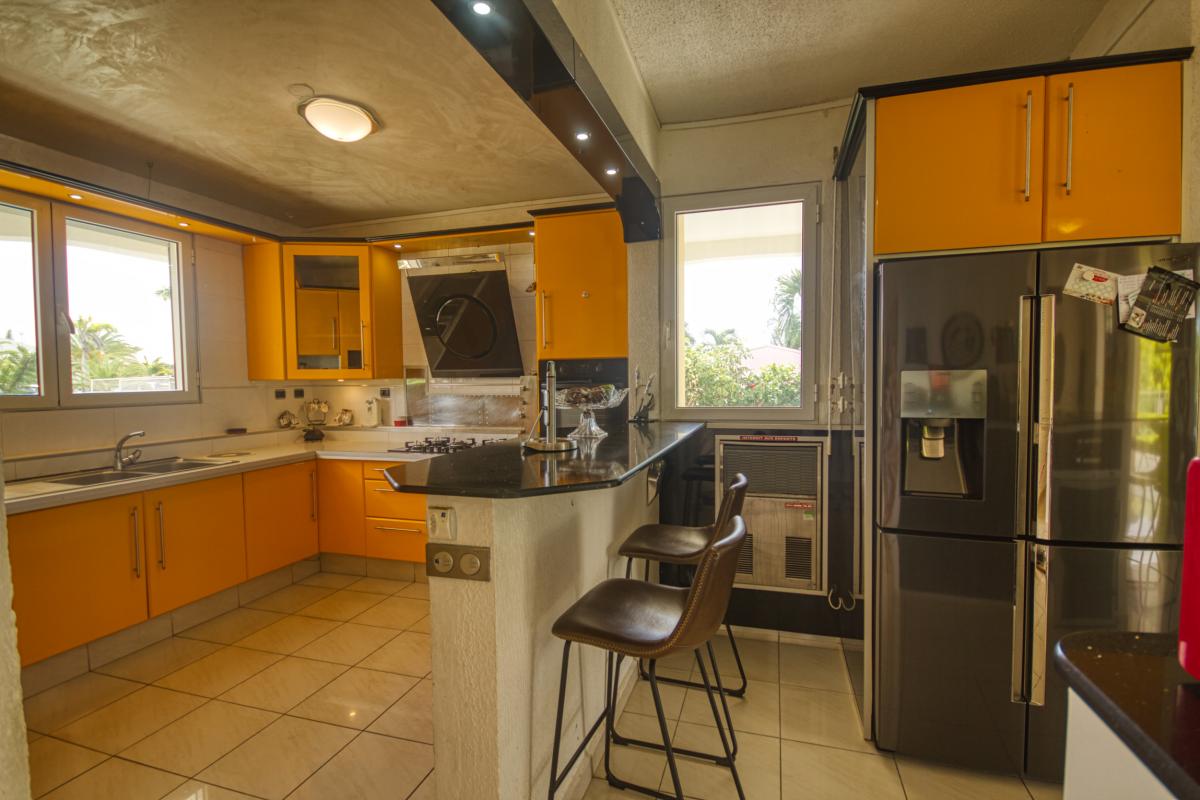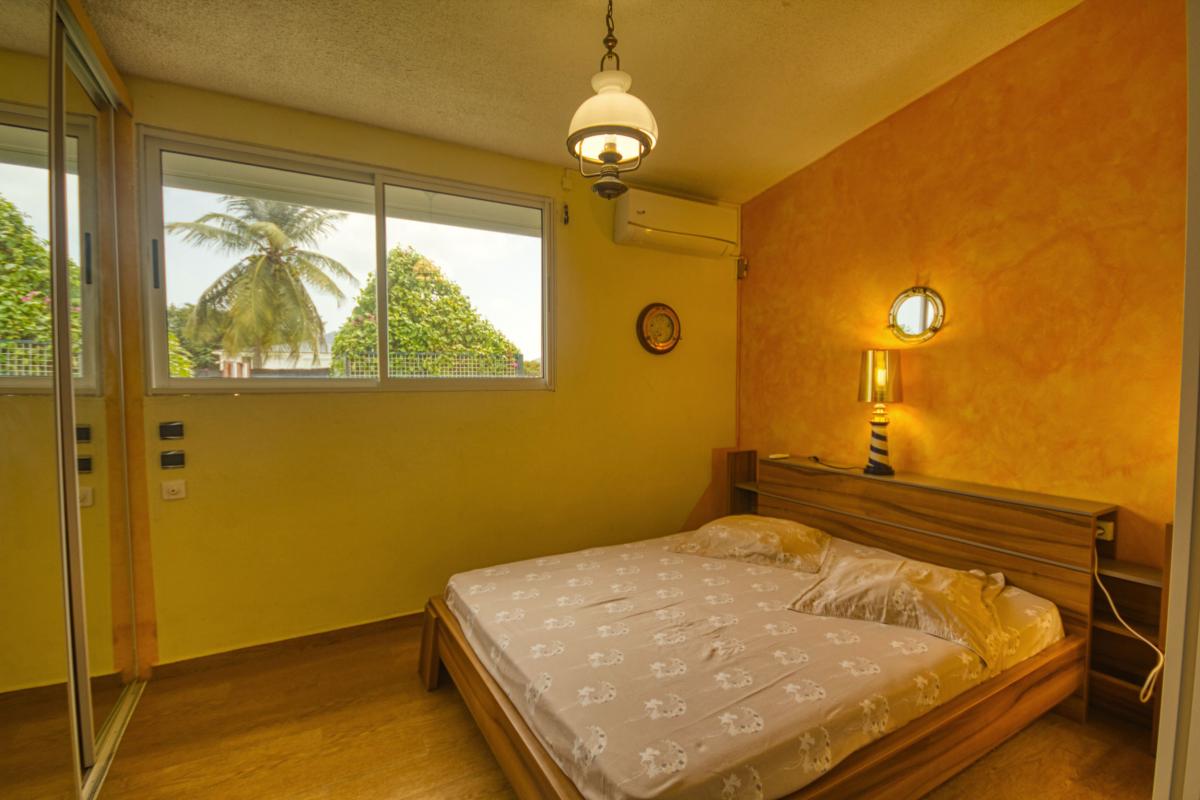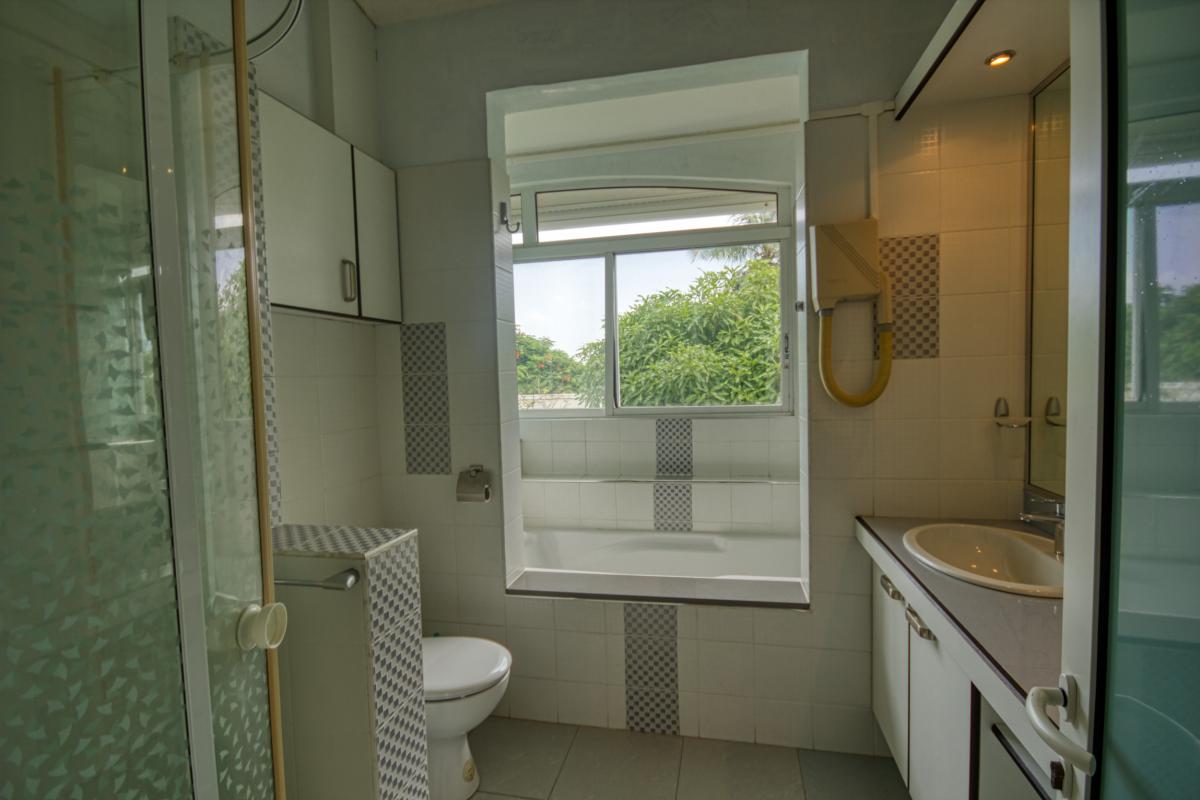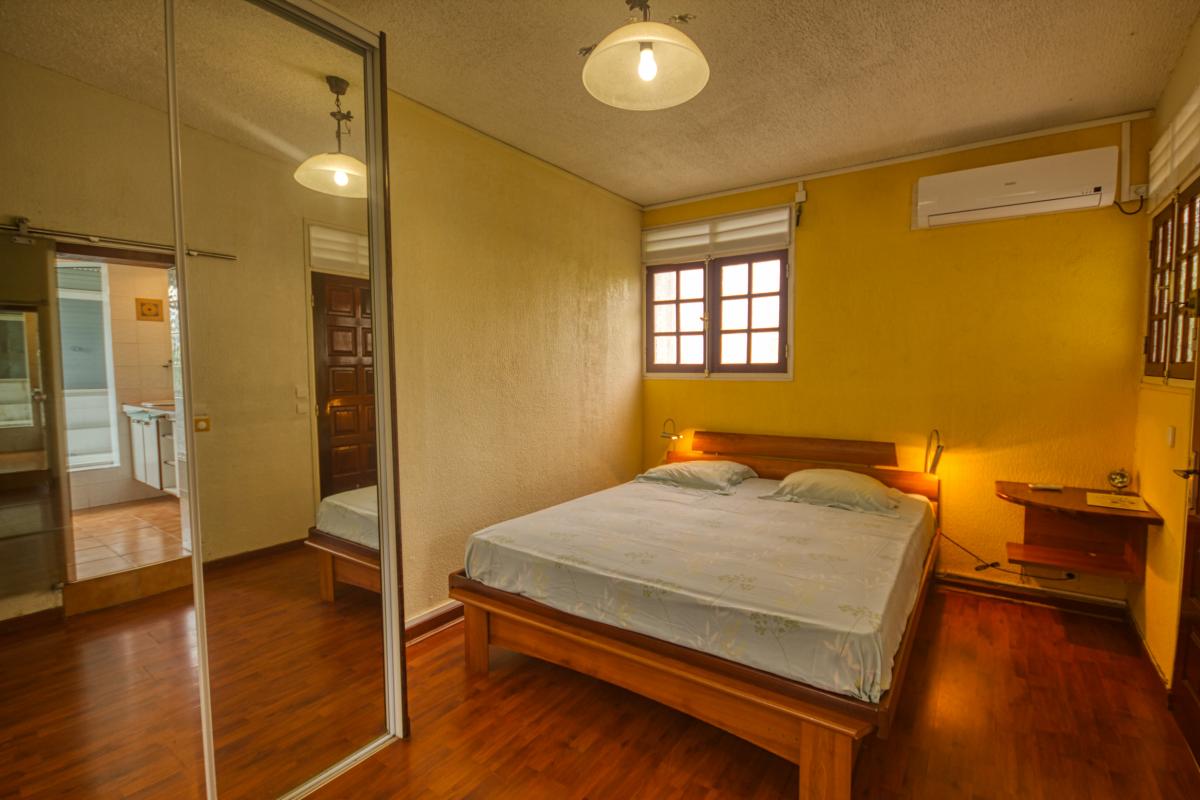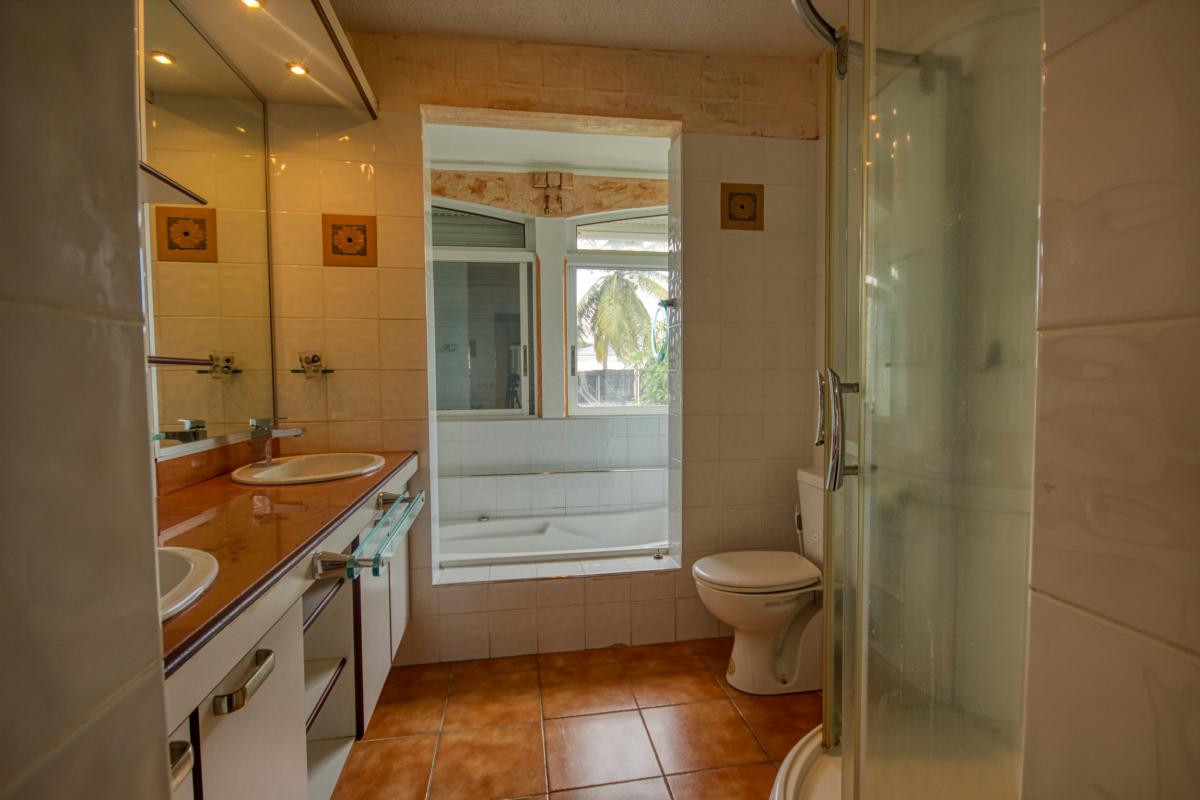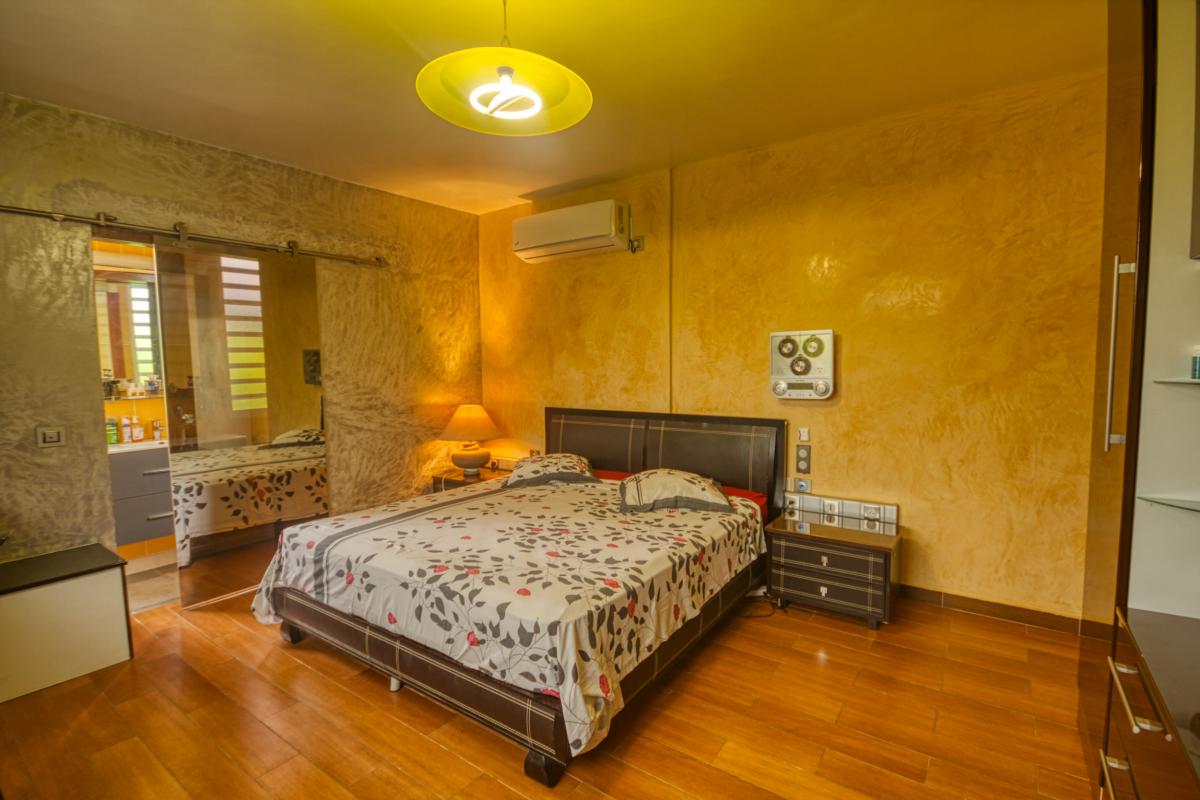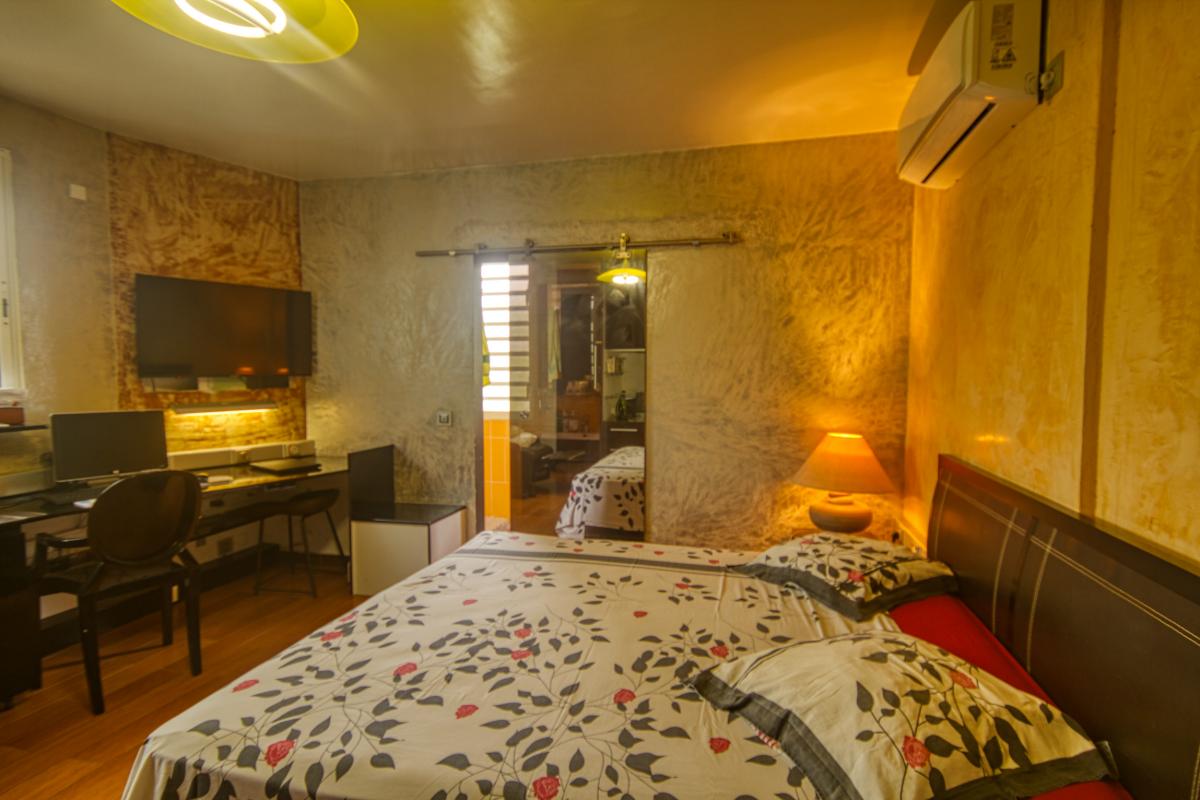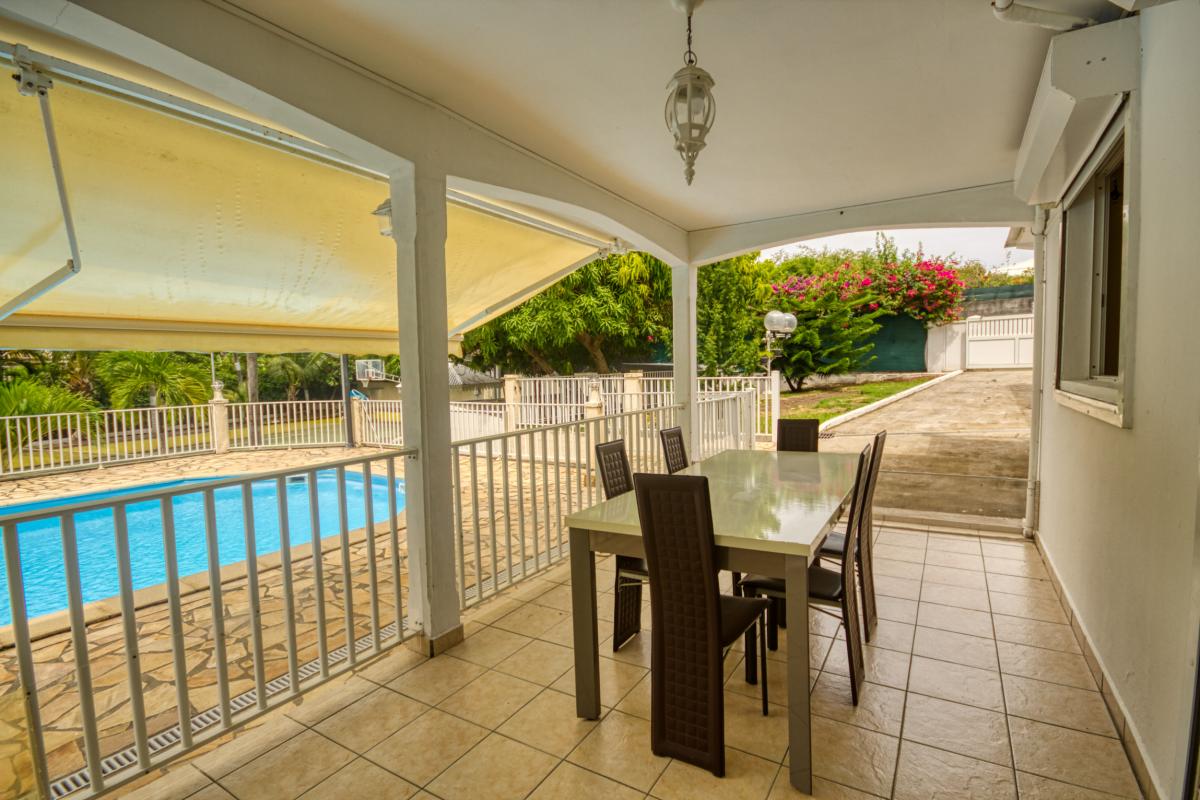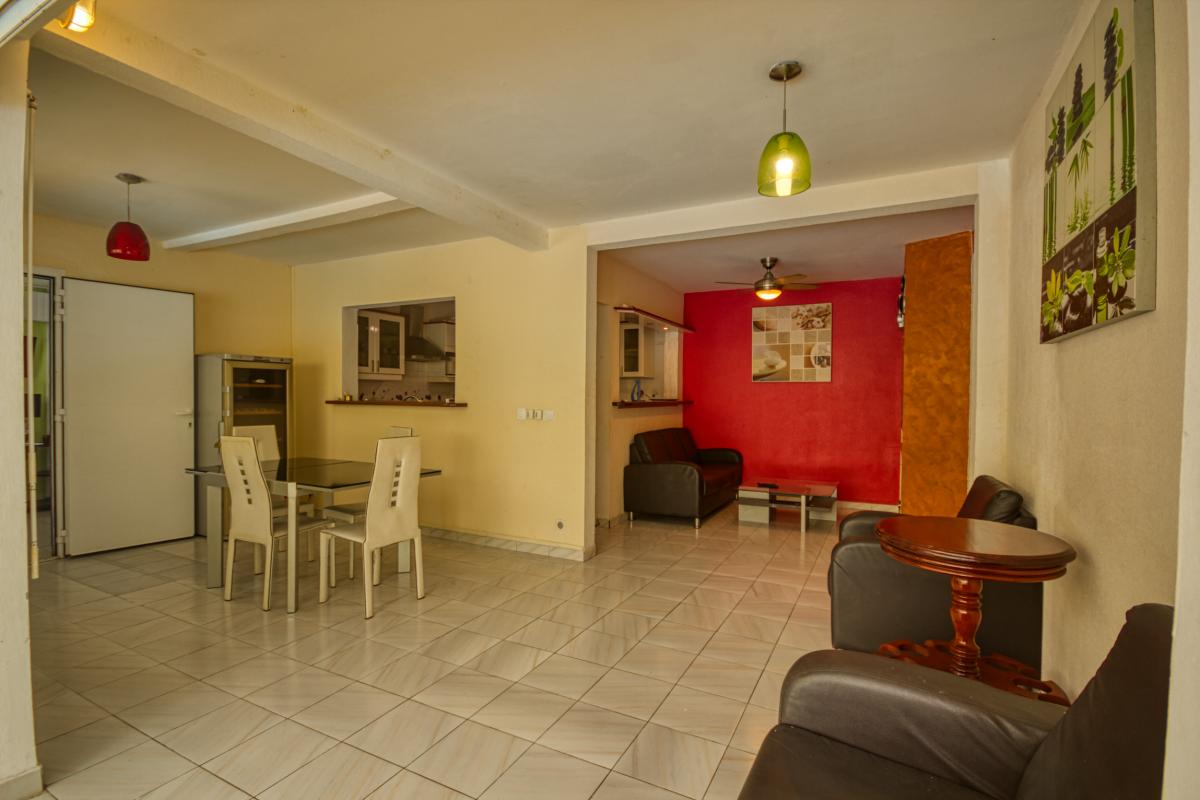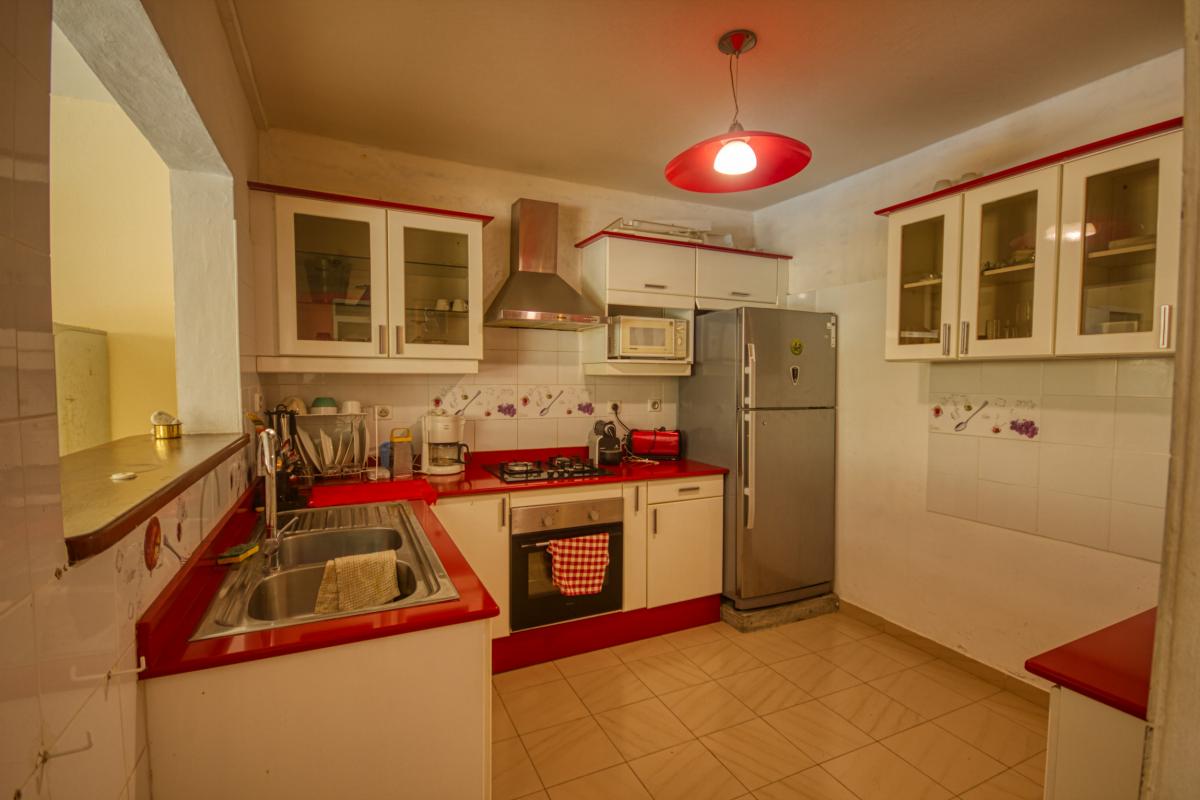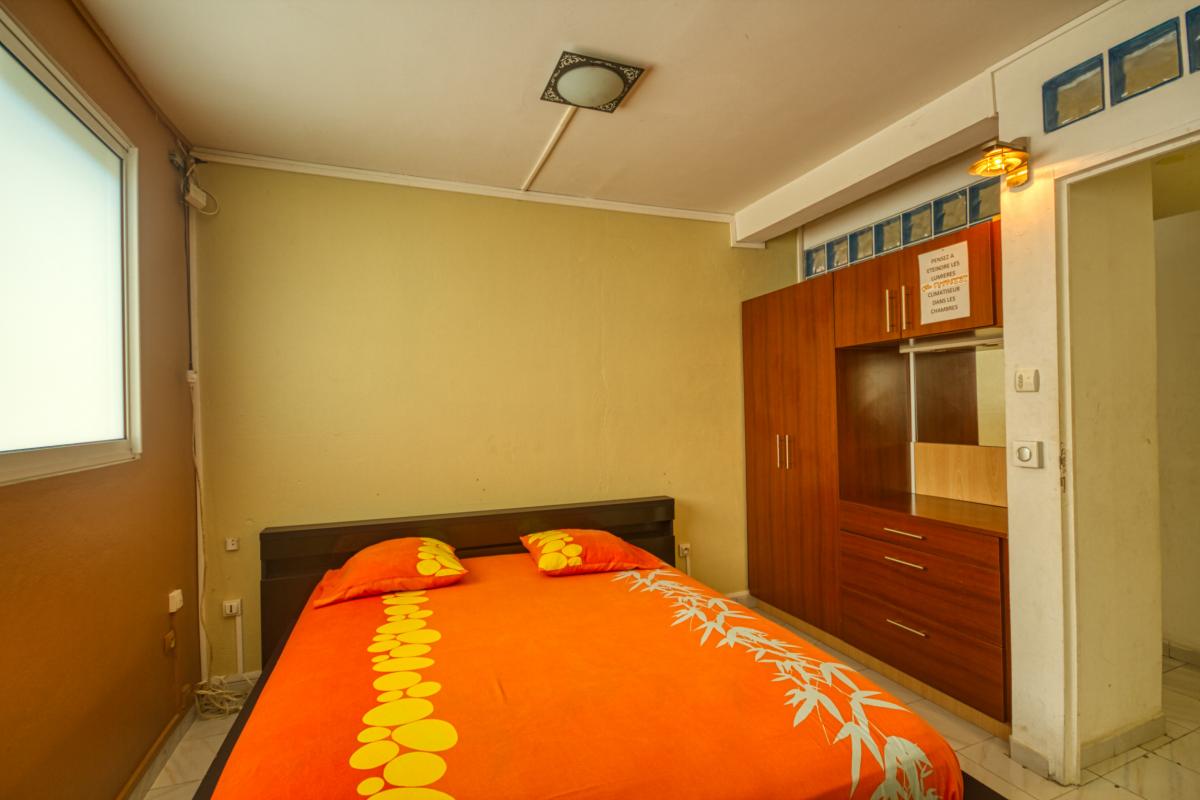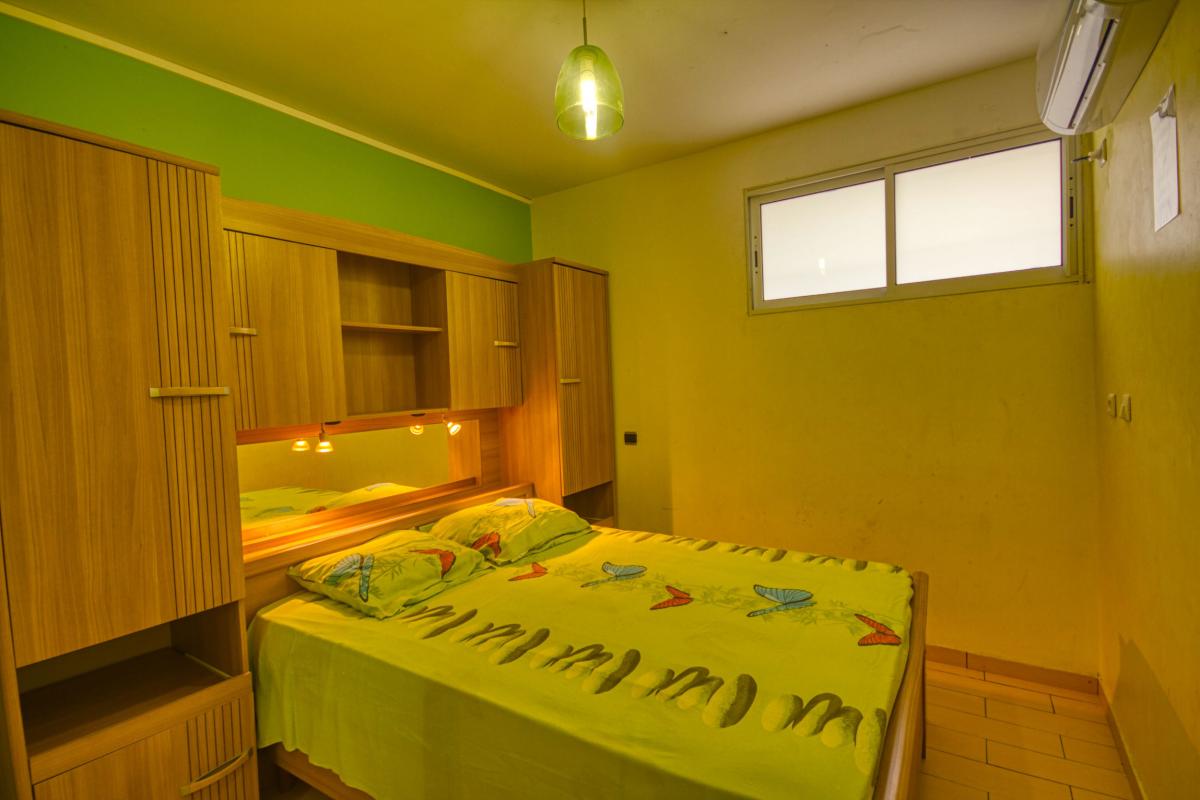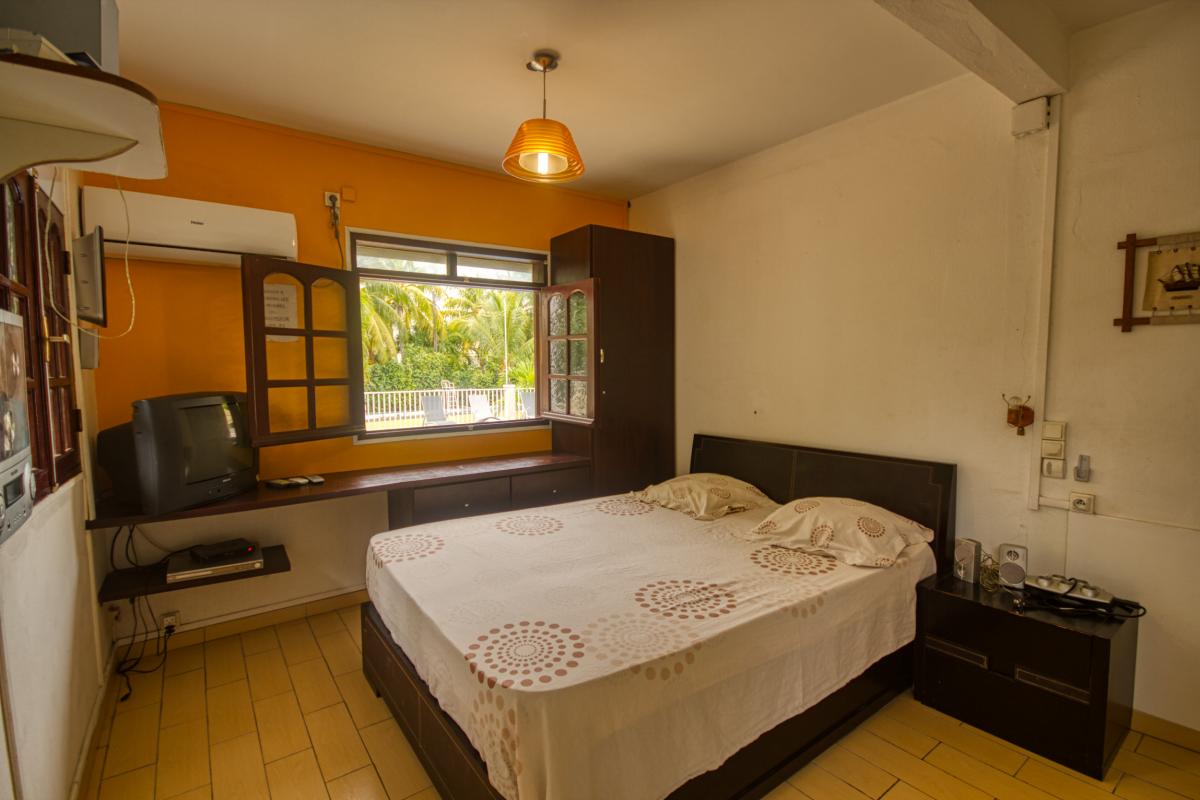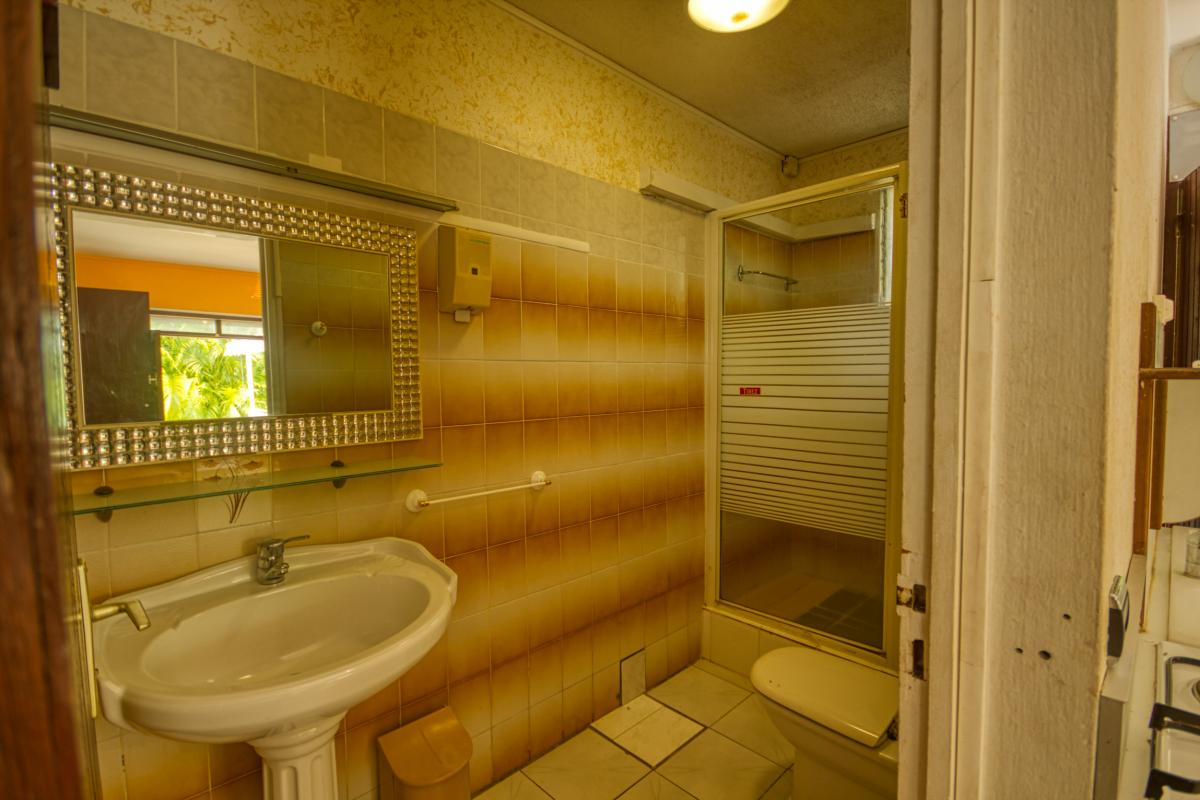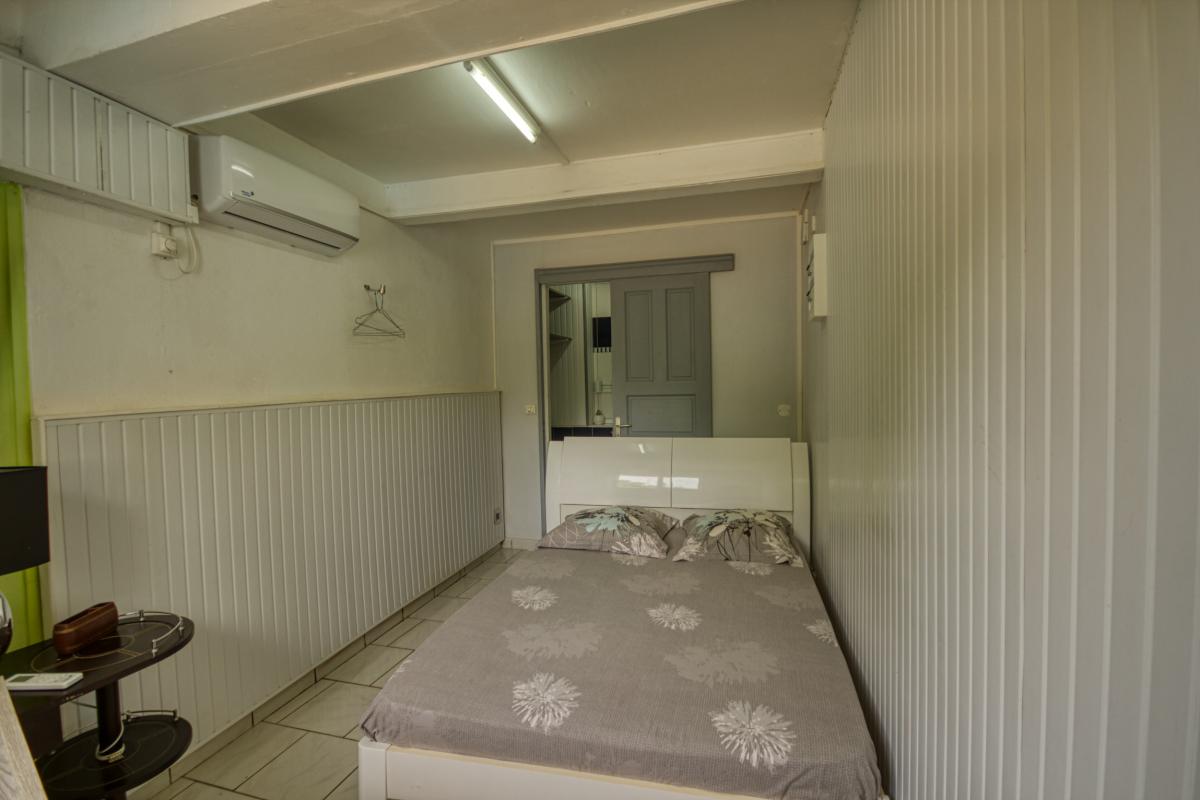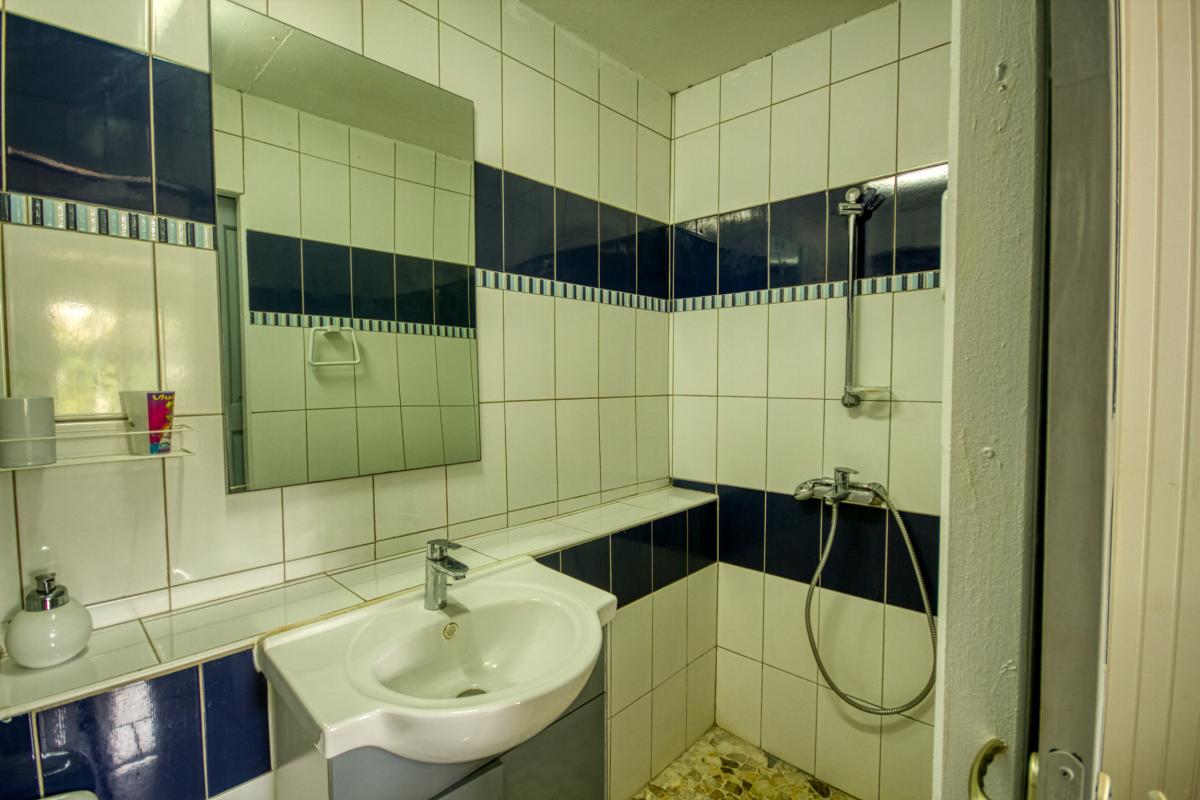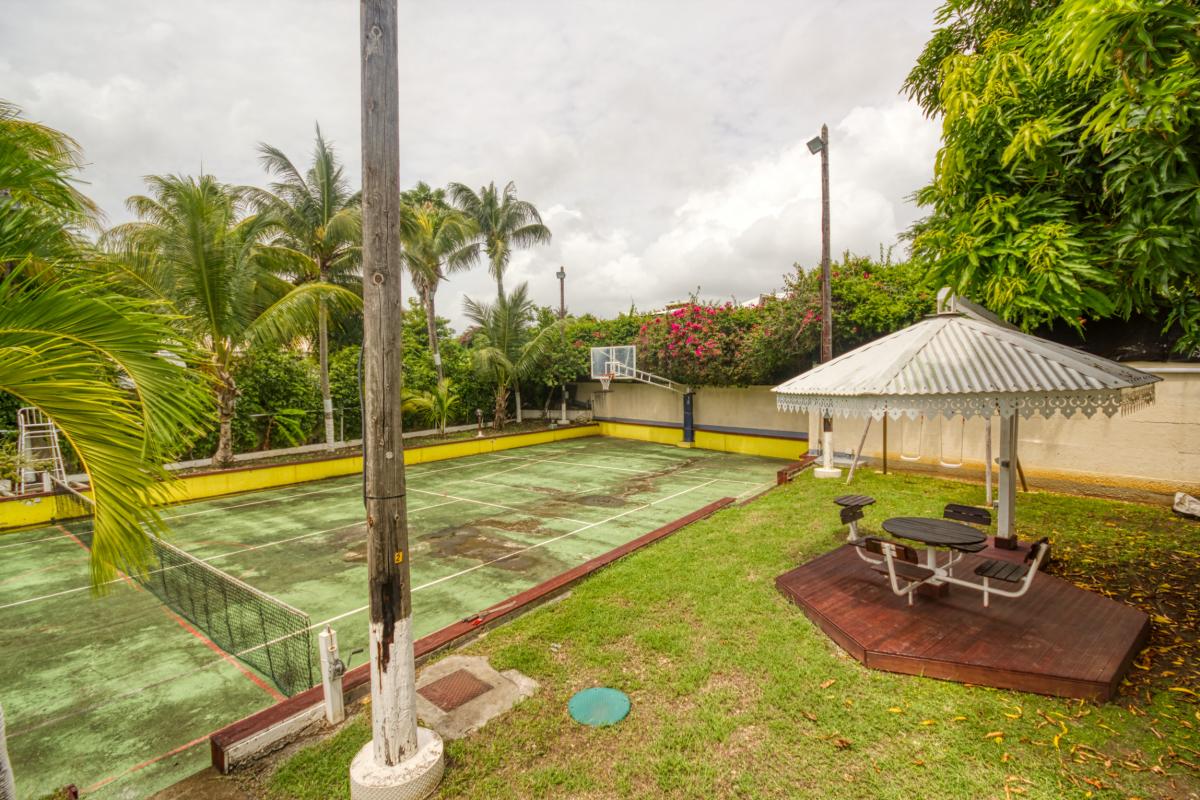 Villa with swimming pool
---
---
Price :
$499

-

$925

/ night
---
Air conditioning

Swimming pool

Barbecue

Buffer tank

Internet

Wifi

Television

DVD player

Hi-fi

Phone

Sport equipment

Washing machine

Iron and board

Beach towels

Linens
Location of the villa
The villa is located in the quiet estate of "Belle Allée", about 2 km from the village of Saint François in Guadeloupe. 200m away, a small sandy cove overlooking the lagoon is accessible by a small private road and several of the most beautiful beaches of Guadeloupe are nearby, a few minutes drive away.
The estate enjoys a quiet and green environment, planted notably with numerous coconut trees.
The villa is surrounded by a small tropical garden, a large swimming pool and a private game area with tennis and basketball courts.
Property
Spread over 2 levels, the 275m² villa has 7 bedrooms :
On the upper level:
3 air-conditioned bedrooms, each with a private bathroom (and WC) and a double king size bed (18 X200cm and 200X200),
1 - 50m² living room open onto the terrace. It includes a sitting area with a sofa and a large flat screen TV and a dining area
1 very well equipped kitchen
1 vast 100m² terrace partially shaded including tables and chairs where you will enjoy your meals and the view on the coconut trees
Facing the swimming pool, the ground floor includes:
4 air-conditioned bedrooms furnished with double beds (1 200X200, 1 60X200, 2 140X200)
3 shower rooms (and WC)
1 small living room with a TV lounge and a dining area
1 small open kitchen
More infos about the villa
Services and Amenities
In order to make your stay more comfortable, the following services are available to you:
Groceries for the 1st breakfast provided
Linen provided (sheets, bath and kitchen towels)
Barbecue
Dishwasher
Washing machine
Foldable baby crib available upon request at time of booking
Large flat screen TV with satellite channels and a DVD player
Small Hifi system
Internet and Wifi
Buffer Tank
To do close to the villa
On site:
Enjoy the large swimming pool, comfortable lounge chairs or the small cove accessible by foot
Tennis and private basketball courts in the garden (no lighting at night)
Boulodrome lit until 9pm for the respect of the neighborhood
A sports area with:
- 1 walking mat
- 1 exercise bike
- 2 race bikes
- 2 ATVs
NB: the use of the cycles must be done with caution, without danger to third parties in accordance with the regulations in force, the rules of the road and nature.
Attention the owner is not responsible in case of accident.
Nearby:
Saint François offers many possibilities for daytime recreation:
Golf course (18 holes)
Aerodrome (parachute, flight over Guadeloupe ...)
Sailboard
Surf
Kite surfing
Scuba diving
Deep sea fishing....
And night:
Casino
Nightclubs
Restaurants
Bars...
Details
Neighbourhood name : Seze
Distance to supermarket or shop : 2km
Distance to airport : 50km
Nearest beach : Creek Belle Allée beach at about 200m
Air conditioning in all bedrooms
Private pool
Small pets accepted
Surface : 275m2
Nb toilets : 7

Living room 2
Surface : 50m2
Nb sofa 1 seater : 1
Nb sofa 2 seaters : 1
Nb sofa 3 seaters : 1
Table capacity : 4 to 6

Living room 2
Nb sofa 1 seater : 2
Table capacity : 4 to 6

Bedroom 1
Floor : 1st floor
Nb King size bed(s)(180cm) : 1
Air conditioning
Exclusive Bathroom

Bedroom 2
Floor : 1st floor
Nb King size bed(s)(180cm) : 1
Air conditioning
Exclusive Bathroom

Bedroom 3
Floor : 1st floor
Nb King size bed(s)(180cm) : 1
Air conditioning
Exclusive shower room

Bedroom 4
Floor : Ground floor
Nb Queen size bed(s) (160cm) : 1
Air conditioning

Bedroom 5
Floor : Ground floor
Nb double bed(s) : 1
Air conditioning
Exclusive shower room

Bedroom 6
Floor : Ground floor
Nb King size bed(s)(200cm or more) : 1
Air conditioning

Bedroom 7
Floor : Ground floor
Nb double bed(s) : 1
Air conditioning

Kitchen 2
American fridge (separate freezer and ice dispenser)
Dishwasher
Coffee pot
Toaster
Kitchen
Large fridge with separate freezer compartment
No dish-washer
Coffee pot
Toaster
Garden
Surface : 300m2

Upper terrace
Surface : 100m2
Coverage : Partially covered
Table capacity : 12 and more

Swimming pool
Largest length : 10m
Larger width : 5m
Minimum depth : 0.8m
Maximum depth : 1.8m

Whirlpool
Services
Linens provided : sheets, towel, kitchen towels, beach towel, pool towel
Baby cot loan (on request upon booking)
Baby high chair loan (on request upon booking)
Provision of the 1st breakfast

Parking
Mask
---
magnifique villa avec beaucoup d'espace, tres bien entretenue, les aires de detente et de jeux a l'exterieur sont parfaits. Tres bon accueil par le proprietaire. Nous recommandons !
---
---
J'ai apprécié le sérieux d'Antilles Exception , Le logement loué était très confortable dans les espaces communs mais inégal dans le confort des chambres, Les chambres du bas de villa sont plus simples que celles du haut,
See more reviews
---
Villa parfaite pour une grande famille avec des enfants
---
Très belle prestation ! Les propriétaires sont chaleureux et sympathiques.
---
Superbe villa, accueil très agréable et séjour parfait. C'est un lieux d'exception, occasion à ne pas manqué, merci pour tout !
---
Très belle villa , accès facile, environnement calme, un peu excentrée de l'île pour les déplacements, les pièces sont confortables et bien aménagées, manque la déco créole, espace de vie suffisant, à déplorer de partager les effets personnels des propriétaires dans une chambre, acceuil sympatique
---
Habitation tres agreable, piscine, tennis, basket, tout pour ravir petit et grand Plage a proximité
---
Maison conforme à la description, très agréable à vivre et bien située.Elle dispose de tout le confort nécessaire(pensez à vos capsules Nespresso) Propriétaire très accueillant et charmant. Nous étions 11 ,4 adultes et 7 enfants de 23 à 12 ans, nous avons séjourné 15 jours dans la villa, nous avons profité du tennis et bien sur de la grande piscine totalement sécurisée avec de jeunes enfants. La mer est accessible à pied mais c'est une petite crique et il vaut mieux prévoir des chaussons pour se baigner car il y a des oursins, très sympa cependant pour le snorkling La plage des raisins clairs est très belle et toute proche (2 km) Les chambres sont spacieuses et très confortables à l'étage, un peu plus petites au Rez de chaussée. La terrasse est très agréable et très abritée en cas d'averse tropicale. Merci à l'agence Sous les tropiques et à Johanna qui a parfaitement répondu à nos attentes et à toujours été charmante et disponible pour nous.
---
Notre séjour s'est très bien passé. Nous avons en famille (nous étions 12 de 68 à 6 ans) pu apprécier la qualité de la maison (services extérieurs : piscine, douche piscine, grand barbecue, tennis et basket pour les enfants + services domestiques : 2 machines à laver le linge et très grand lave-vaisselle, 3 très belles chambres pour les parents avec confort salles de douche/bains, climatisation dans toutes les chambres). La villa est très bien située : proche ville St François et plage des Raisins Clairs. Pratique pour les courses : Ecomax, boucheries et marché de la Rotonde. Facile d'entretien pendant notre séjour, la grande terrasse permettant apéros et repas à l'extérieur (au besoin sous la bâche en cas de pluie), le mobilier de jardin étant de qualité. Correspondance avec Antilles Exception (Amandine) très courtoise et la description de la villa en parfaite conformité avec la réalité. Nous avons passé 10 jours de délice dans une île aux charmes pittoresques.
---
Cette villa mérite bien sa présence sur Antilles Exception car c'est un bien d'exception ! Tout est prévu pour des vacances de rêve. Rien ne manque : Un machine à glaçons, 1 thermomix, une machine Nespresso (entres autres équipements) viennent parfaire un équipement HAUT DE GAMME. Villa très bien entretenu, linge de maison à volonté. Seul bémol : Nous n'en avons trouvé AUCUN.
---
La villa jouit d'un emplacement agréable proche de Saint-François (3km). Elles est au calme et dans un site bien desservi. La mer n'est pas accessible en directe mais de toutes façons les plus belles plages sont accessibles à moins d'une heure de route pour les plus éloignées (ex : le souffleur) La Villa dénote en terme de commodités. Il y a une certaine complexité « technologiques » au sein de son infrastructures. Beaucoup de prises électriques par forcement bien placées, des commandes pour les stores volets, lumières etc… des volets qui montrent certains signes de fatigues et particulièrement bruyants ; Reste que les installations sont appréciables dans leur ensemble pour être utilisée à 12 personnes. Piscine et terrain e tennis sont un vrai plus. Un point fort sur le transfert Aeroport-Vila : Rudy a été particulièrement agréable et aux petits soins avec notre groupe. Une personne de confiance que je recommande (Rudy Taxi). Merci à lui et son collègue pour sa gentillesse et sa convivialité.
---
Nous gardons un excellent souvenir de notre séjour (famille/amis). L'accueil des propriétaires est super autour d'un apéro délicieux et très serviable tout au long du séjour si besoin ! On se sent tout de suite chez nous ! Le haut de la villa est parfait ! Le bas en revanche est un peu vétuste mais très fonctionnel. L'emplacement est très bien même si on ne peut pas se baigner dans la crique. Nous recommandons cette villa les yeux fermés et nous y retournerons avec grand plaisir si un jour l'occasion se présente. Remarque : Nous remercions tout particulièrement Amandine qui nous a vendu le voyage pour son professionnalisme, sa gentillesse et son dynamisme suite aux problèmes survenus à cause des erreurs de réservation sur les billets d'avion de la part de la compagnie Air Caraïbes.
---
Nous avons séjourné dans cette villa très bien équipée à 12 personnes (11 adultes et 1 enfant) pendant 2 semaines. Les plus : Accueil chaleureux avec apéro de bienvenue bien garni (petits fours maison, jus, eau, rhum, etc…) Premier petit déjeuner très complet. Chaque chambre a sa salle de bains avec douche ou baignoire. En cas de souci, le propriétaire est disponible et réagit rapidement. Le moins : Pourrait être un peu plus propre. Les suggestions : Quelques vélos seraient parfaits pour faire des petits déplacements jusqu'à Saint-François
Mask
---