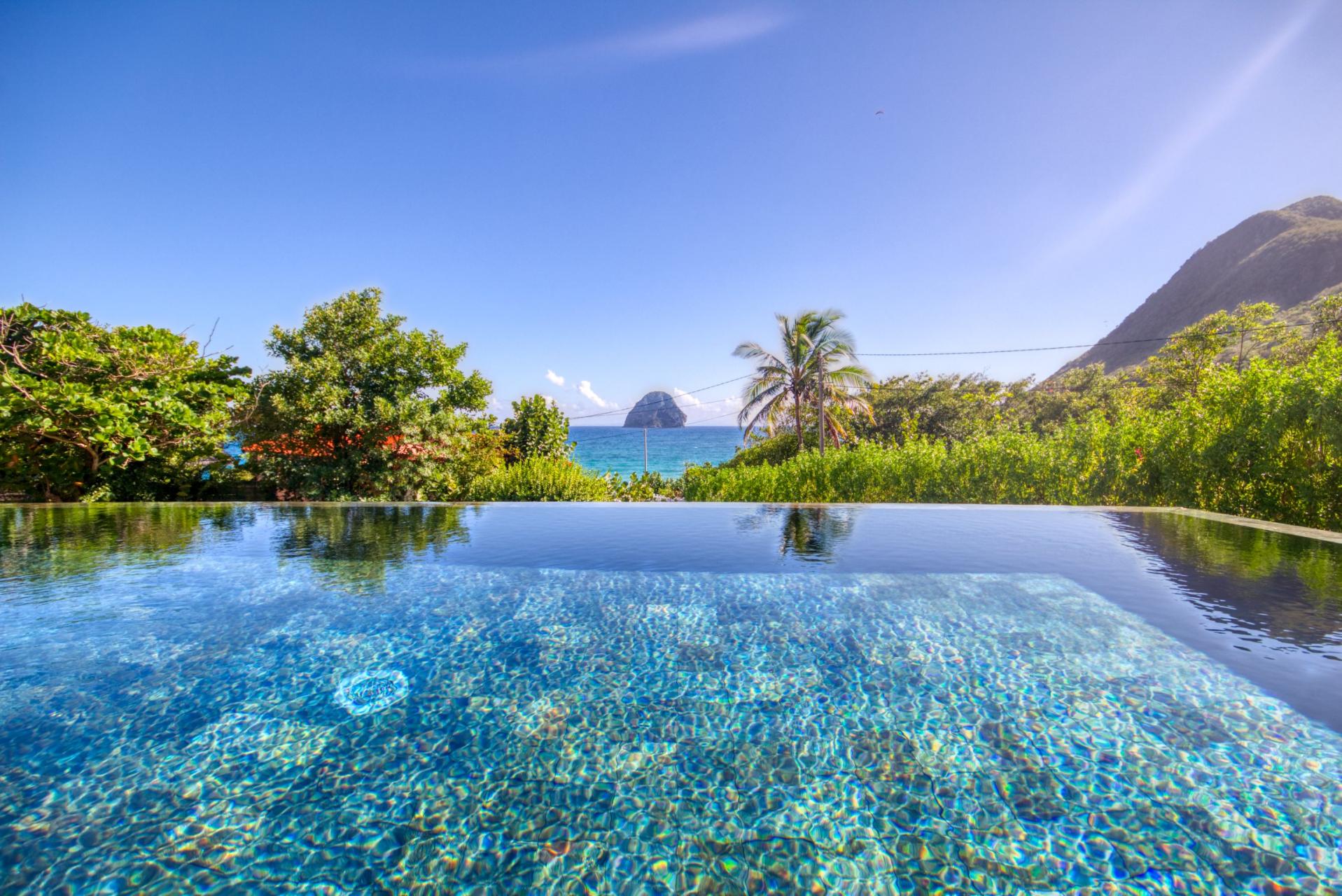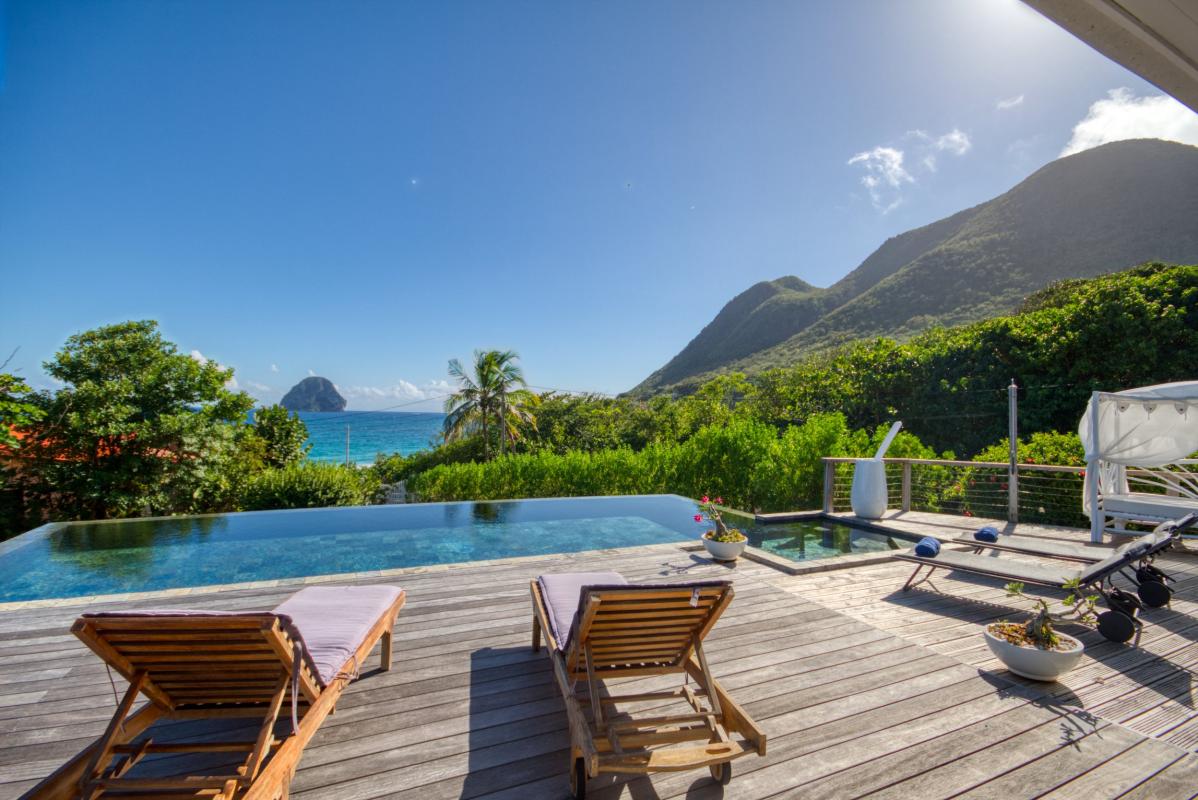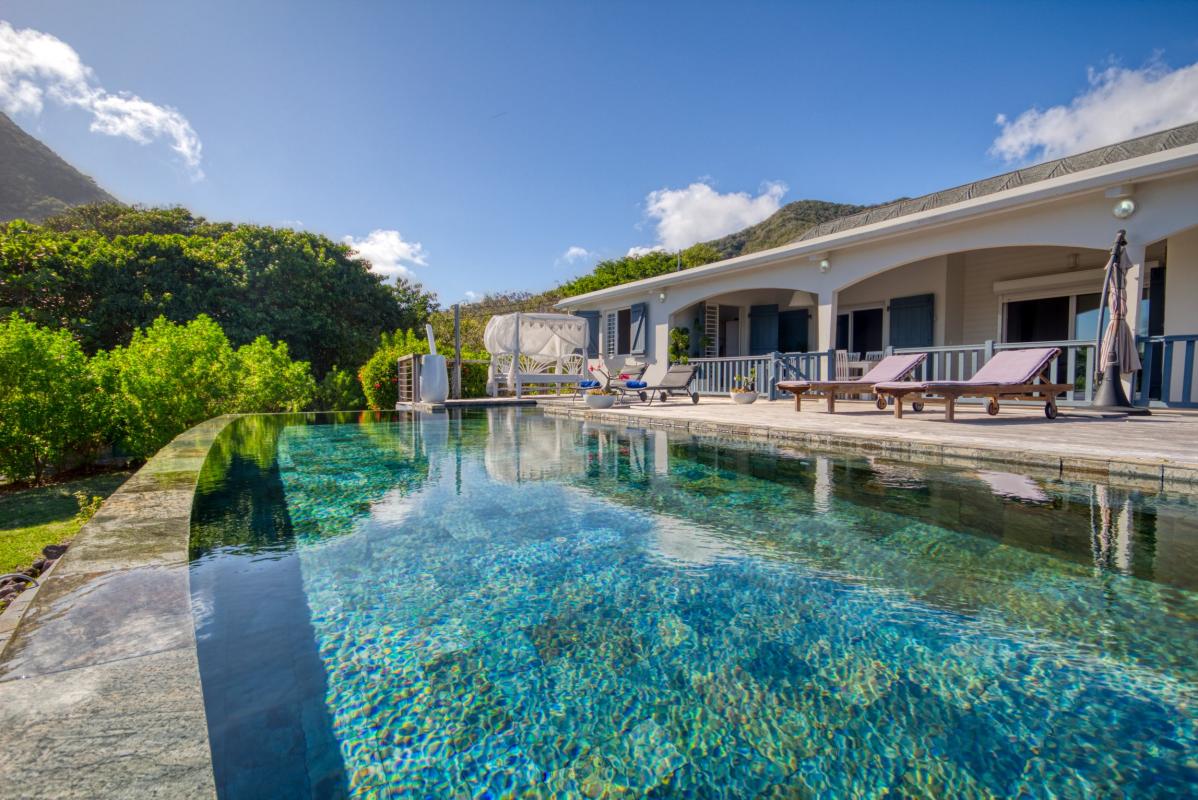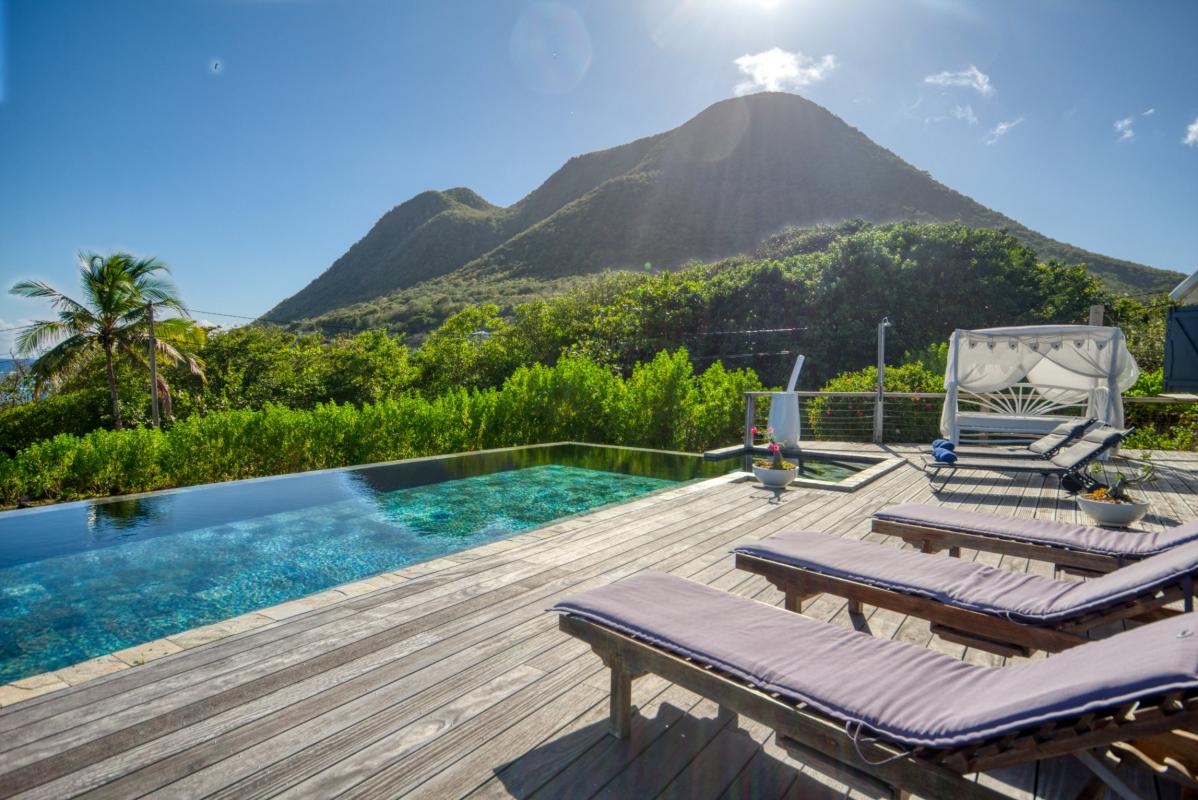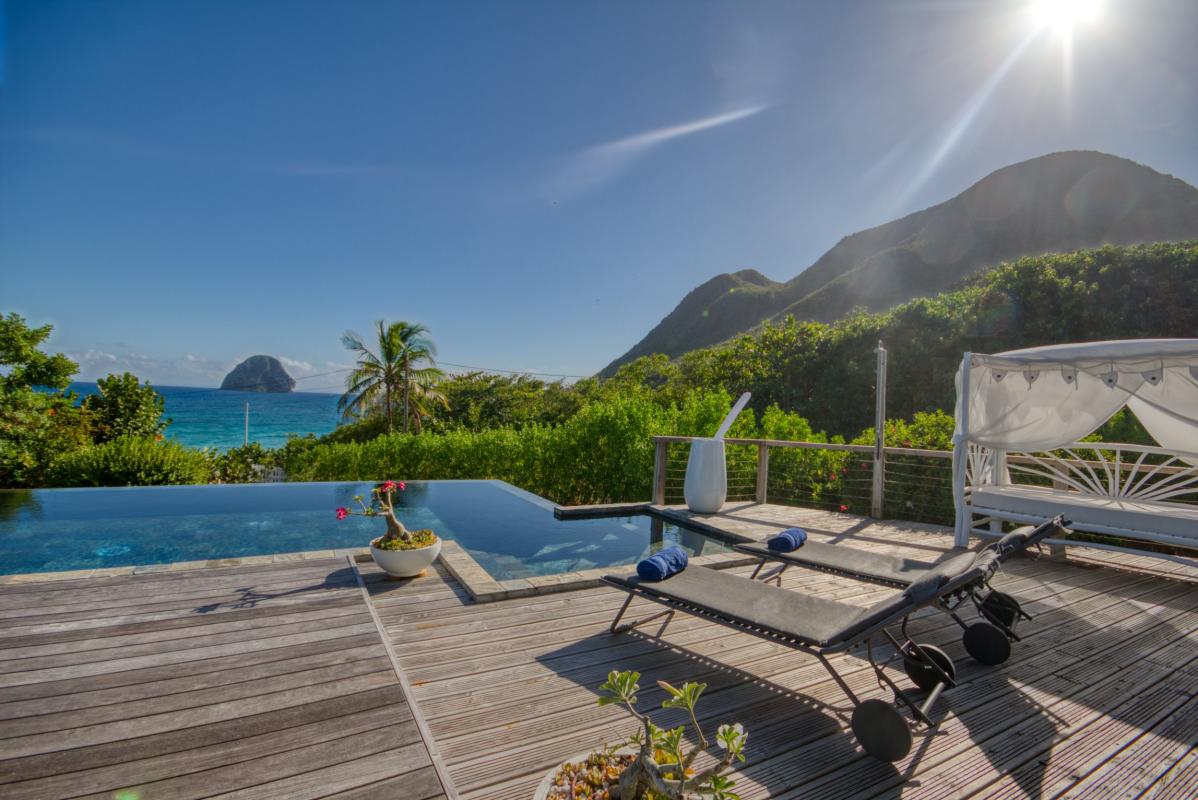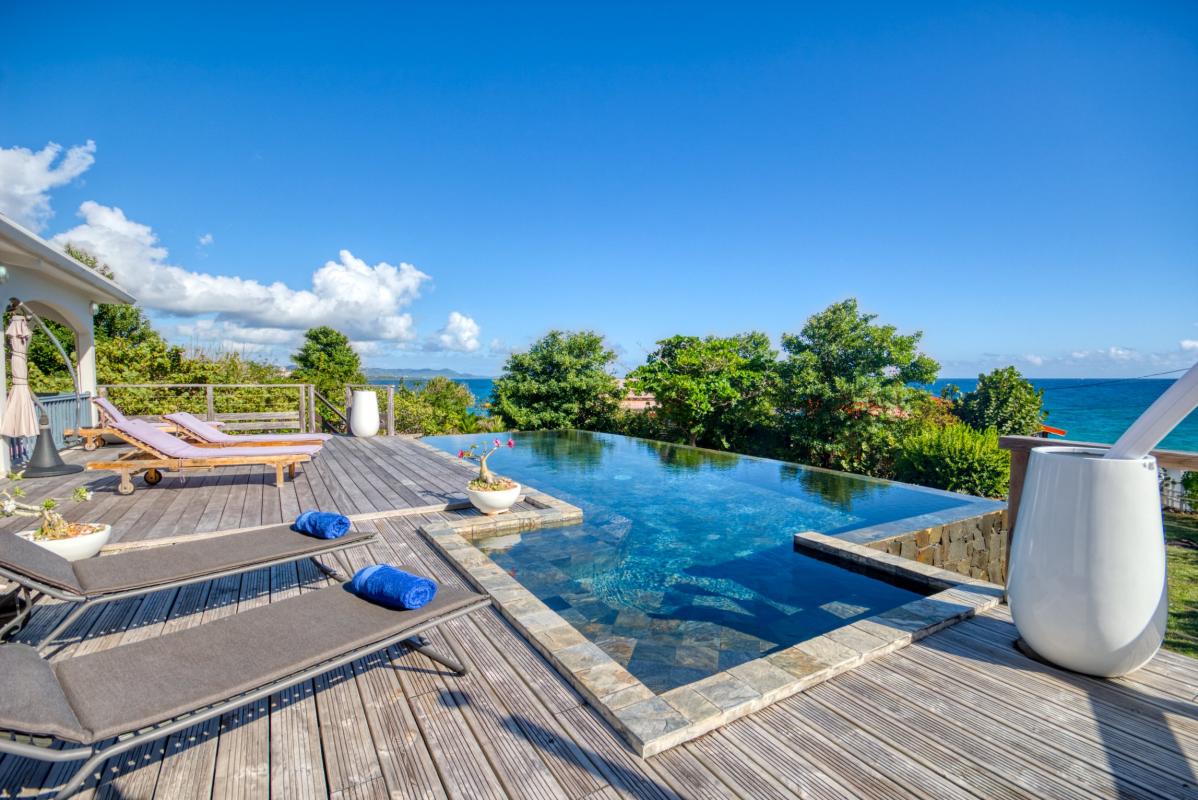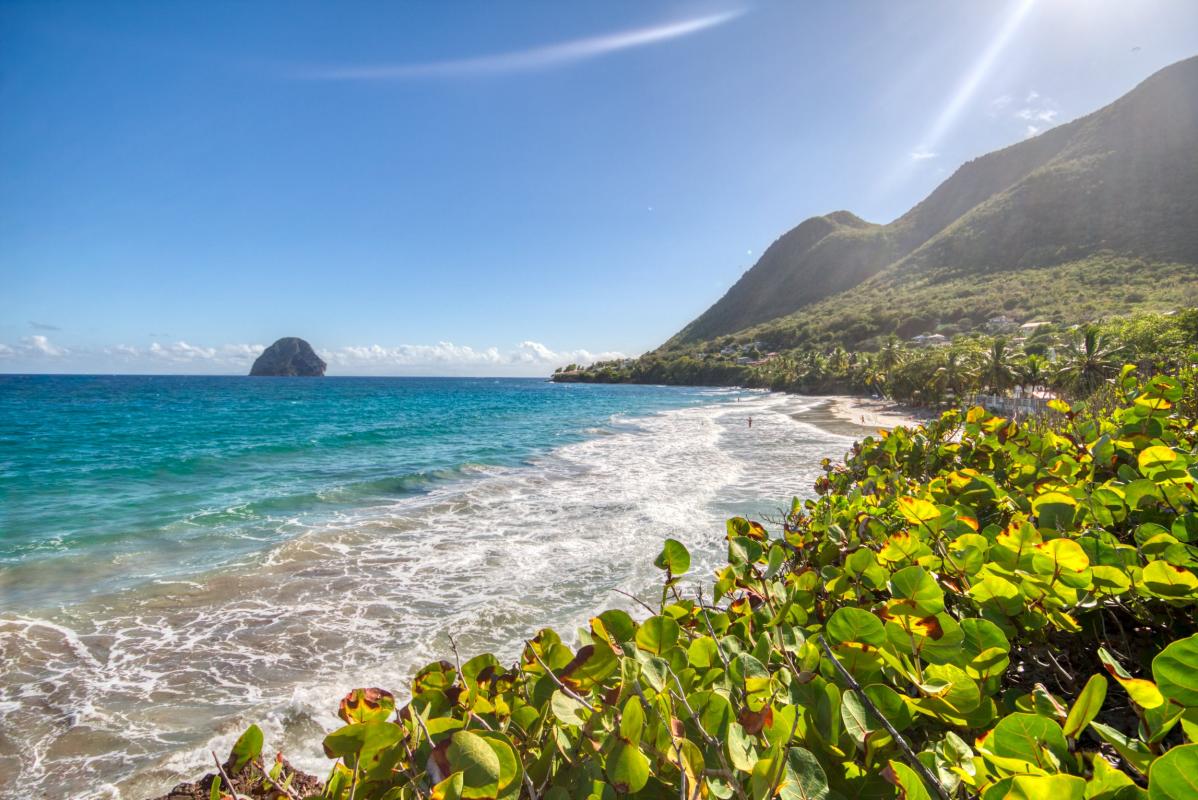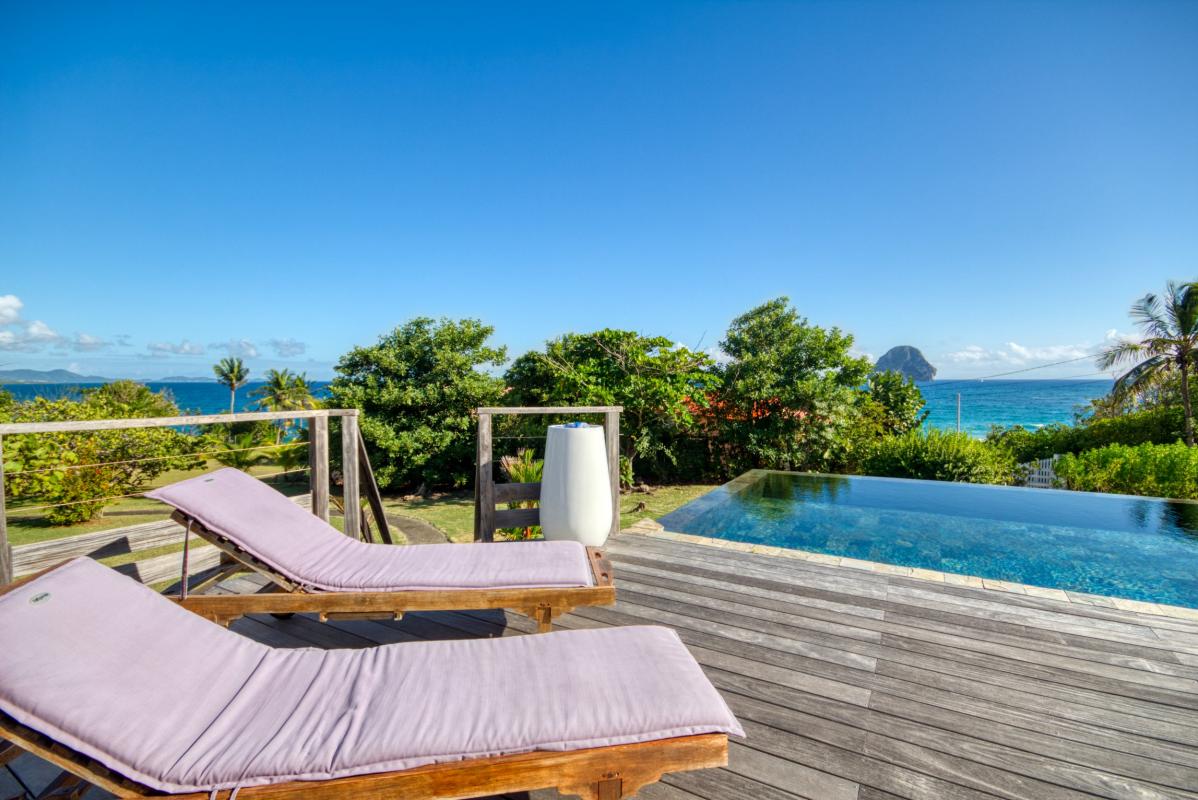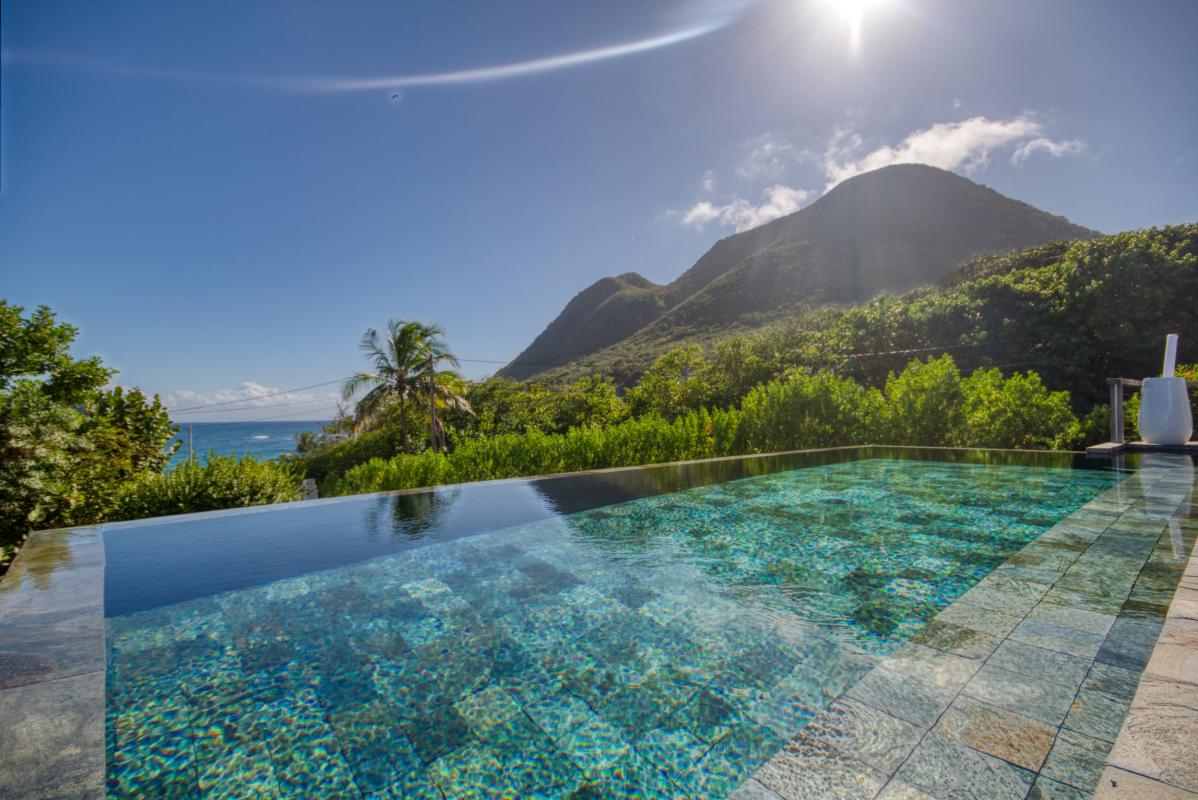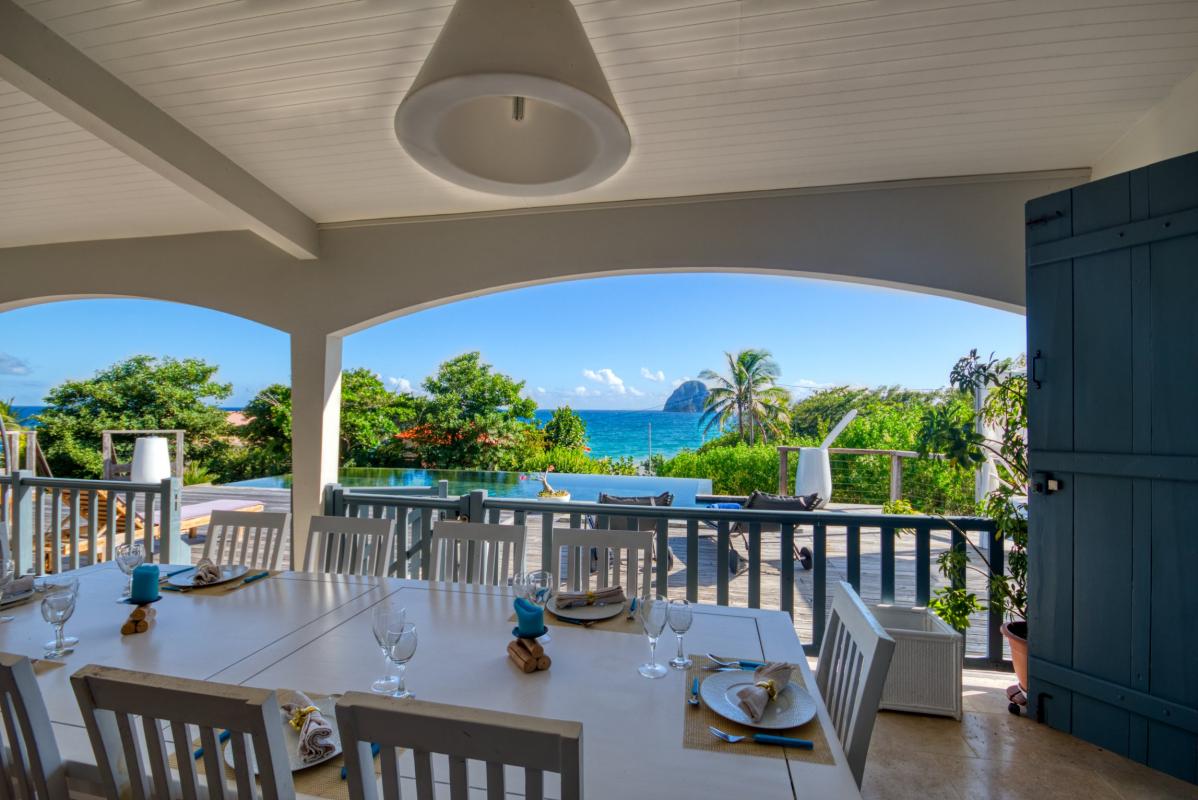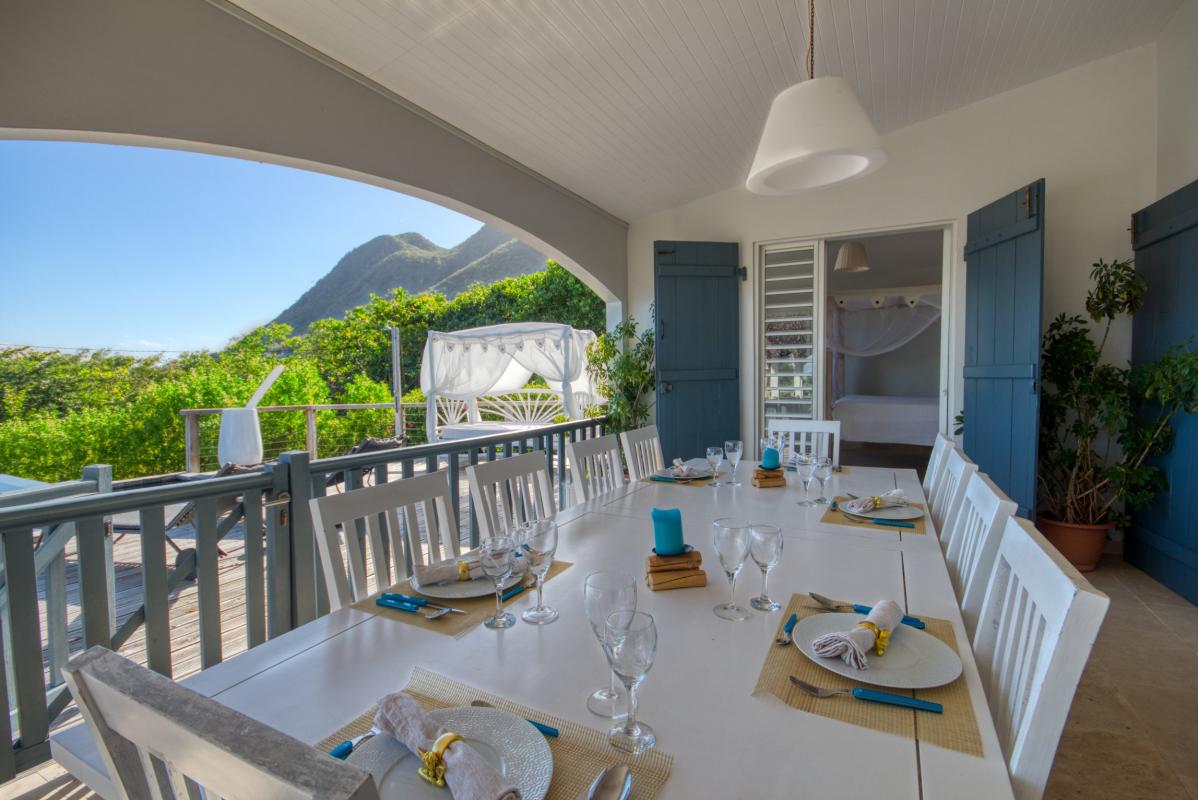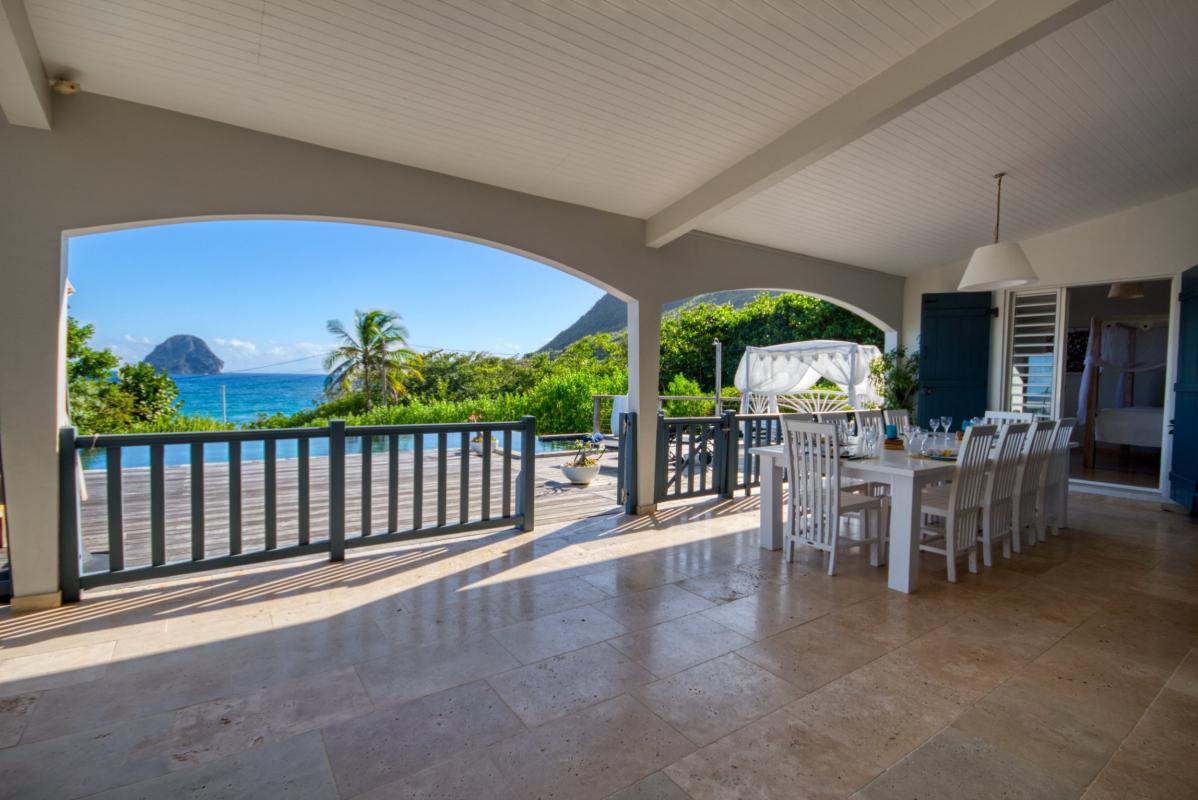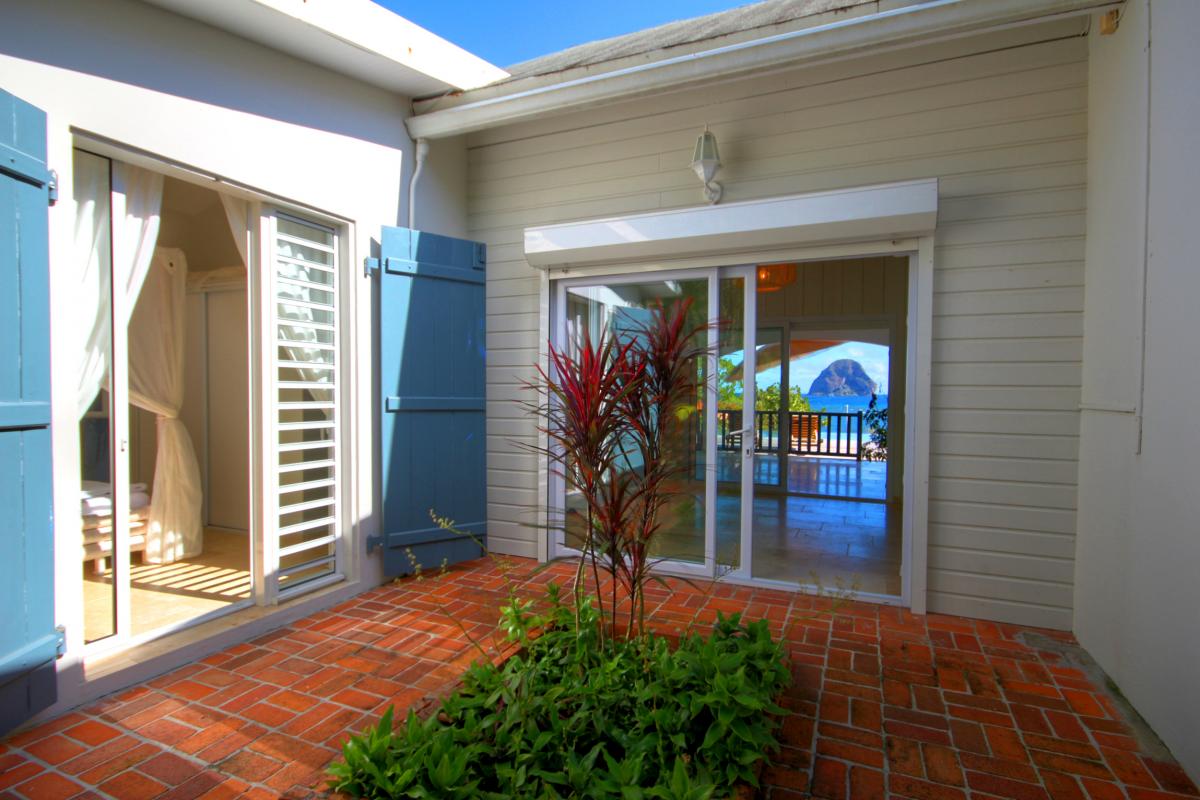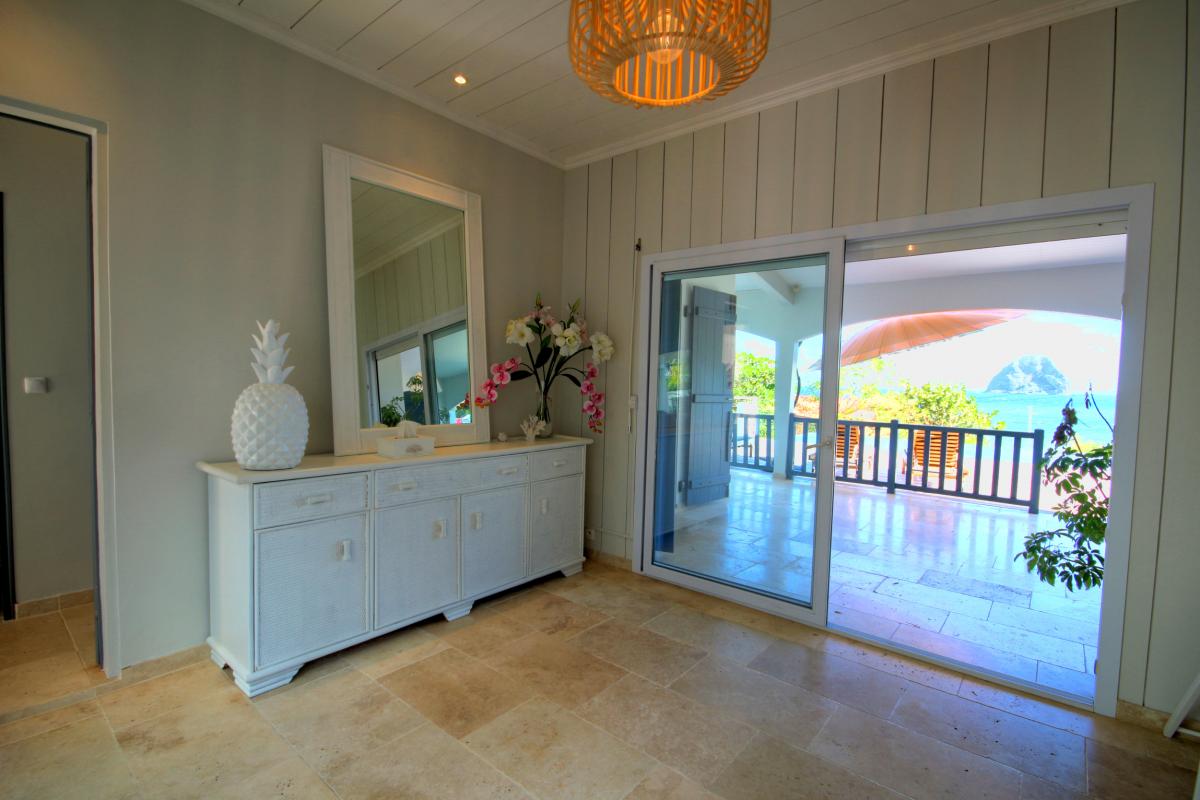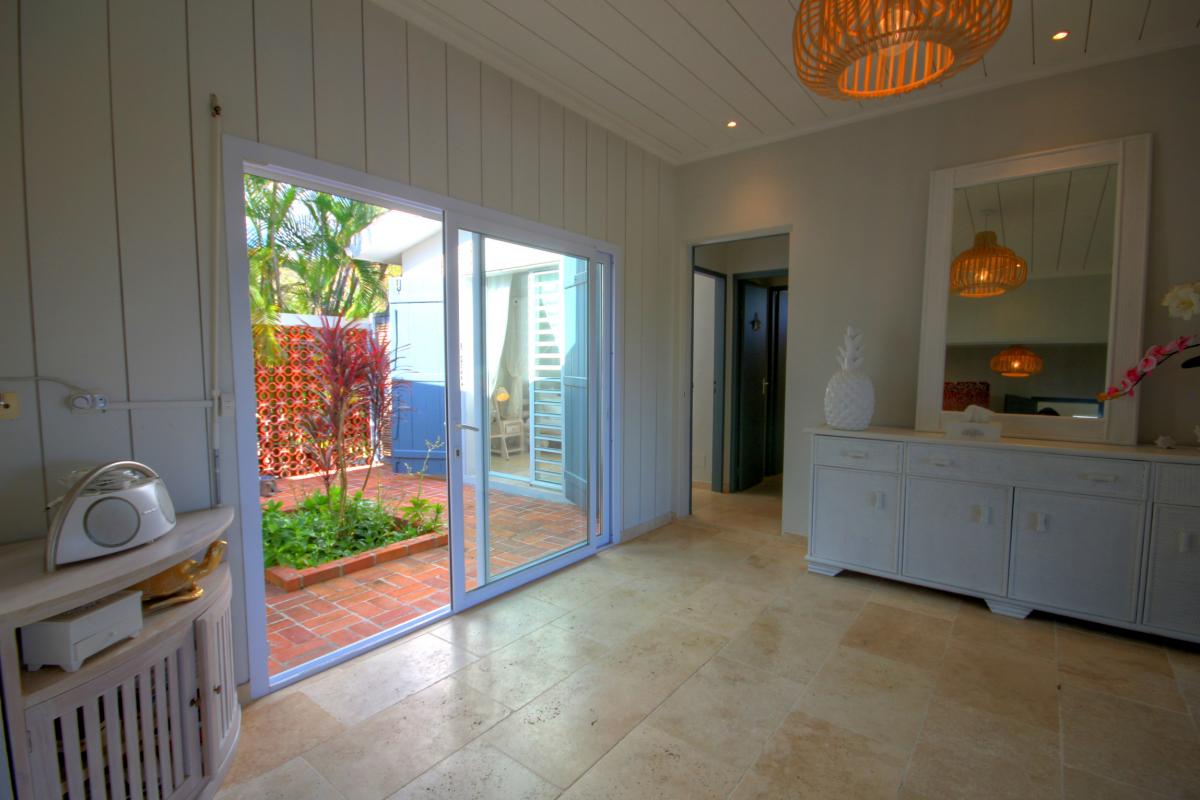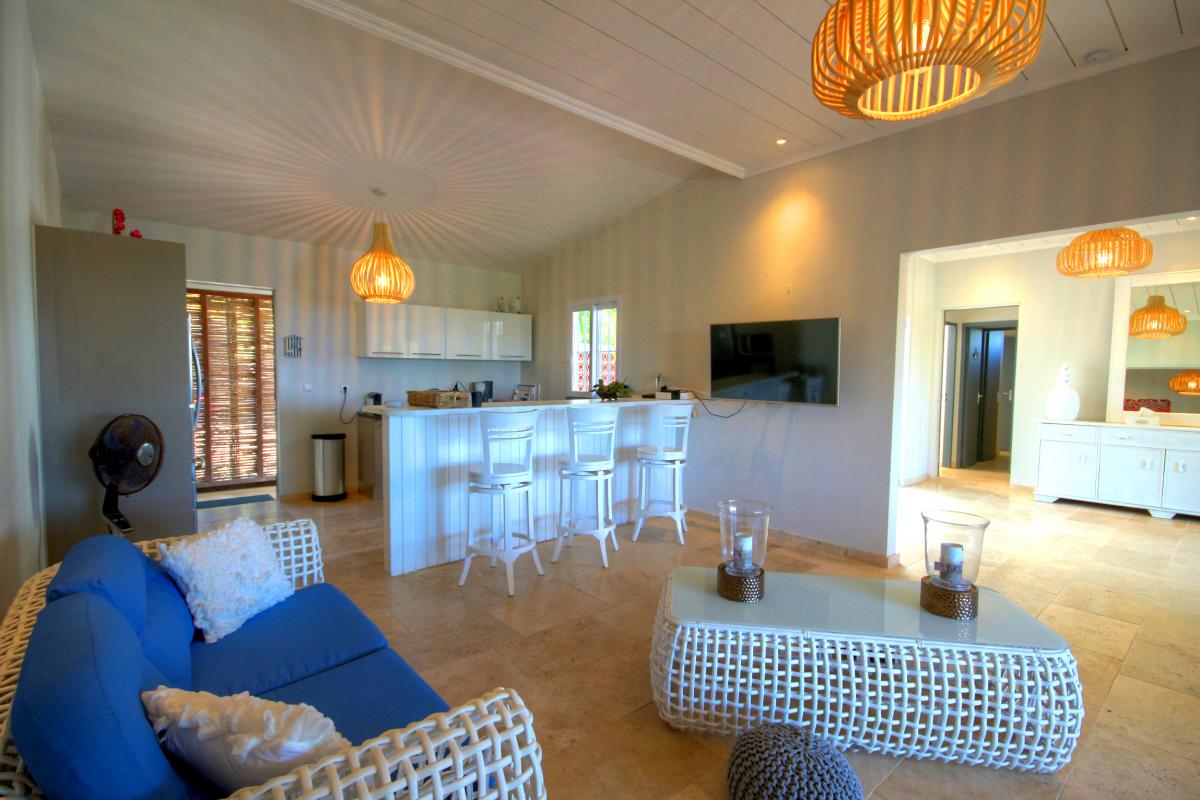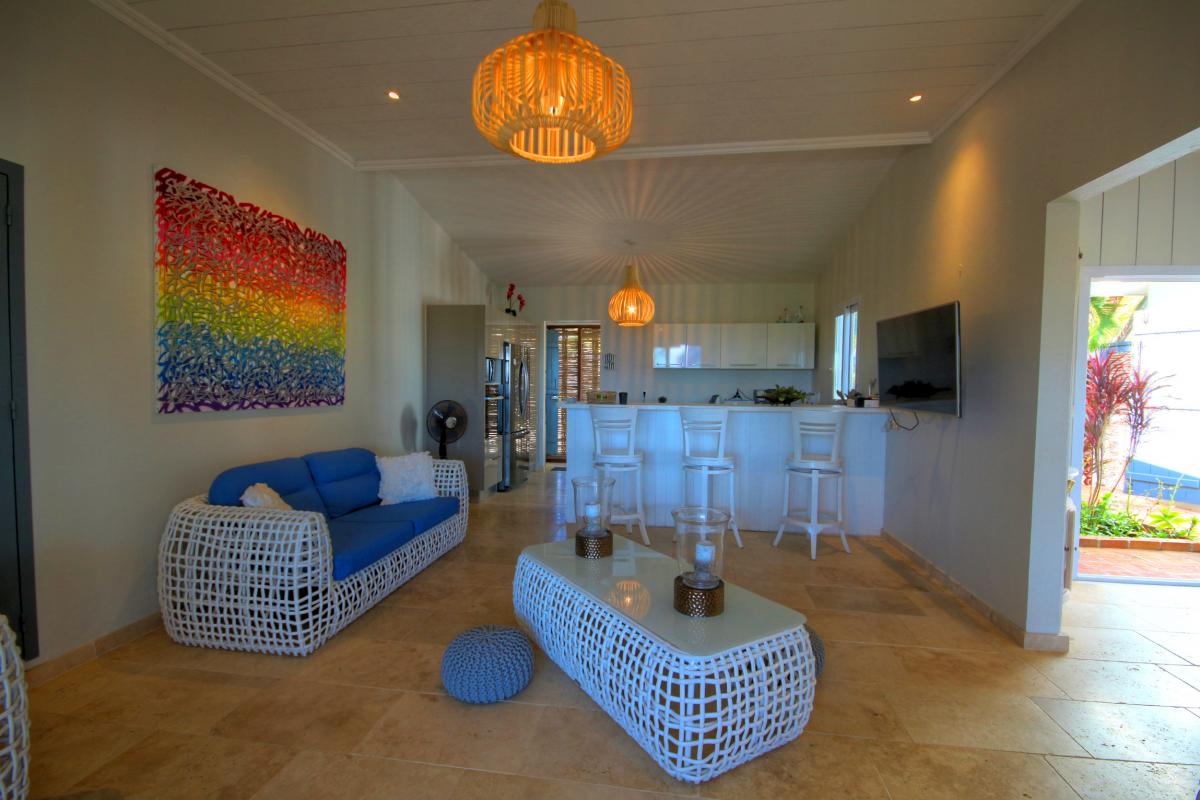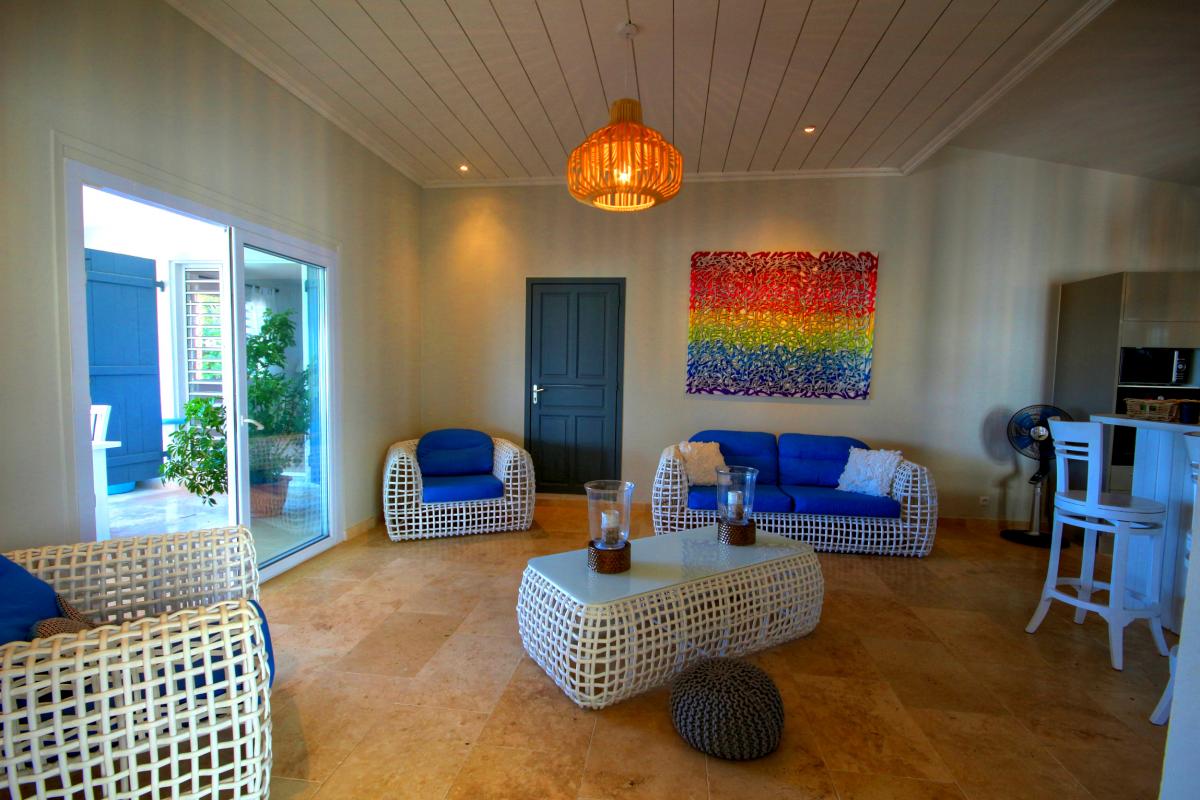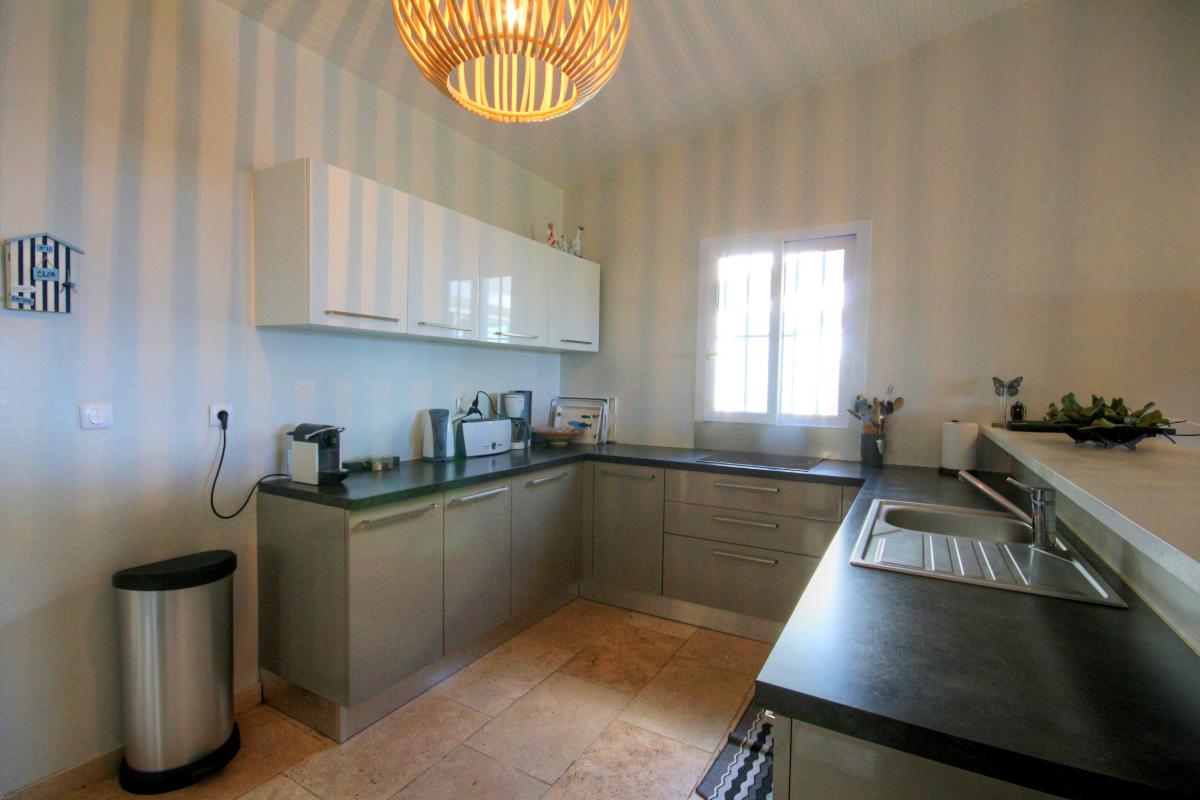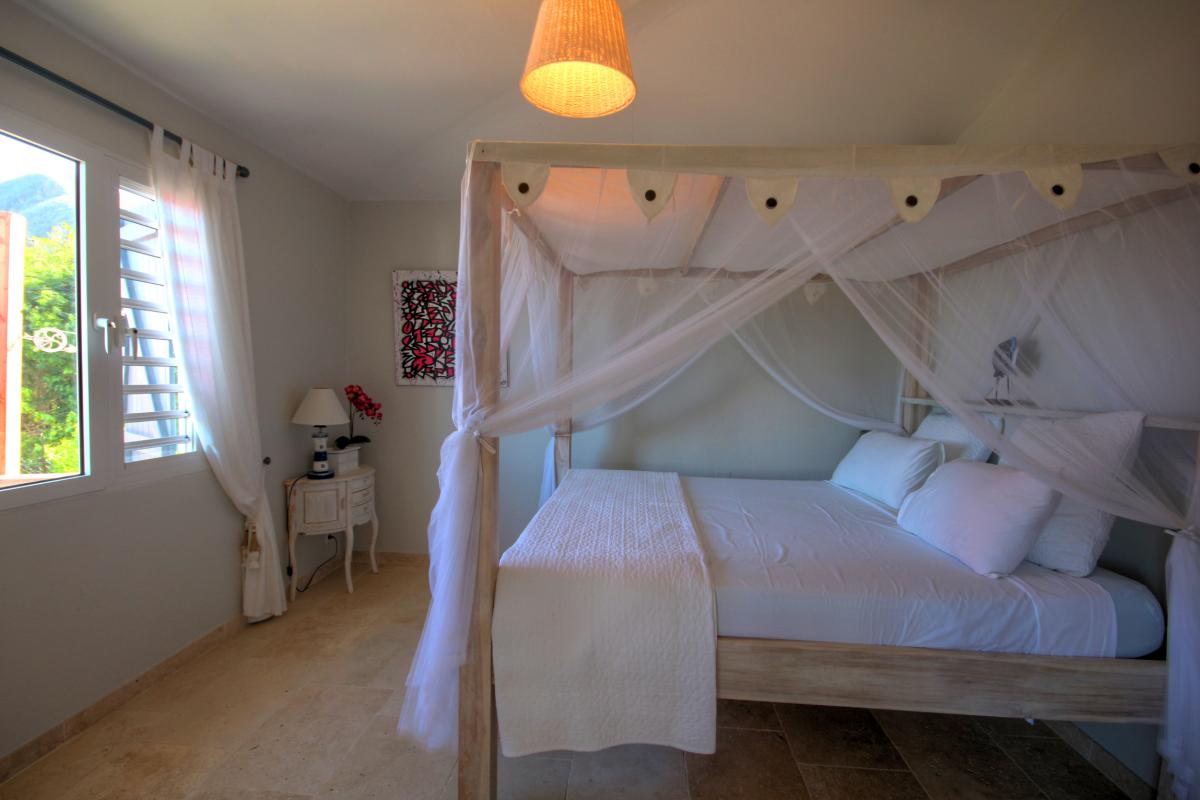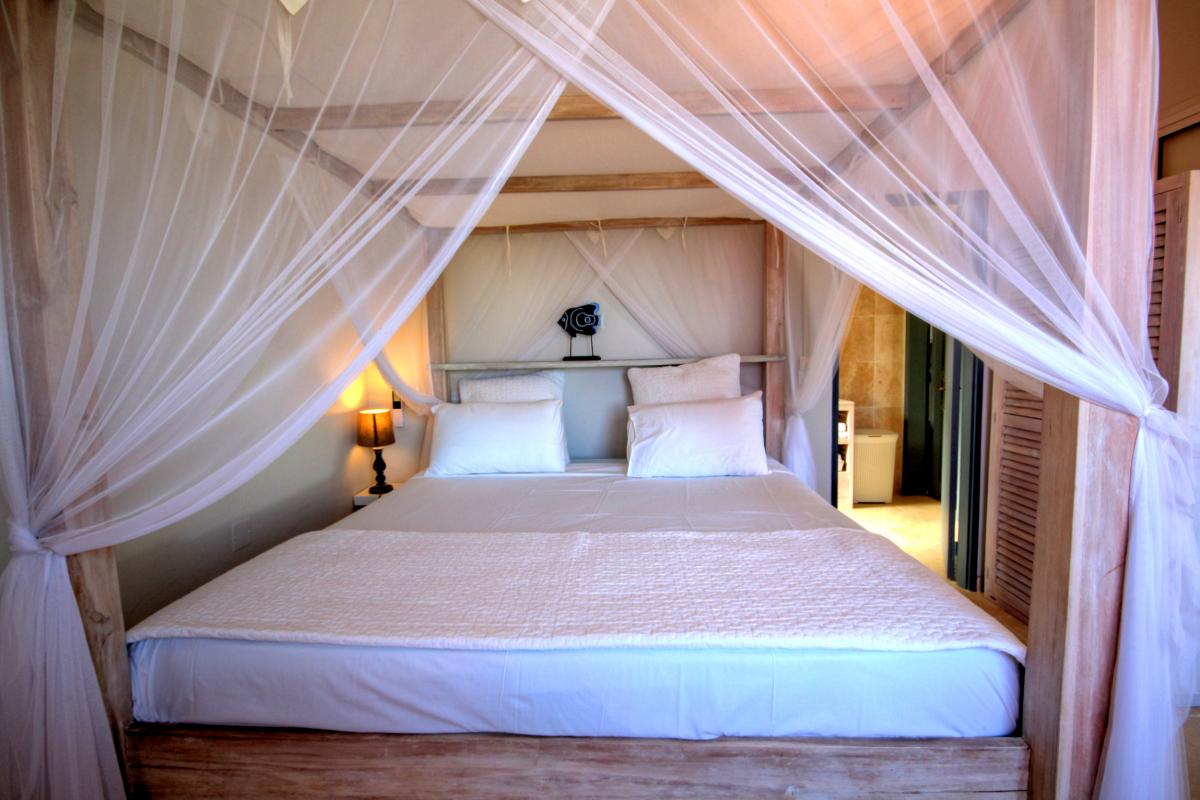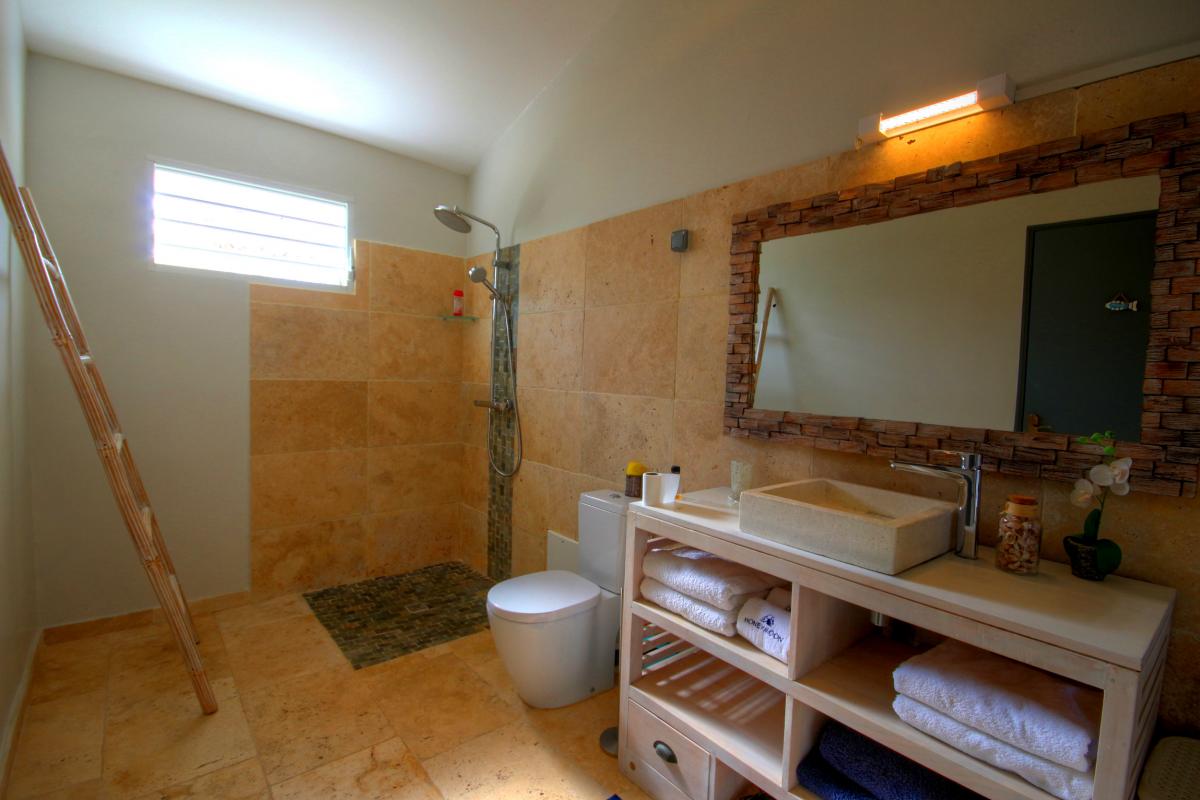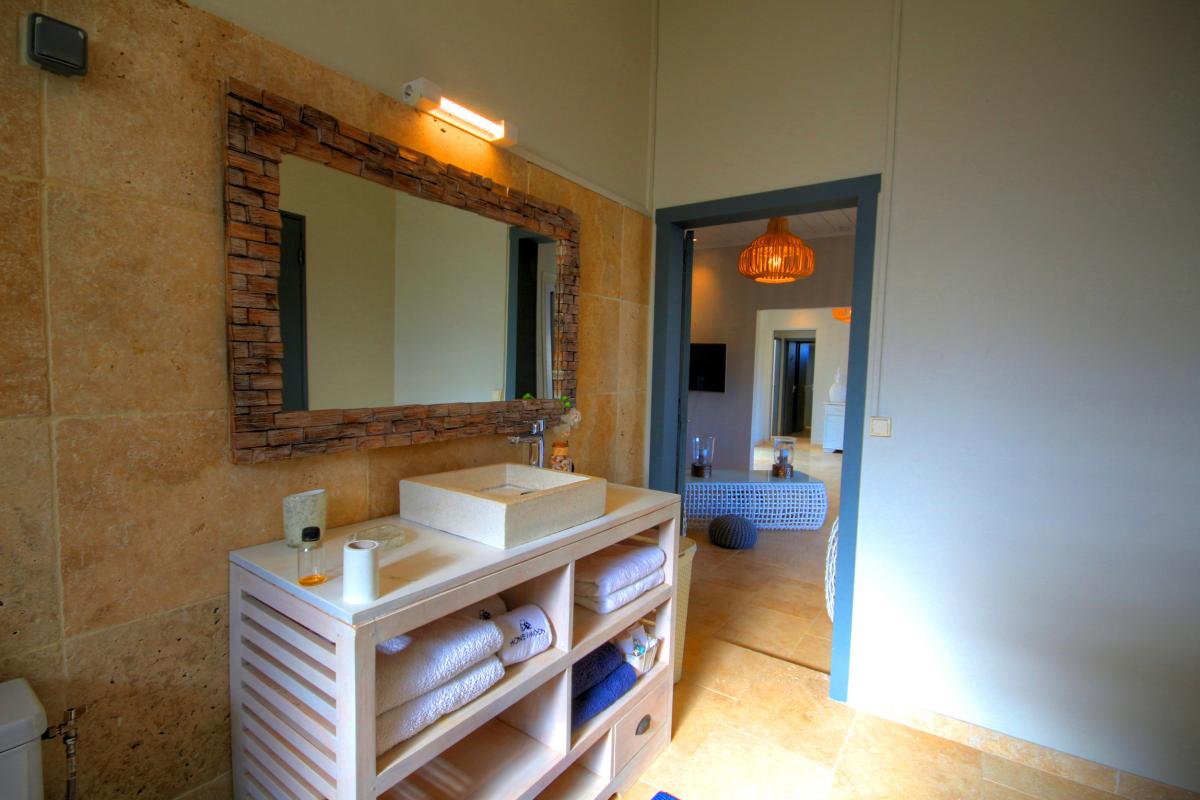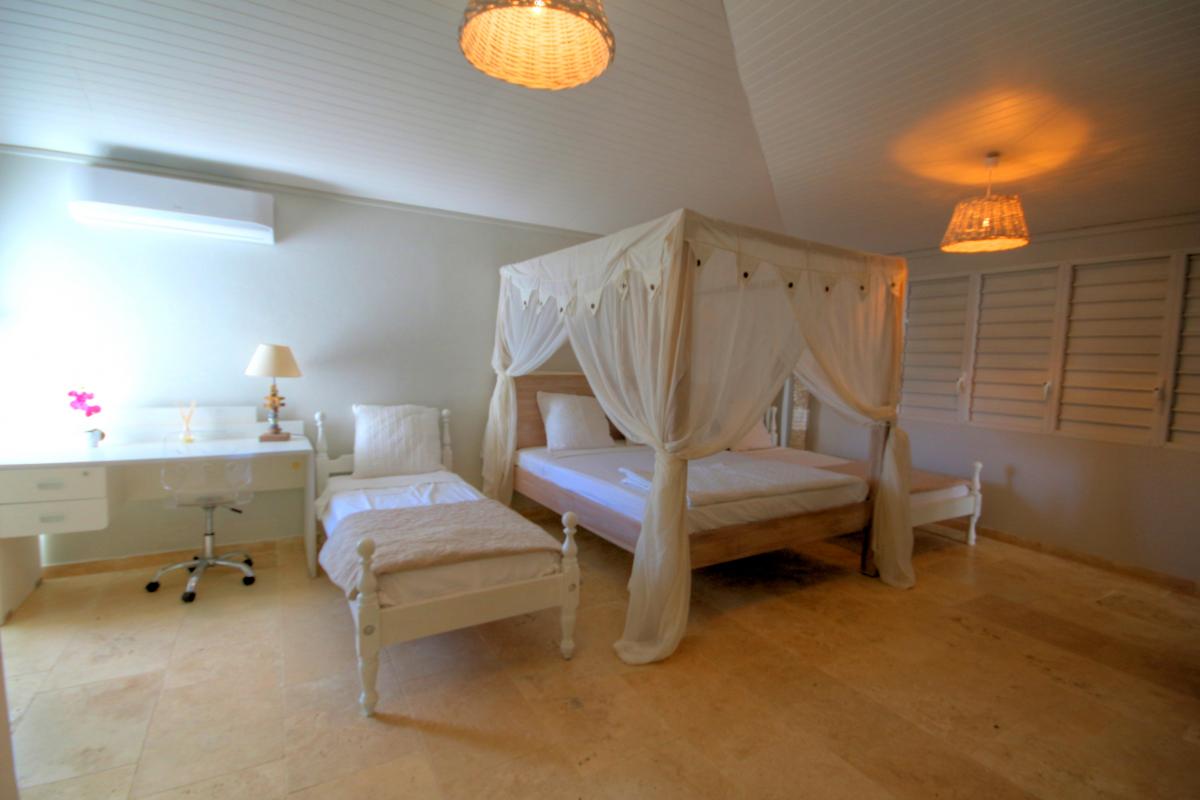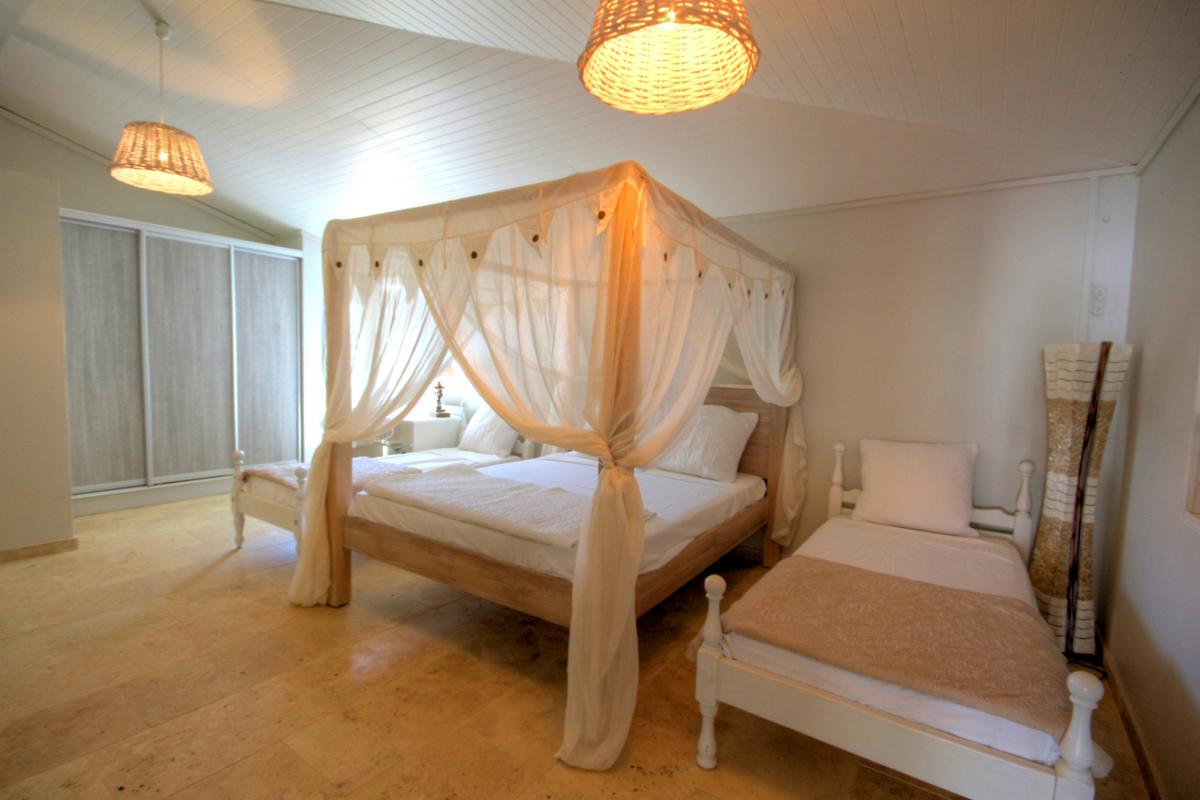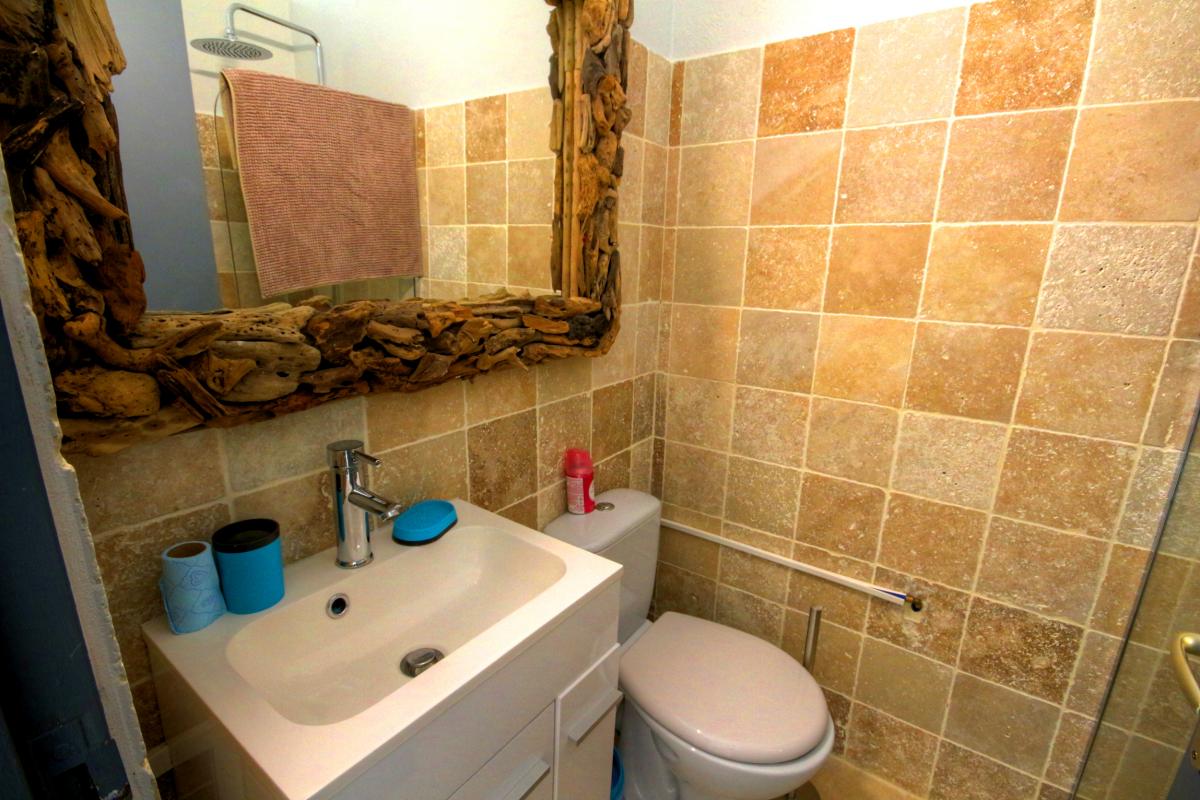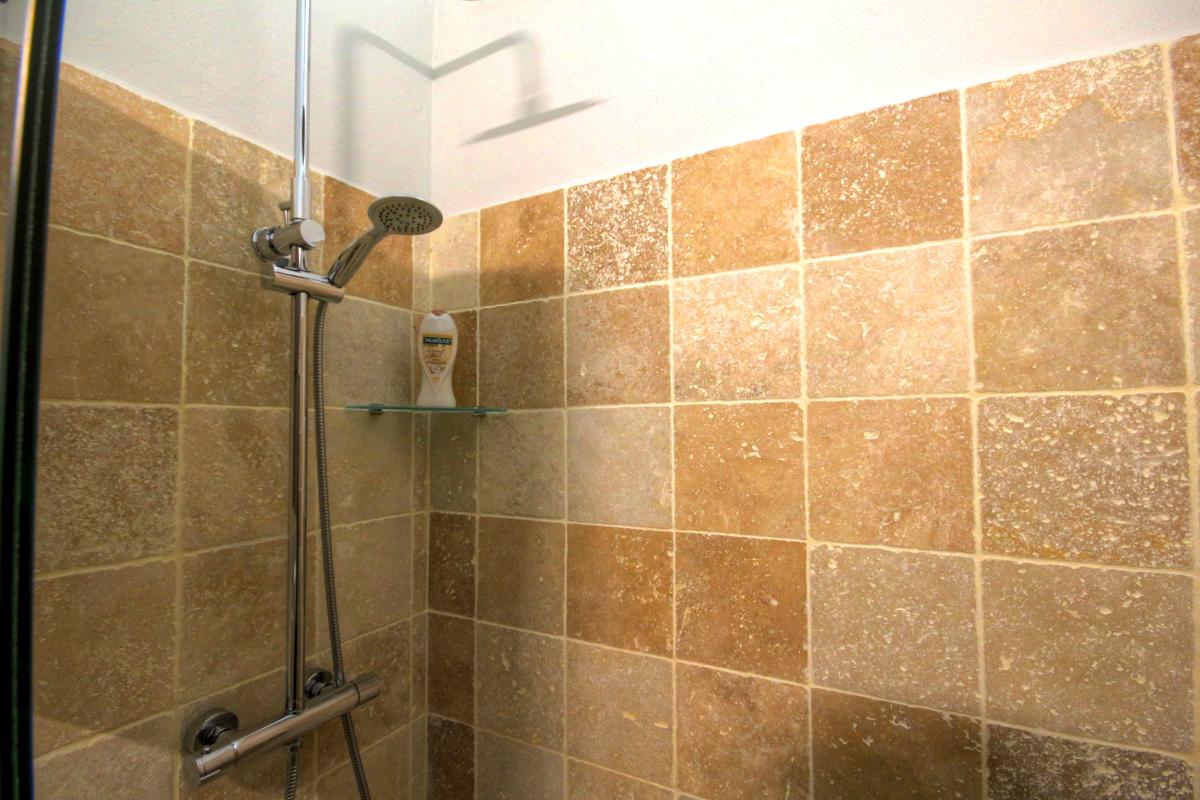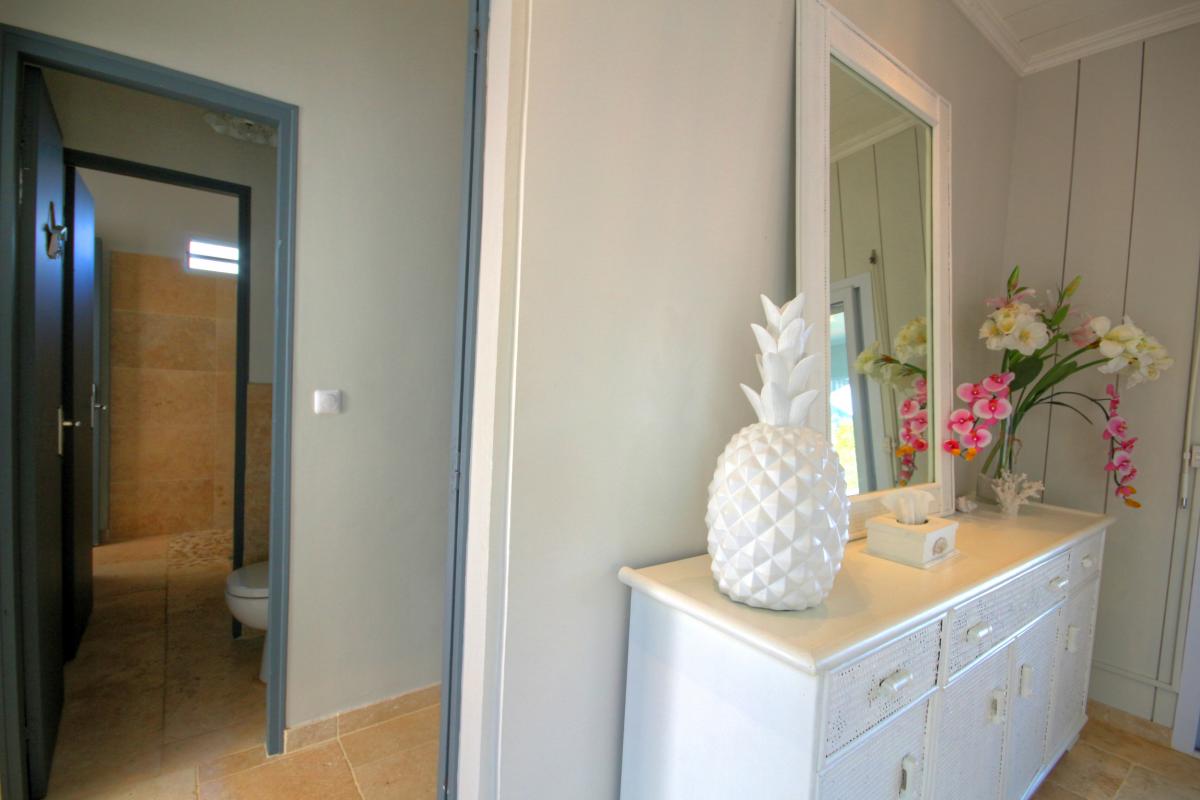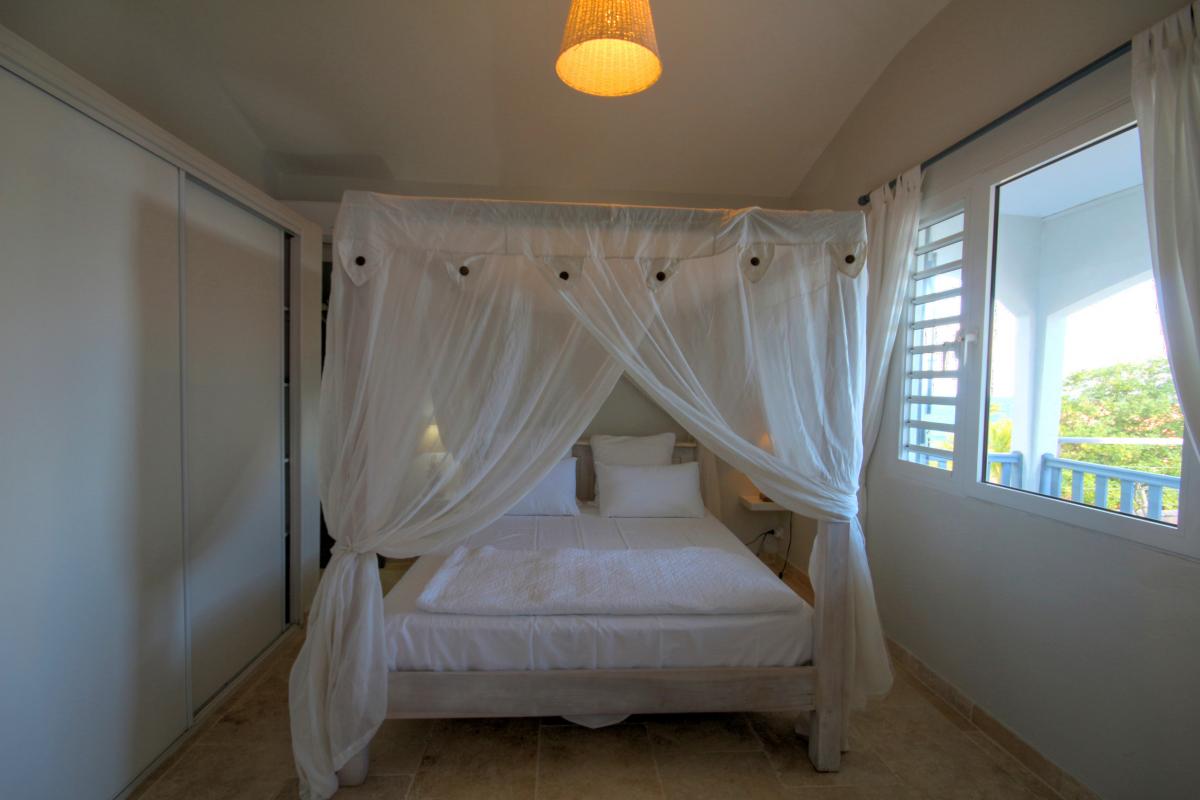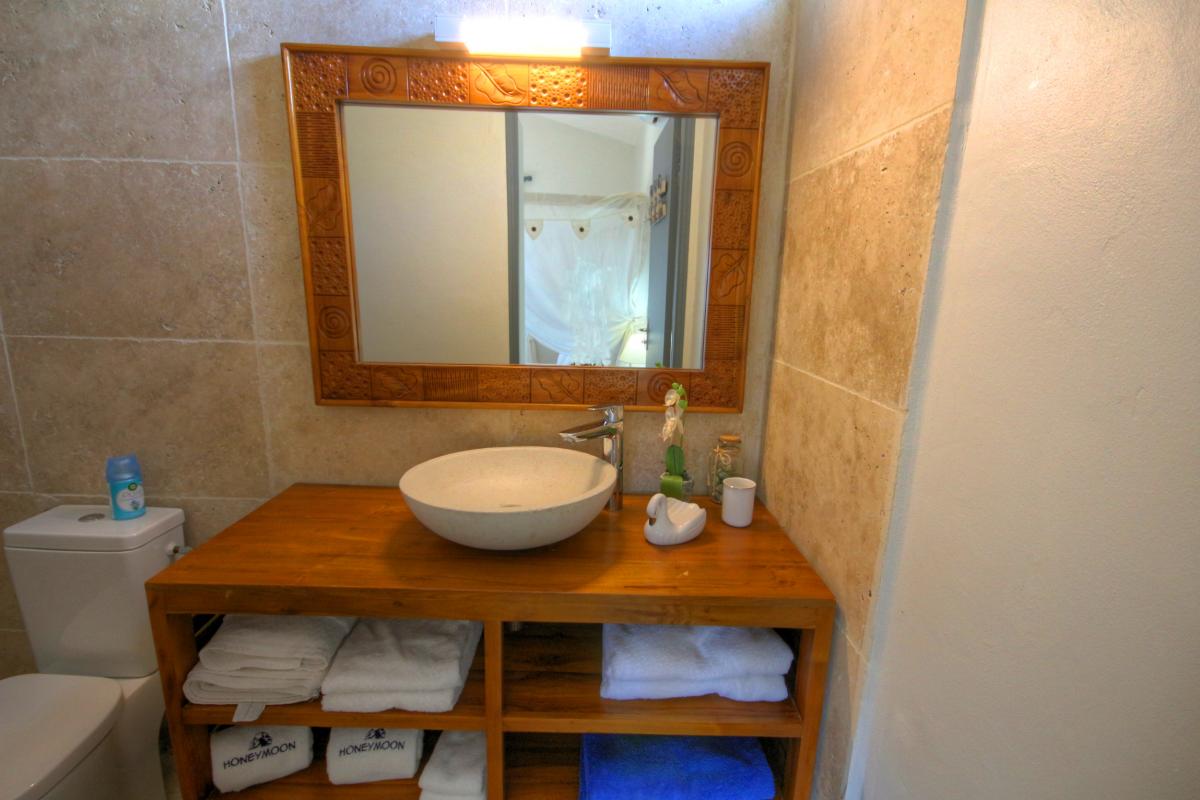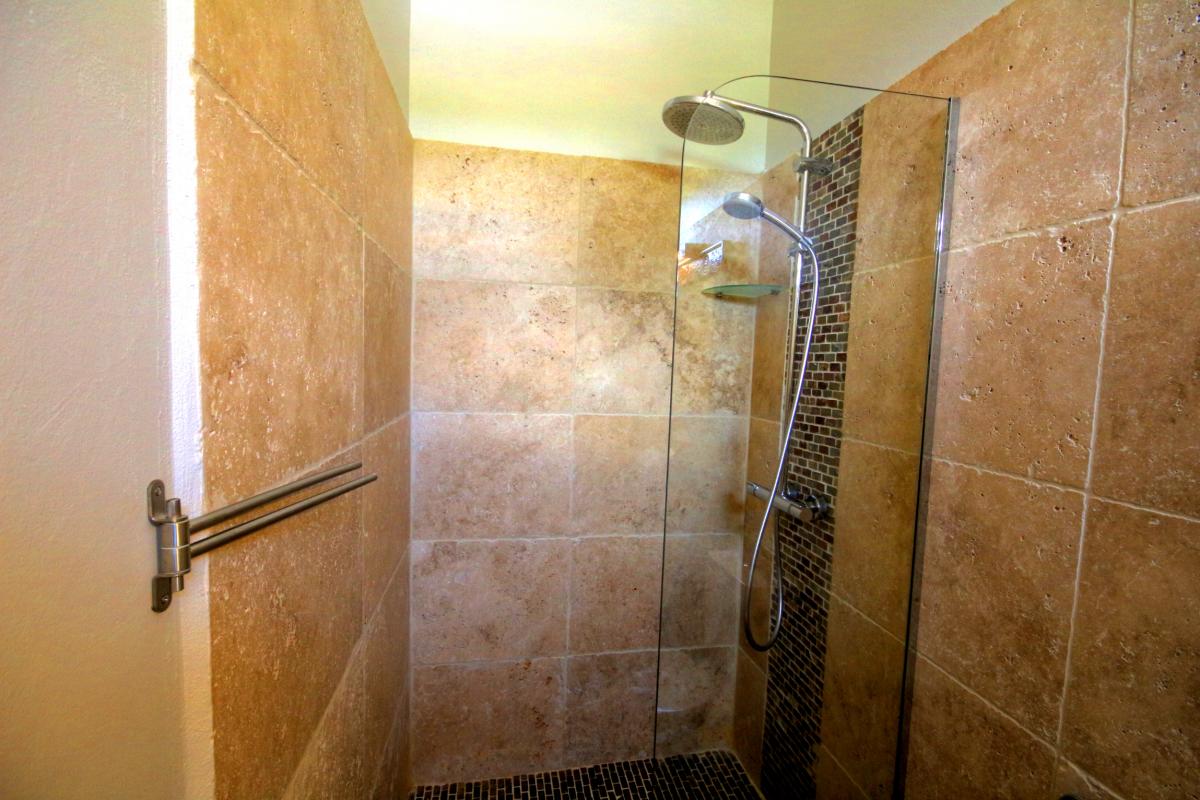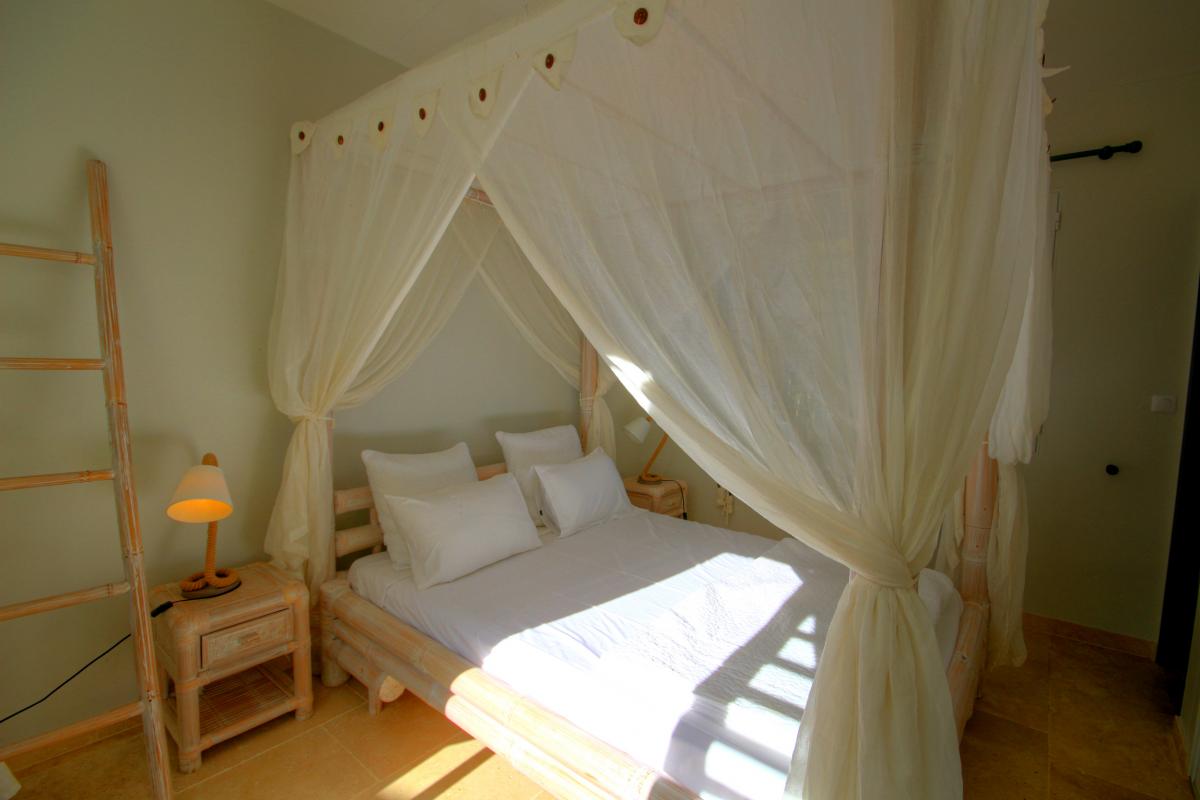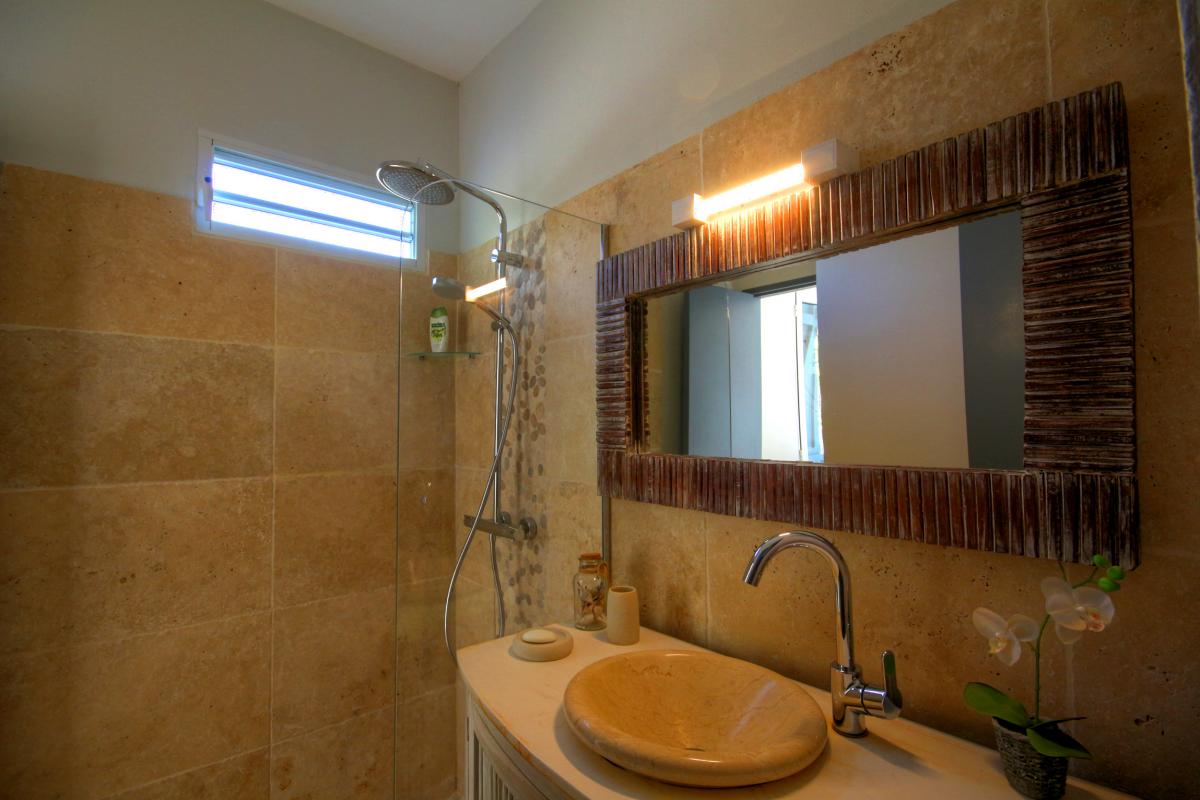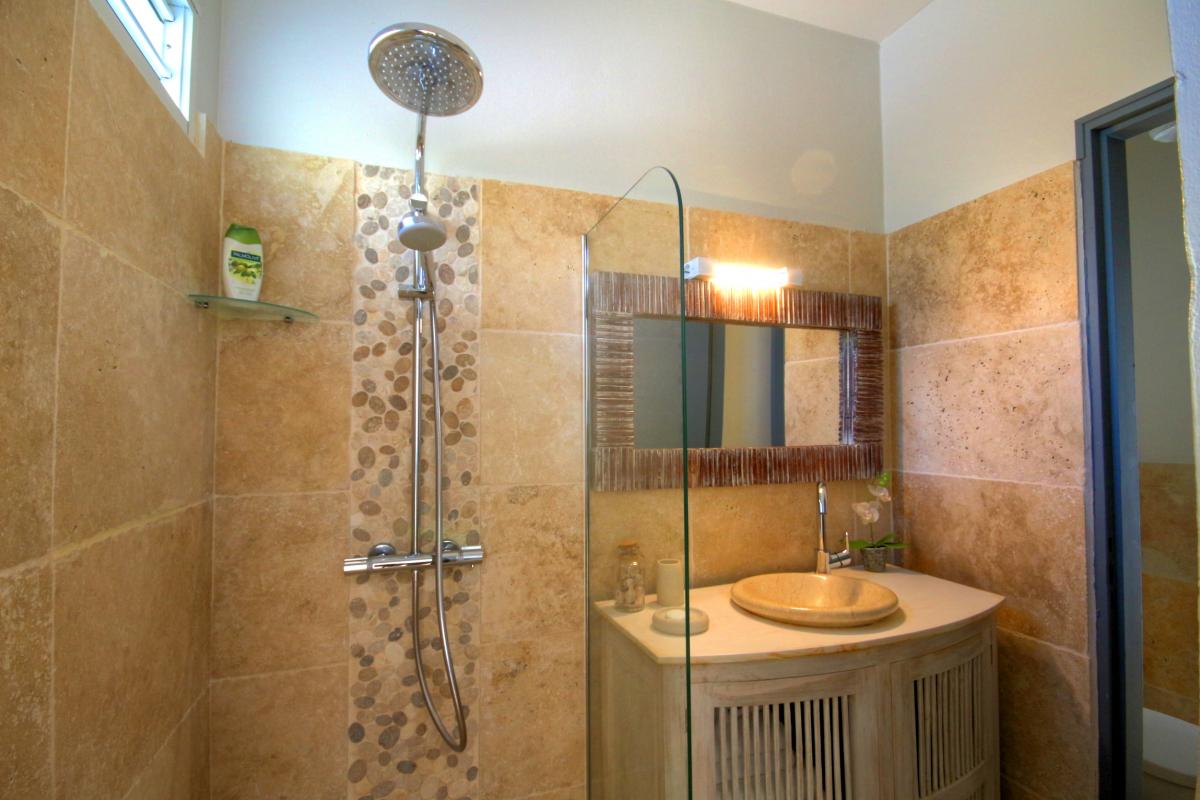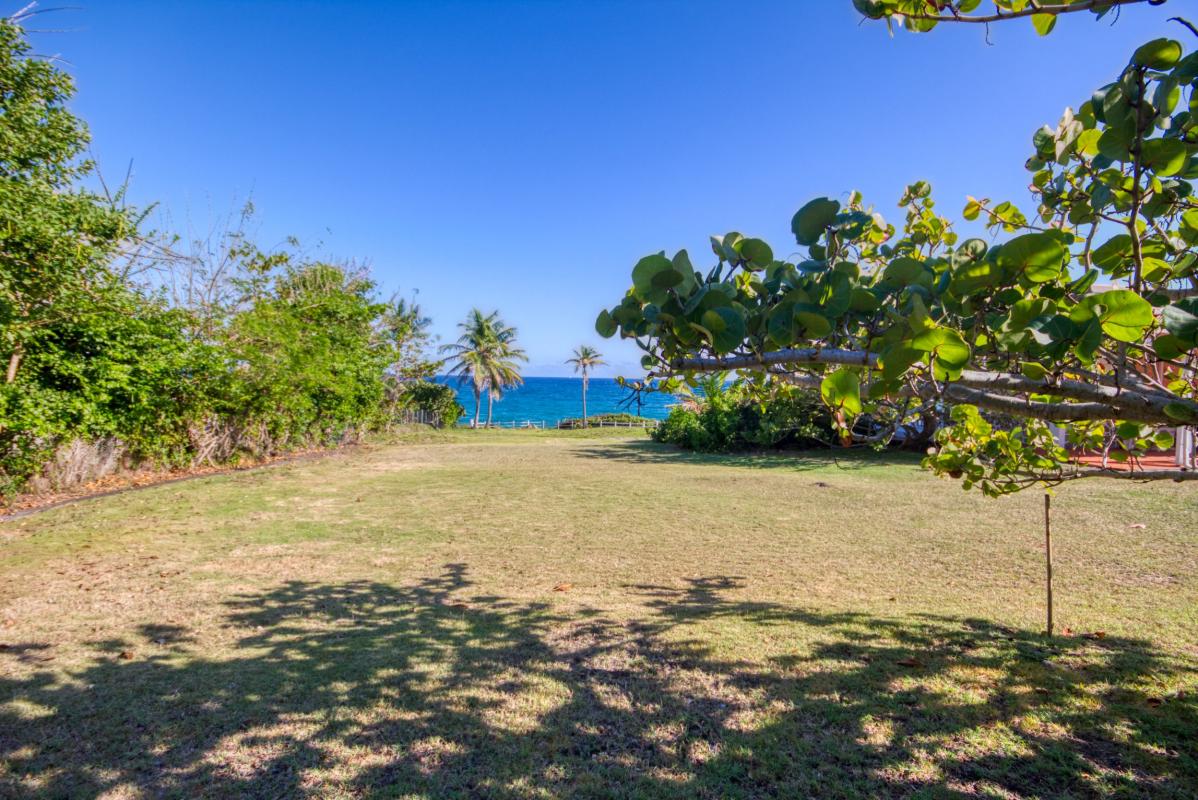 Magnificent villa on the beach
---
---
Price : $605 - $1,283 / night
---
Air conditioning

Swimming pool

Barbecue

Safe

Internet

Wifi

Television

DVD player

Hi-fi

Washing machine

Tumble dryer

Iron and board

Hair dryer

Linens
Location of the villa
On a vast property, the villa, and its beautiful swimming pool, is located a few meters from the large Diamond beach and about 1.5 kms from the village, shops and the local market.
The villa offers an impressive view of Le Rocher du Diamant
Property
This one-level villa offers magnificent amenities. You are immediately struck by the panoramic view of the Diamond Rock (Le Rocher du Diamant), as you pass the entrance door.
A large living room opens onto a beautiful covered terrace, with a deck and a very beautiful infinity swimming pool made of cut stones. A few meters away, the Diamant beach is accessible by a path that crosses the garden.
The villa is composed of:
1 large living room with sofa, armchairs and a large flat screen TV
1 very well equipped open kitchen, open onto the living room
1 large air-conditioned master bedroom with a Queen size double bed (160x200) and 2 single beds (90x200), with its own bathroom
1 air-conditioned bedroom with a King size bed (180x200) and its own bathroom
2 air-conditioned bedrooms with Queen size beds (160x200) and their private bathrooms
1 covered terrace, with a large table and a lounge area, open onto the deck and pool
1 infinity swimming pool made of zeera green stone, with lounge chairs, from where you can enjoy a breathtaking view of the sea
1 garden of 2400m², with 2 private accesses to the beach
1 petanque court
1 large standalone outdoor porch ("carbet") with a large table and outdoor furniture
1 laundry area, with washing machine and dryer
Private concierge
When you choose a luxury villa, you get much more than a simple accommodation: Antilles Exception offers its concierge service reserved for Antilles Exception customers. These high quality and personalized services are numerous:
Many great amenities for you to select, such as…: In-house breakfast or breakfast+dinner, home chef or grocery delivery, daily cleaning, baby-sitting, home massage, manicure...
Unique excursions: Catamaran or motorboat outings (possibly privatized), deep-sea fishing, dolphin outings, dune buggies, horseback riding, exotic ballets at the villa, rum discovery...
And tailor made services: You imagine, we make it happen!
More infos about the villa
Services and Amenities
Household linen provided (sheets, bath and kitchen towels)
Groceries for the 1st breakfast provided
Barbecue in the garden
Foldable baby crib and high chair upon request when booking
Internet and Wifi
To do close to the villa
Water activities, including diving at Diamond Rock (Rocher du Diamant) and surfing at Diamond Beach
Hiking on Morne Larcher
Visit to the Slave Memorial and the Shell Museum
Two markets in Le Diamant, one covered located in the village center and one open market closer to the villa
Many small restaurants in the village Le Diamant
Details
Neighbourhood name : Dizac
Distance to supermarket or shop : 1.5km
Distance to airport : 23km
Nearest beach : Dizac at about 50m
Air conditioning in all bedrooms
Private pool

Surface : 200m2
Maximum Nb adults : 8
Nb toilets : 4

Lounge
Nb sofa 1 seater : 2
Nb sofa 2 seaters : 1

Bedroom 1
Nb single bed : 2
Nb Queen size bed(s) (160cm) : 1
Air conditioning
Mosquito net
Exclusive shower room

Bedroom 2
Floor : Ground floor
Nb King size bed(s)(180cm) : 1
Air conditioning
Mosquito net
Exclusive shower room

Bedroom 3
Floor : Ground floor
Nb Queen size bed(s) (160cm) : 1
Air conditioning
Mosquito net
Exclusive shower room

Bedroom 4
Floor : Ground floor
Nb Queen size bed(s) (160cm) : 1
Air conditioning
Mosquito net
Exclusive shower room

Kitchen
Large fridge with separate freezer compartment
Dishwasher
Coffee pot
Nespresso
Toaster
Services
Linens provided : sheets, towel, kitchen towels
Laundry available
Baby cot loan (on request upon booking)
Baby high chair loan (on request upon booking)
Provision of the 1st breakfast

Terrace
Surface : 40m2
Coverage : Covered
Table capacity : 8 to 10
lounge_capacity : 4 to 6

Swimming pool
Surface : 43m2
Largest length : 9.5m
Larger width : 4.5m
Minimum depth : 1.5m
Maximum depth : 1.5m

Infinity pool
Salt water
Garden
Surface : 2400m2
Gazebo

Parking
Mask
---
Very clean and beautiful house ! a lot of space , you will have everything you need , fully equipped . Infinity poll with breath taking view to the diamond rock, a huge yard with the place to have barbecue outside. Really conferrable beds , every room have their own bathroom and conditioner. Close to the beautiful beach . Thanks to the owners we really felt like at home. Do not look no more, this is the place where you want to spend your holidays with friends or family ! A+ recommendations
---
En fait il y a très peu à dire: tout était parfait. La maison, la piscine, la plage, la vue, les restaurant tout près (mention spéciale pour "Chez Ernest"), les environs... Et propriétaire très sympatique en plus.
---
En fait il y a très peu à dire: tout était parfait. La maison, la piscine, la plage, la vue, les restaurant tout près (mention spéciale pour "Chez Ernest"), les environs... Et propiétaire très simpatique en plus.
See more reviews
---
This was a lovely property and we truly enjoyed our two week stay in Le Diamant. The house is airy, bright and very comfortable. The pool is beautiful and refreshing. There are two beaches just a short walk down a path out of the yard. There are good restaurants and grocery stores close by which is all very convenient. We enjoyed exploring the beautiful island of Martinique. We took a wonderful catamaran day trip, rode quads at a sugar cane plantation / rum distillery, explored some of the towns at the north and south ends of the island with many lovely beaches and outdoor markets all over the island. The owner provide us with a welcome package including a bottle of Rum, Champagne, foie gras, coffee, eggs, milk, cheese and bread - very nice and thoughtful! We have rented a number of vacation homes over the last several years and prior to this experience basic essentials such as toilet paper, paper towels, garbage bags, dish washing detergent, etc. have always been provided so we were a little surprised that while there were enough of these to get us started they were not considered a part of the rental so knowing this in advance would have been helpful. The kitchen is well equipped and we did enjoy cooking several meals and dining on the veranda near the pool. We would recommend visiting Martinique and this villa in Le Diamant. Our trip was very relaxing and enjoyable!
---
We went with our adult children and spouses, 7 in all, and there was plenty of space. The infinity pool with view of the sea and Diamant was breathtaking as were the views from both sides of the beaches. We had a FABULOUS time and did not want to leave! Thank you Régine!
---
Très belle maison, bien située, bien équipée Propriétaire très sympathique et réactive
---
Très belle villa dans un cadre somptueux, tout confort. Bien décorée et équipée. Terrasse, piscine, vue : un régal ! Environnement calme, mer accessible depuis l'immense jardin (attention mer agitée peut être dangereuse) Accueil très chaleureux des propriétaires. Très bien pour 3 couples, la 4ème chambre étant bien moins agréable.
---
What amazing Christmas vacations we had in this house. We were a total of 8 adults, 2 children and a baby for 2 weeks. Great view from the house with a unique view on the Diamant; the decor and the atmosphere were perfectly on point with minimalistic and clean beach house approach. The space and the backyard gave a very "zen" feel to our stay. We were a bit afraid with the latest comment stating the house was not close to the beach. Worry not, you have a DIRECT access to the beach, you just have a walk a short path from the backyard directly onto the Diamant beach, and it is absolutely marvelous. The sand is very soft and gradually enters the ocean, making it perfect to enter the water. My wife and I walked some mornings on the beach with our 9-months old baby before breakfast. The house was very clean, AC working in every room and the fridge had no problem keeping the food cool and making ice cubes. The kitchen is fully equipped and it was a blast to cook with so many people in it. Every bedroom has a waterfall shower in it and it feels just perfect after a long day hiking, or on the beach, etc. The pool was so enjoyable, with a direct view to the Diamant. Perfect for late evening swims, or stargazing when night comes. One of my favorite part of the house is the deck with the view on the pool, the Diamant and the backyard. It was so peaceful and magical. We met the owners during our stay and shared a drink together. They were very friendly and cared a lot for what we thought of the house and our stay. They went above and beyond by purchasing a high chair and a bed for the baby. The owner also greeted us with a beautiful floating wood Christmas tree attached to one of the walls, perfect to put us in the mood. I hope many more will enjoy this villa, we surely recommend it.
---
Nous avons absolument adoré cette propriété. C'était parfait pour notre groupe d'un couple et de trois célibataires. AC dans les chambres a bien fonctionné. Nous avons eu du mal à le trouver et n'avons pas pu joindre le propriétaire pendant 90 minutes. Nous avions demandé des indications mais nous les avons seulement reçues à Le Diamant, pas à la maison. Nous avons donc roulé longtemps jusqu'à ce qu'elle appelle. Assurez-vous de demander des précisions avant de partir. Nous avons passé de merveilleux dîners chez Ernest et New Cap, tous deux à 5 minutes à pied. La pizza et le pizzabook est tellement bon! La maison a une cuisine bien équipée, donc cuire les repas était très facile. La plage Diamant est la plus belle plage de l'île et elle est accessible depuis la maison. La piscine était fabuleuse. Nous avons passé la majeure partie de notre temps à l'extérieur et nous avons utilisé plusieurs bidons d'aérosols. Nous avons passé un si merveilleux séjour en Martinique que nous envisageons d'y retourner l'année prochaine. Nous voudrions certainement louer cette maison à nouveau!
---
Cette maison est un rêve! Nous (deux familles avec un enfant chacune) avons passé une semaine dans cette magnifique maison. Tout est moderne et meublé avec beaucoup de classe, la disposition des pièces est parfaite: chaque chambre a sa propre salle de bain et les pièces sont suffisamment éloignées pour permettre la confidentialité. La piscine à débordement est magnifique et la vue sur l'emblématique Martiniques (le Diamond Rock) n'a pas de prix! Deux marches mènent à deux plages. L'un offre deux restaurants, l'autre se trouve à quelques pas de la petite ville de Diamant. Et l'emplacement lui-même constitue un bon point de départ pour explorer le sud de l'île (remarque: vous devriez avoir une voiture!). Les propriétaires sont très accueillants et nous ont merveilleusement accueillis et soignés! Globalement, de super vacances inoubliables ... hautement recommandé! Merci beaucoup, Régine! A la prochaine fois!
---
Très très belle maison, nous étions 8 personnes tout le séjour (12 jours) 3 couples et 2 enfants et vraiment chacun a trouvé son indépendance . L'accès direct à la plage a été bien apprécié de tous, autant pour la baignade que pour aller faire les courses et le marché . Les matériaux, la décoration et l'équipement sont de très bon goût. Régine, la proprietaire, a été très accueillante et charmante.
---
Notre famille avons séjourné deux semaines dans cette superbe villa et nous en garderons de merveilleux souvenirs. Les propriétaires Régine et Bruno sont très attentifs à vos questions et demandes, ce qui fut très apprécié. Nous sommes allés visiter quelques endroits dont le jardin de Balata et la distillerie St-James ainsi que les nombreuses plages mais le confort de la maison, la terrasse et la piscine ainsi que la plage du Diamant à une minute de marche ont fait en sorte que nous sommes restés plus souvent installés confortablement "chez nous".
---
Nous avons passé un moment incroyablement génial! La maison était parfaite pour notre famille - quatre enfants âgés de 11 à 14 ans. La piscine était parfaite pour nous et la vue est difficile à battre! Les propriétaires étaient très sympathiques et réactifs. Je recommanderais certainement ceci à un ami.
---
Mon mari et moi avons fêté nos 10 ans de mariage avec nos 3 enfants (9, 7 et 4 ans). La maison était parfaite, la piscine était incroyable. Nous passions la plupart des matins au bord de la piscine et descendions à la plage avec les planches de boogie l'après-midi. Nous avons fait une excursion d'une journée à mont Pelée, fait de la plongée avec tuba à Les anses d'Arlet et sommes allés à deux reprises dans les deux restaurants voisins. La seule chose que nous aurions aimé avoir, c'est un haut-parleur à connecter à Pandora! J'ai hâte de revenir.
---
Je n'ai presque pas envie de commenter cela pour garder cet endroit étonnant secret - quelle belle villa où nous avons eu le plaisir de séjourner. Un groupe d'entre nous - mon mari et mes trois amis proches - avons passé 10 jours dans cette charmante villa, qui se trouve à la périphérie de Le Diamant. La maison dispose de quatre chambres / quatre salles de bains, ce qui est idéal pour les couples / amis intéressés par un certain degré de confidentialité. La cuisine est bien équipée et toutes les salles de bains ont été récemment rénovées. Les meilleurs aspects de cette villa: (1) la superbe piscine / vue depuis la terrasse - vous pouvez entendre et voir la mer depuis de confortables chaises longues; (2) l'emplacement - à environ 35 minutes de FDF et à un trajet facile (ou à la plage) vers Le Diamant qui est équipé de nombreux restaurants, de deux épiceries, d'une boulangerie et d'un magasin de pizzas. La maison est une promenade facile à deux plages et une promenade courte à deux restaurants. J'ai loué beaucoup de maisons et d'appartements dans le monde entier et ce fut l'une de mes expériences préférées. J'ai eu une véritable escapade tropicale, sans sacrifier les commodités. Le Wi-Fi a bien fonctionné si vous devez rester connecté! Regine était très sensible via WhatsApp / SMS / email. Une voiture est utile malgré toutes les choses à distance de marche car vous voudrez explorer l'île pendant votre voyage.
---
Nous avons séjourné dans cette belle villa en janvier 2017, l'endroit est magnifique et l'emplacement exceptionnel, face au Diamond Rock et avec un accès direct à deux magnifiques plages (la grande plage du Diamant et la plage d'Anse Caffard). La maison a été rénovée depuis très peu de temps et est équipée de tout ce dont vous avez besoin. nous avions besoin de deux abat-jour et de quelques ustensiles de cuisine que les deux très gentils propriétaires, Régine et Bruno, nous ont fait immédiatement! La villa reflète absolument ce que vous voyez sur les photos, les chambres et les salles de bain sont confortables et meublées avec goût, équipées de la climatisation et de moustiquaires sur les lits, la piscine à débordement surplombant la mer est exceptionnelle et impressionnante (apéritifs inoubliables au coucher du soleil en ... plongée). Les seuls grains de beauté sont dus aux moustiques, vraiment énervants et mortels, ainsi qu'à la clôture ouverte sur une rue latérale qui donne au début un sentiment de sécurité minime (en fait, le quartier est très calme). Depuis cette position, nous avons pu facilement visiter toutes les plages de la partie sud de la Martinique (la voiture est évidemment obligatoire !!), puis revenir dîner dans les fantastiques petits cafés sur la plage également à quelques mètres de la villa !! Hautement recommandé!
---
---
Très belle villa entièrement rénovée avec gout offrant de belles prestations. Très agréable piscine à débordement de bonne taille poursuivant la terrasse en teck. Villa très fonctionnelle et vaste. Un accueil très chaleureux des propriétaires et un kit de bienvenue très généreux en cette période de fêtes que nous avons beaucoup apprécié. Un très beau séjour.
---
Magnifique villa face au Rocher du Diamant avec une superbe piscine. Equipement de haute qualité. Si nous devons revenir à plusieurs nous avons trouvé la villa de nos rêves dans un endroit paradisiaque. Allez y les yeux fermés. Merci aux adorables propriétaires Régine et Bruno de nous avoir fait rêver. Pascal et Valérie
Mask
---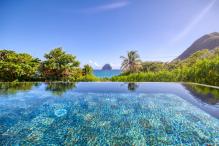 Magnificent villa on the beach
Nearest beach :
Dizac at 50m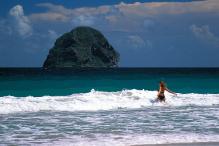 Surrounded by the hills of Mornes Larcher and Clochette, lined with shady underbrush, the beach of the Diamant is simply
Read more