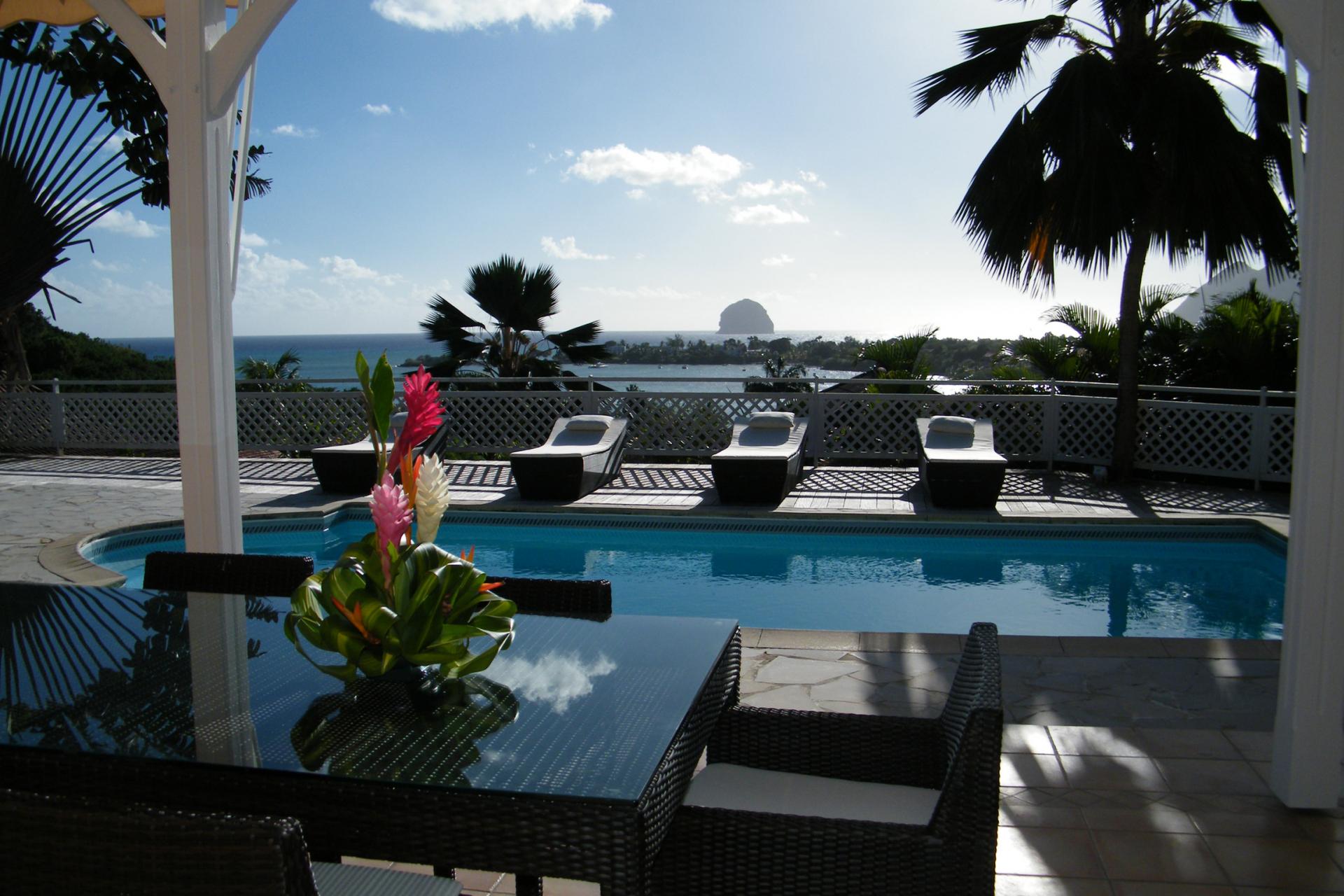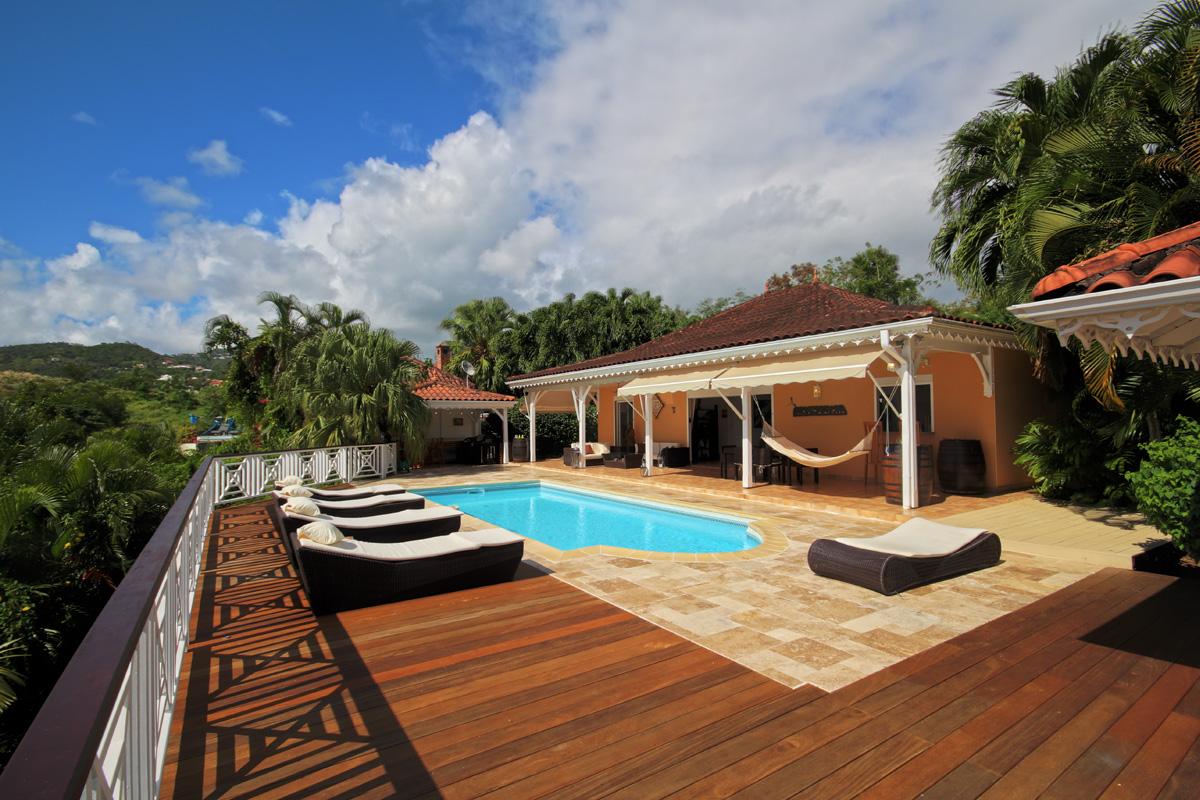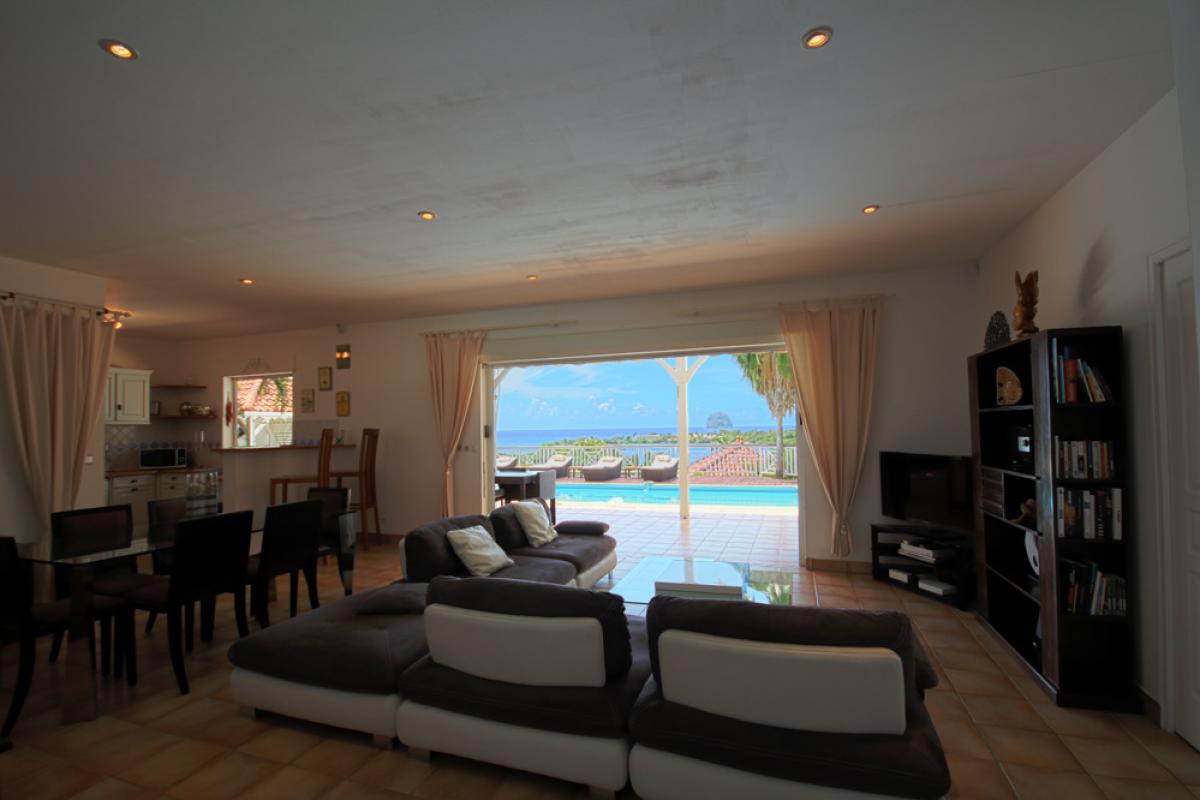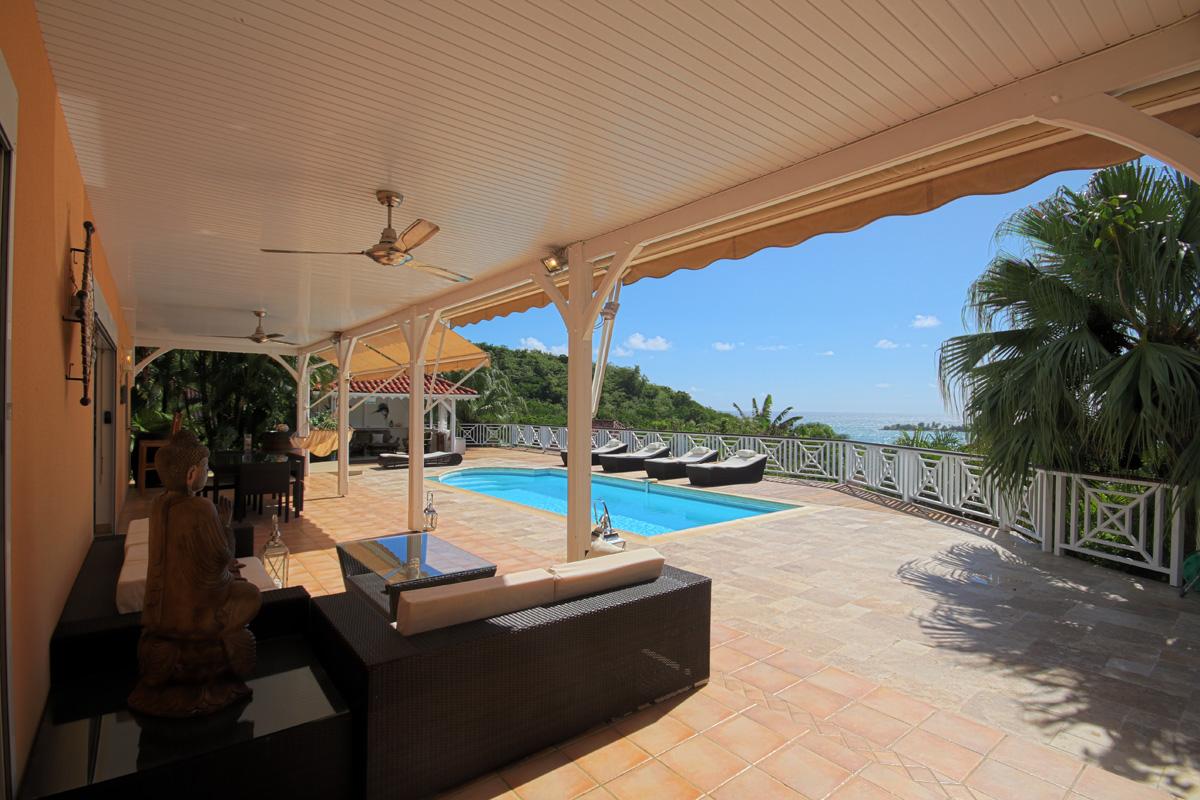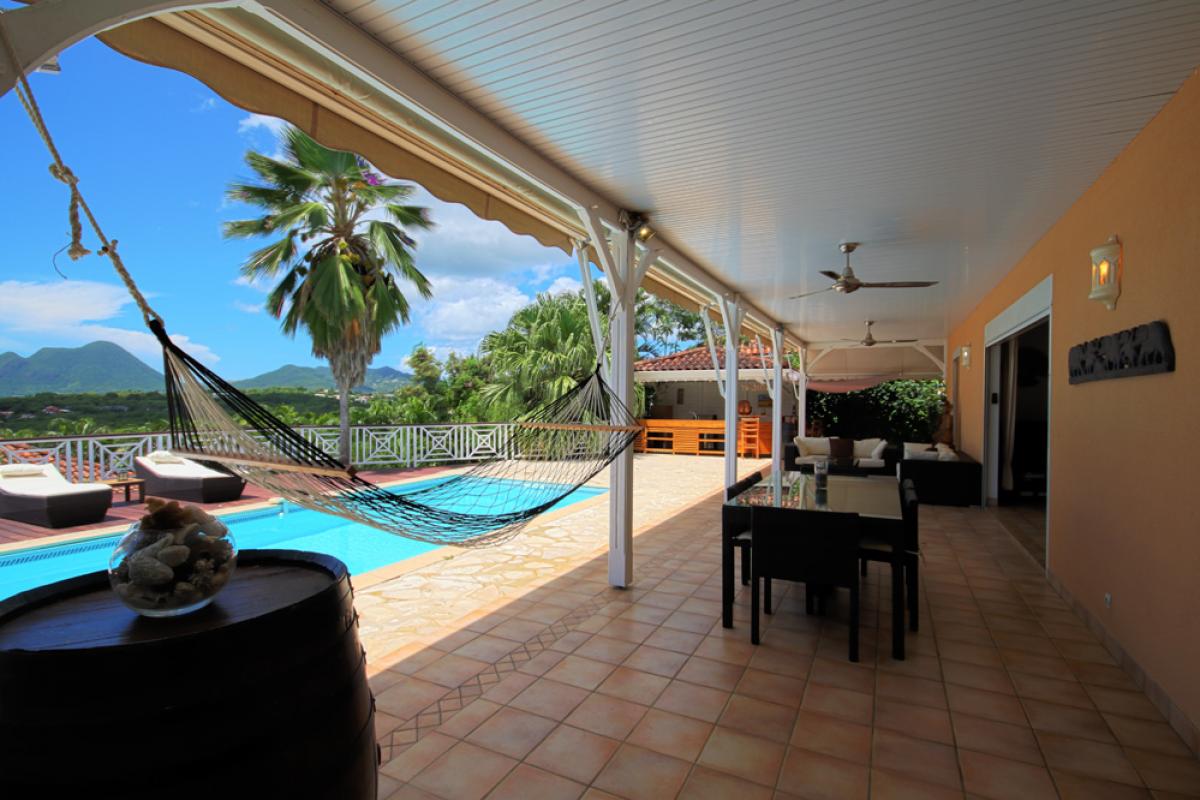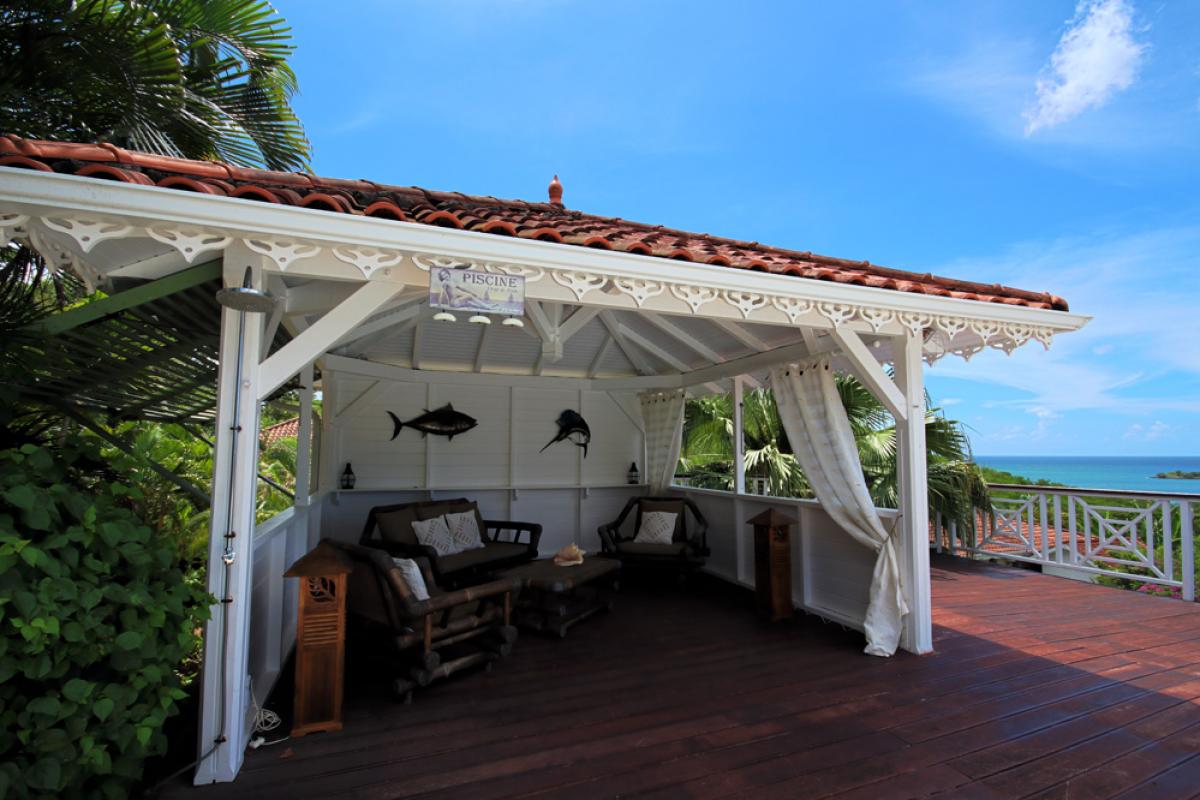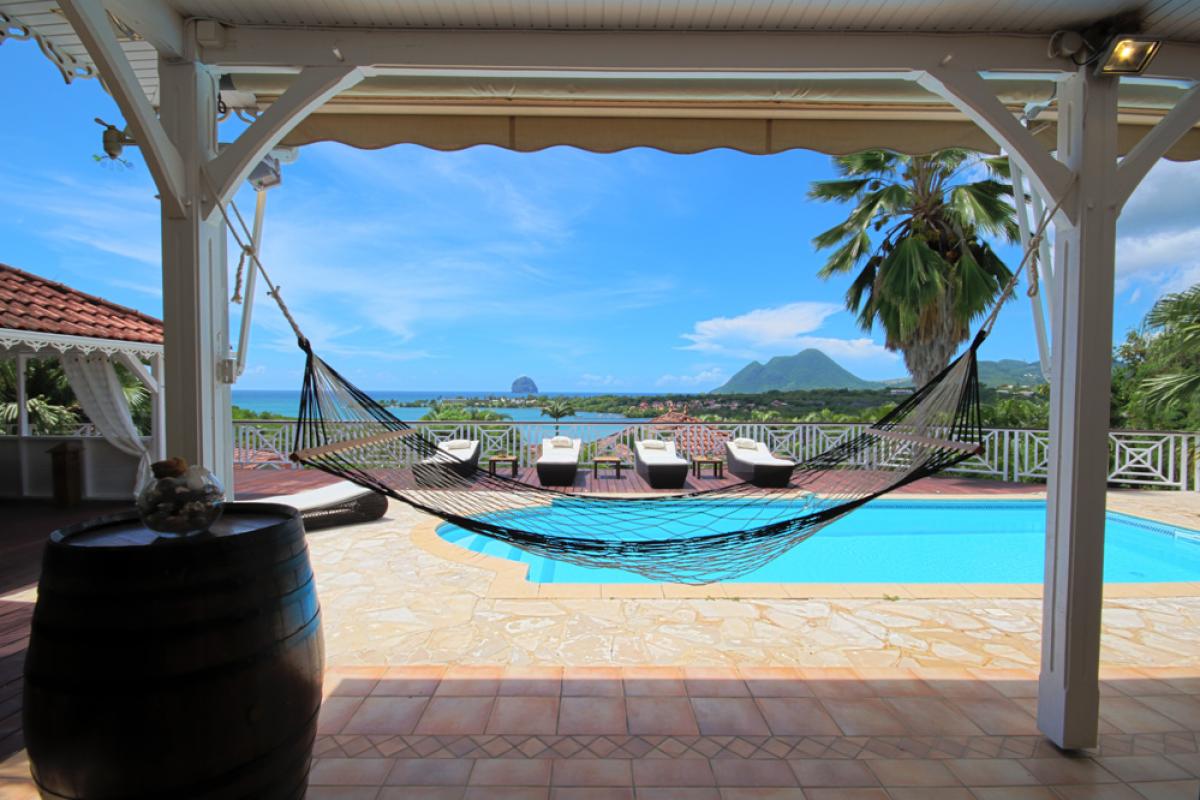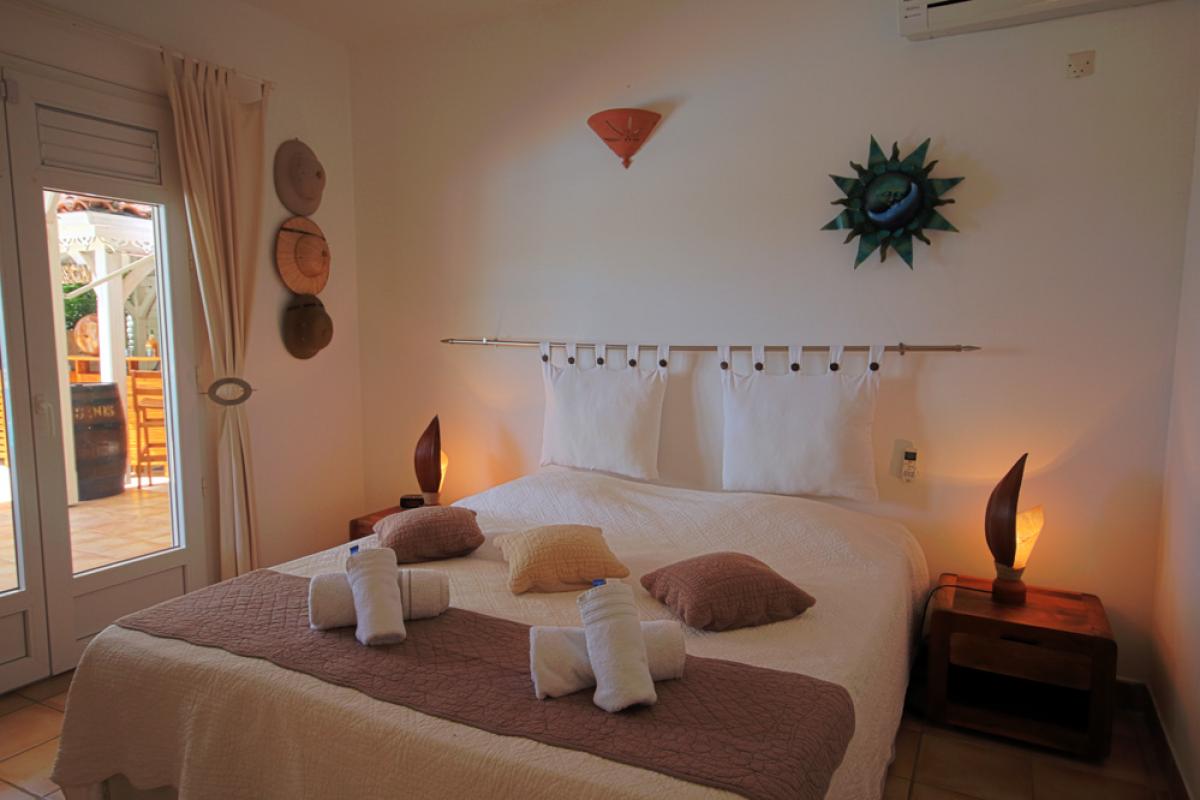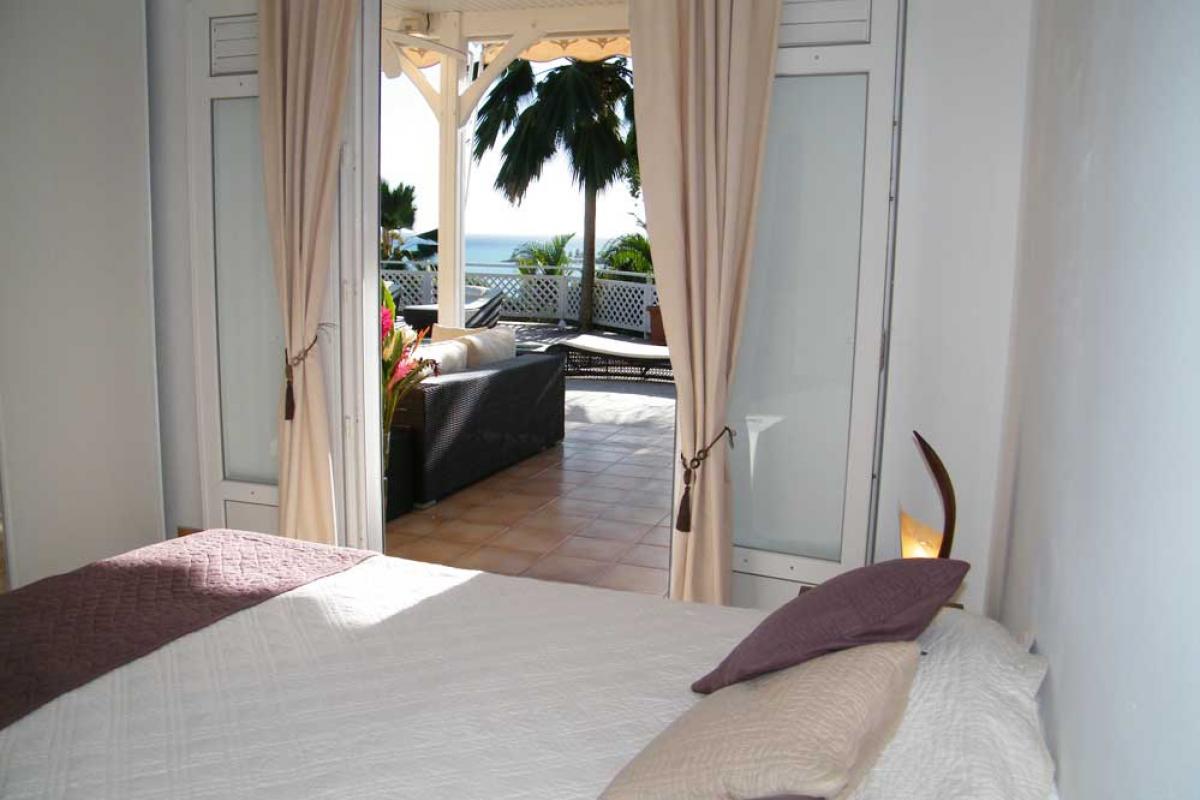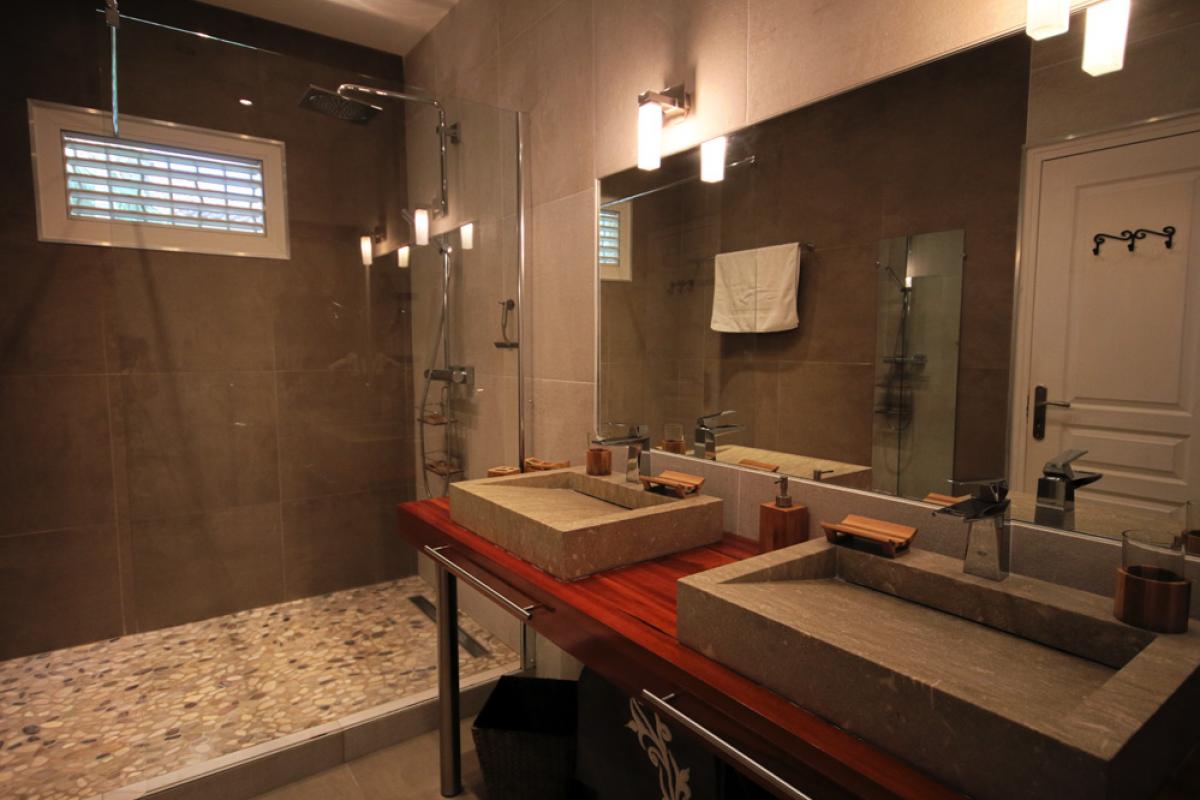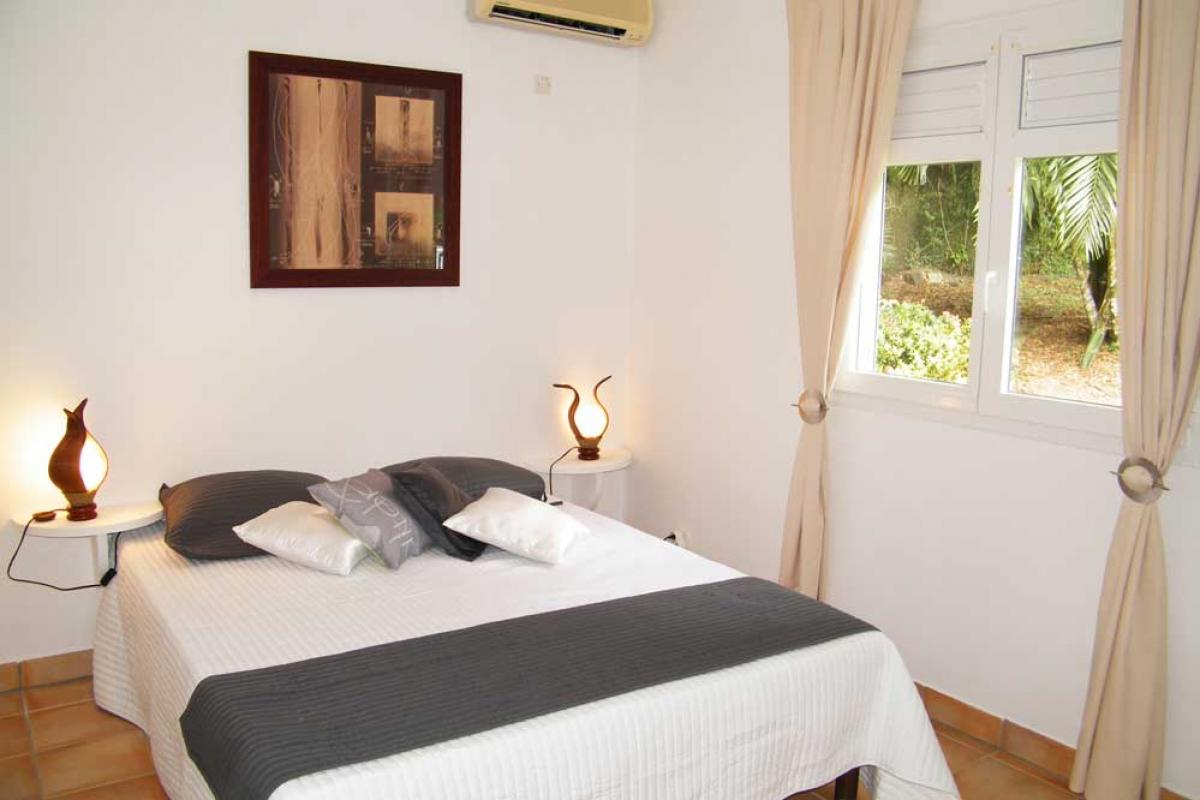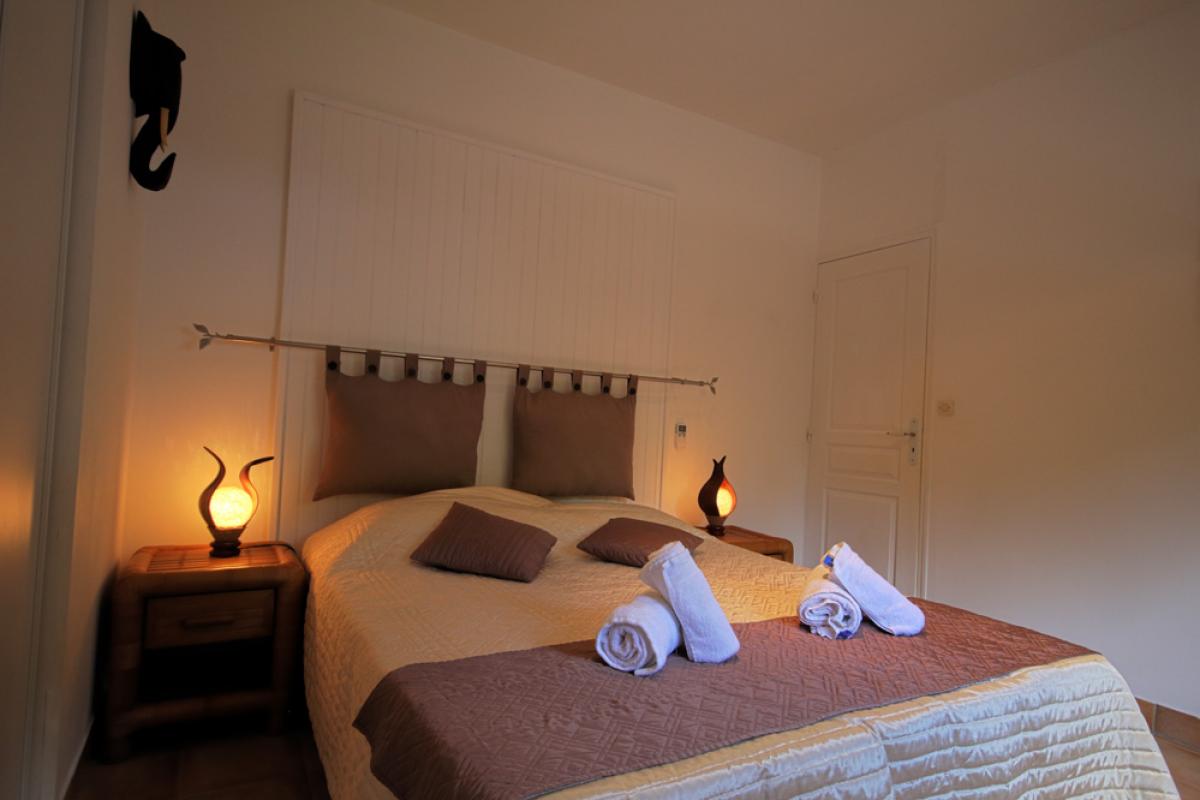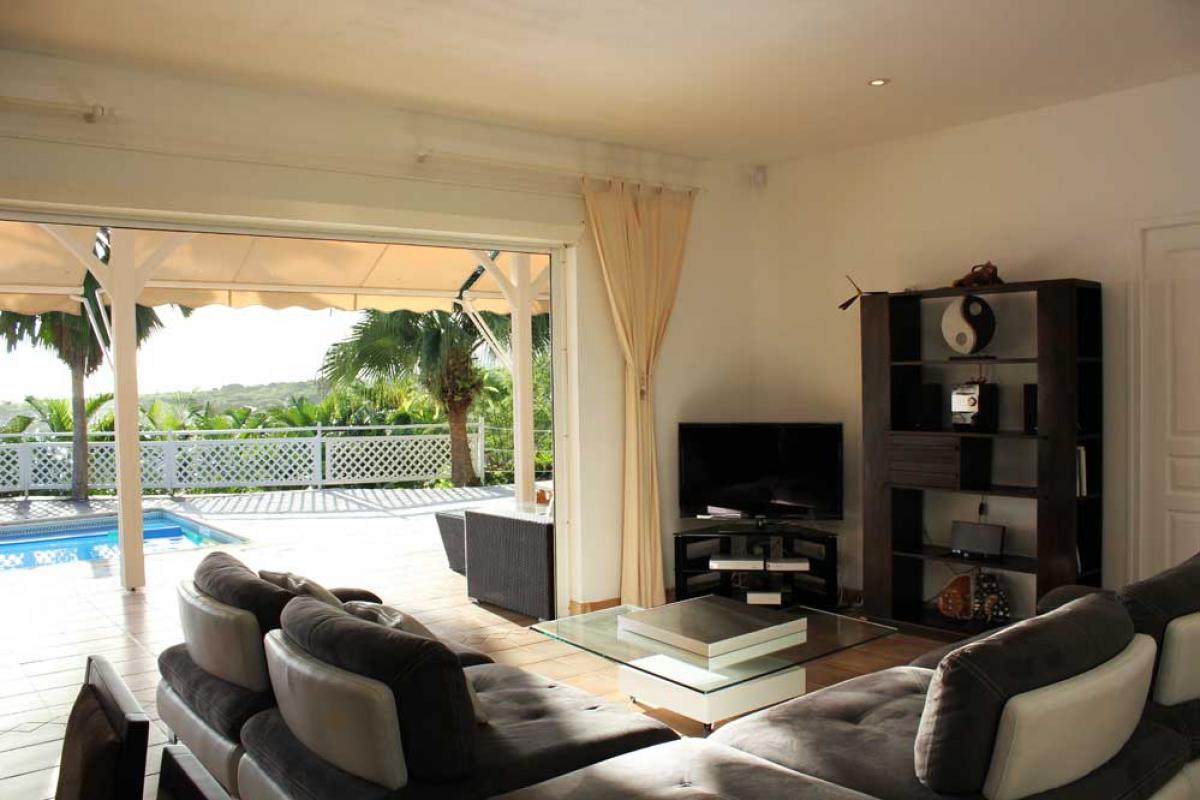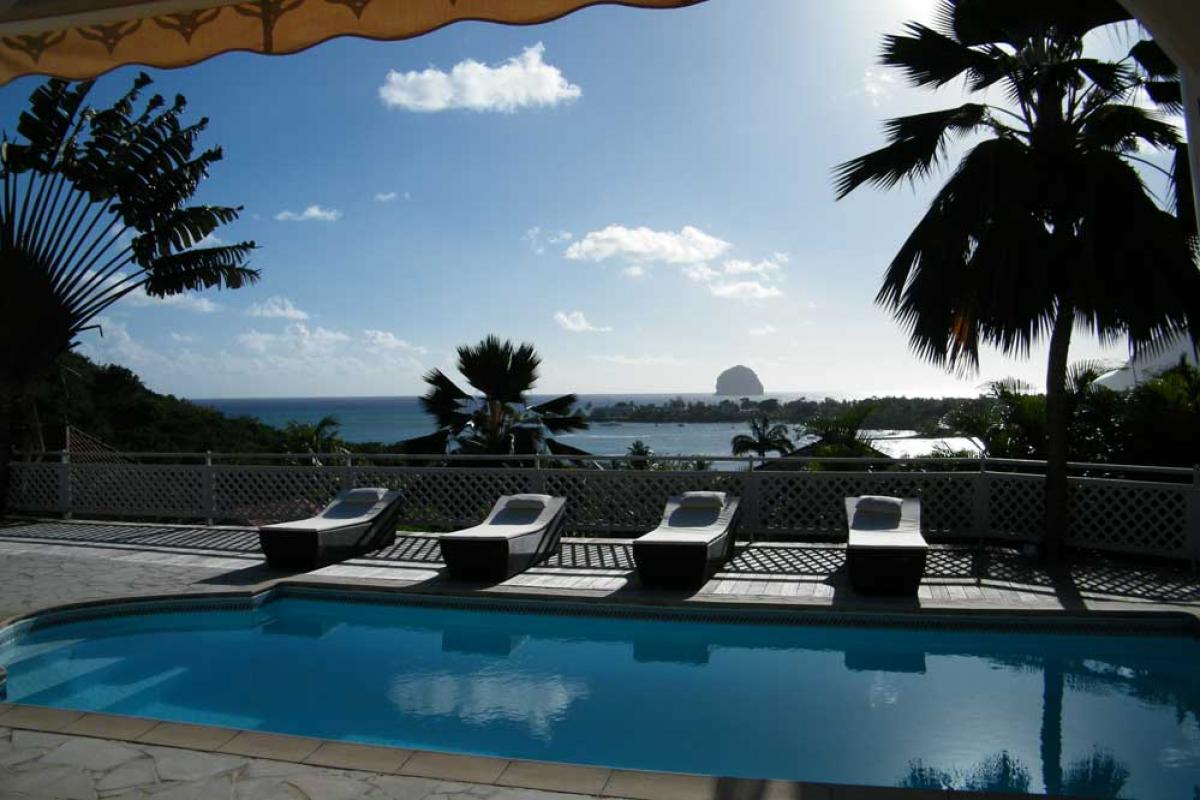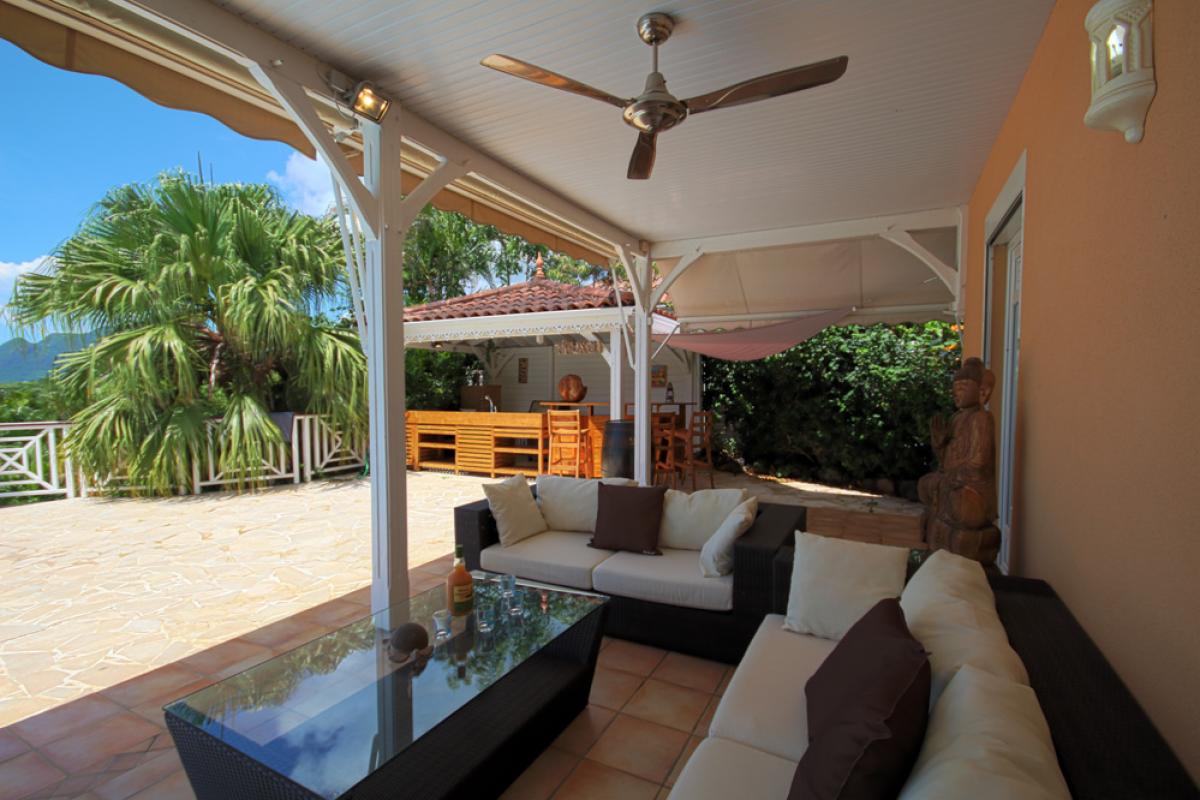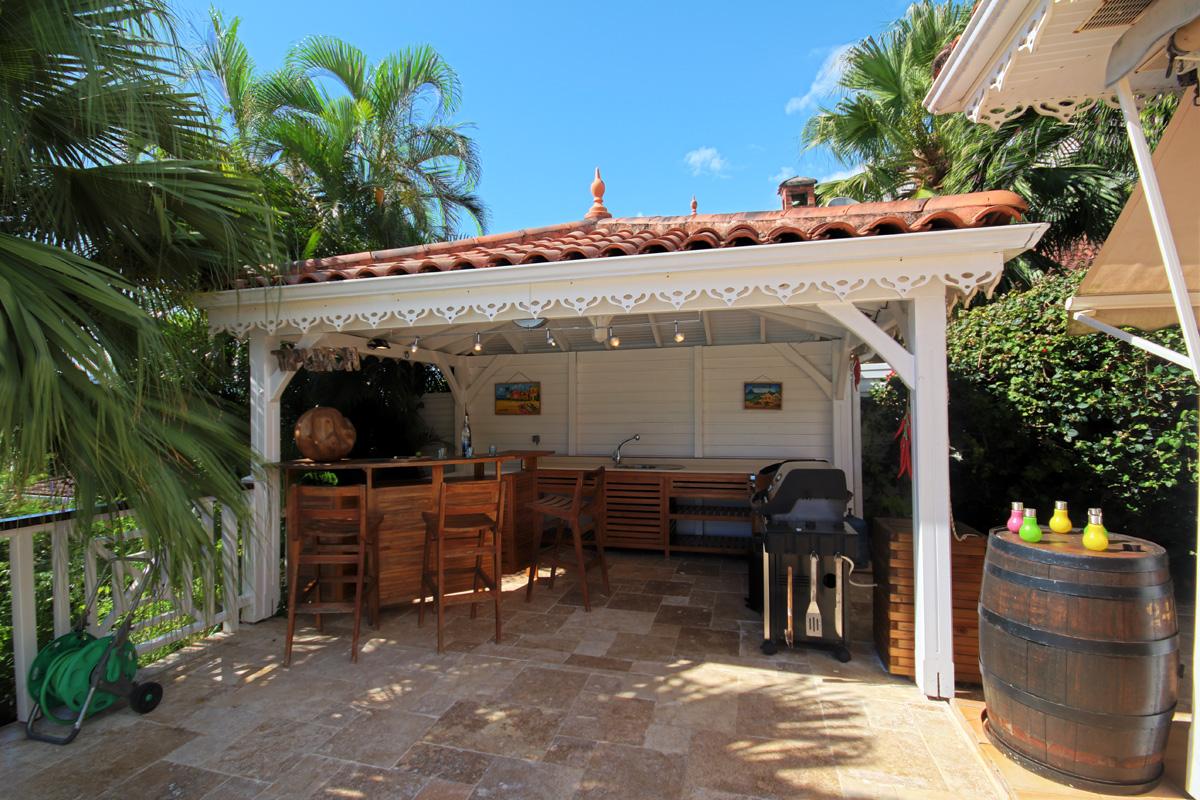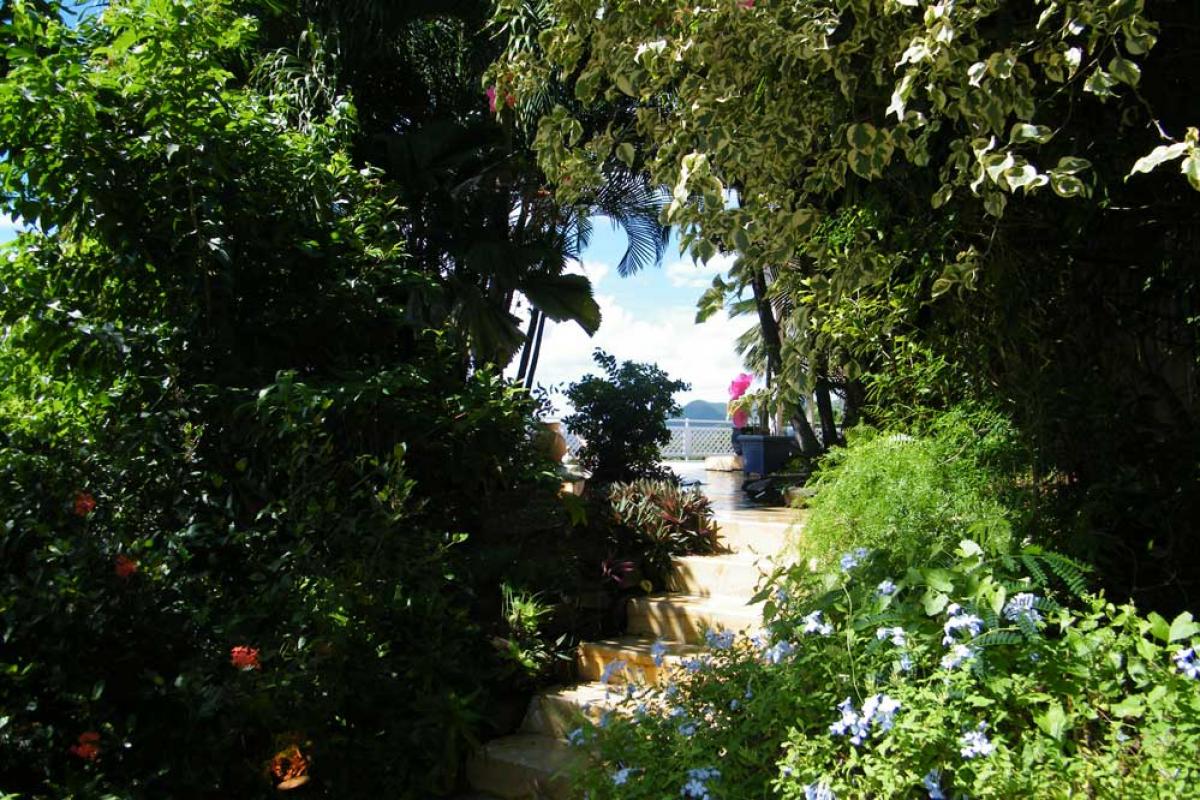 Luxury villa & Swimming pool
---
---
Price : $250 - $466 / night
---
Air conditioning

Swimming pool

Barbecue

Internet

Wifi

Television

Washing machine

Tumble dryer

Iron and board

Linens
Location of the villa
The villa is in the very quiet residential area of "O'Mullane beach" in the Diamant village. Surrounded by a beautiful tropical garden, it enjoys a wide view on Cherry Point, Le Rocher du Diamant and Le Morne Larcher.
About 250m, you can  swim and look for seashells on the small protected beach but you will probably prefer to go on the beautiful Diamant beach located about 1800 meters away, or travelling around the many beaches just a few minutes drive away.
A local shop is less than 700 meters away and the Diamant village with its restaurants and small shops, is 1.5 km away.
Property
This one-level villa has new comfortable and modern furnitures. It features:
A large living room open onto the terrace with a dining area and a lounge area
3 Air-conditioned bedrooms, 1 with a King size bed (180X200), 2 with a Queen size (160X200), one with an attached shower room
A second bathroom with shower
A well equipped open kitchen with a beautiful sea view and view on the swimming pool
In front of the villa, a large terrace and a wooden deck surround the  9m X 4m swimming pool (electrolysis system - without chlorine ... very nice!). On each side of the swimming pool, the two gazebos are very pleasant: one for its outdoor lounge where you can enjoy a Ti-punch or tropical juices, while facing the sunsets behind the Diamond Rock, the other for its exterior kitchen with a gas barbecue and a plancha.
Lounge chairs on the terrace and around the swimming pool will allow you to perfect your tan!
Please note: Various rates according to the number of occupants (1 rate 2 bedrooms for 4 guests, 1 rate 3 bedrooms for 6 guests)
Private concierge
When you choose a luxury villa, you get much more than a simple accommodation: Antilles Exception offers its concierge service reserved for Antilles Exception customers. These high quality and personalized services are numerous:
Many great amenities for you to select, such as…: In-house breakfast or breakfast+dinner, home chef or grocery delivery, daily cleaning, baby-sitting, home massage, manicure...
Unique excursions: Catamaran or motorboat outings (possibly privatized), deep-sea fishing, dolphin outings, dune buggies, horseback riding, exotic ballets at the villa, rum discovery...
And tailor made services: You imagine, we make it happen!
More infos about the villa
Services and Amenities
Linen provided (sheets, towels, kitchen cloths)
Barbecue
Dishwasher
Washing machine
Foldable baby crib available upon request at time of booking
Dryer
Satellite channels
Internet and Wifi
Mandatory cleaning fee, from $136 to $158 (according to the number of occupants and/or the number of room rented) to be paid directly on site.
To do close to the villa
Nautical activities, including diving at Diamant Rock and surfing at Anse Diamant beach
Hiking on Le Morne Larcher
Visit to Slave Memorial and the Shell Museum "musée du coquillage"
There are two markets at the diamant, the covered market is in the center and the open air market nearest to the villa.
Many small restaurants in the Diamant village
Details
Neighbourhood name : O'Mullane plage
Distance to supermarket or shop : 800m
Distance to airport : 20km
Nearest beach : O'Mullane beach at about 250m
Air conditioning in all bedrooms
Private pool
Small pets accepted
Surface : 130m2
Nb toilets : 2

Living room
Nb sofa 1 seater : 3
Nb sofa 2 seaters : 1

Bedroom 1
Nb King size bed(s)(180cm) : 1
Air conditioning
Exclusive Bathroom

Bedroom 2
Nb Queen size bed(s) (160cm) : 1
Air conditioning

Bedroom 3
Nb Queen size bed(s) (160cm) : 1
Air conditioning

Kitchen
American fridge (separate freezer and ice dispenser)
Dishwasher
Coffee pot
Nespresso
Toaster
Terrace
Surface : 40m2
Coverage : Partially covered
Table capacity : 6 to 8
lounge_capacity : 4 to 6

Swimming pool
Surface : 35m2
Largest length : 9m
Larger width : 4m
Minimum depth : 1.5m

Salt water
Out of sight
Garden
Surface : 800m2
Gazebo
Out of sight

Services
Linens provided : sheets, towel, kitchen towels
Baby cot loan (on request upon booking)
Provision of the 1st breakfast

Parking
Mask
---
Superbe villa, vue magnifique…que dire, tout était parfait !!!
---
Superbe location, avec probablement une des plus belles vues sur la baie du Diamant ! Villa très confortable, au calme, bien entretenue. Belle piscine avec une terrasse bien équipée et deux carbets pour un maximum de tranquilité, et d'espace pour chacun. Excellent accueil à l'arrivée avec l'attention appréciée du petit déjeuner pour le premier jour. Séjour parfait, même si la voiture reste indispensable pour toute sortie.
---
Nous sommes enthousiastes aussi bien par la qualité de l'hébergement que par l'accueil sur place de Mickaël qui s'est montré également très efficace pendant notre séjour pour résoudre les quelques petits problèmes rencontrés. Sans oublier l'étape de la réservation, qui s'est déroulée sans anicroche et de façon très claire. 20/20 pour tout cela.
See more reviews
---
EXCELLENT HERBEGEMENT CORRESPONDANT A NOS ATTENTES .
---
Un très bon contact avec l'agence malgré plusieurs interlocuteurs. Réponses rapides, disponibilité et bonne compréhension de mes besoins. La villa : parfaite sauf le problème de wifi qui a été très gênant pendant tout le séjour. Accueil amabilité et disponibilité de la responsable (Karine). Endroit à retenir : au calme, espace, propreté et surtout une vue dont on ne se lasse pas. Transfert : RAS, à l'heure et très aimable (félicitations)
---
Très belles prestation Emplacement stratégique idéal Disponibilité de l'agence tout au long du séjour (très appréciable Si nous retournons en Martinique, nous reserverons de nouveau cette villa sans héistation
---
Un accueil sympa mais ensuite quelques difficultés pour joindre la responsable. Pas de nettoyage piscine pendant la semaine. Suggestion : Un petit réfrigérateur coté carbet/bar serait apprécié
---
Rien à redire tous est parfait (organisation, réception, villa, équipement, situation)
---
Villa très agréable, très bien équipée, la vue est splendide. La Prestation est conforme au descriptif, tout comme les remarques déjà mentionnés. La villa vie, est vous accueillera avec le minimum pour débuter votre séjour ce qui est bien agréable. A chacun aussi d'y laisser le minimum en quittant les lieux, ce que l'on n'hésite pas à faire quand on l'a trouvé en arrivant. Merci pour la bouteille de Punch maison a l'arrivée comme le premier petit déjeuner. Nous ne pouvons que vous conseiller la prestation, le conseil est l'accueil de l'agence. Si nous devions revenir a la martinique nous reviendrions sans hésitation dans ce magnifique endroit.
---
Nous souhaitons vivement vous remercier car nous avons passé un séjour très agréable dans votre belle île. Cette villa est magnifique, très bien située, très bien entretenue, décorée avec beaucoup de goût et équipée avec du matériel de qualité. Toutes nos félicitations aux propriétaires. Nous n'avons eu aucune surprise, tout correspondait par rapport aux photos du site (ce qui n'est pas toujours le cas bien souvent il y a des surprises !!!..) Un grand merci également à Céline PLU qui nous a reçus à notre arrivée et qui fait part d'un grand professionnalisme et d'une gentillesse remarquable. Bravo à tous, nous parlerons de notre expérience et si nous devions revenir nous ne manquerons pas de vous contacter à nouveau. Très cordialement Corinne et Pierre-Olivier VICENTE
---
TRES BELLE VILLA. VUE MAGNIFIQUE. TRES PROPRE BIEN EQUIPEE. NB. les portes des placards des chambres fonctionnent mal. prévoir de les changer ou de les arranger.
---
Prestation conforme à ce qui était prévue – rien à redire – tout était parfait
---
Que dire de négatif sur cette villa: RIEN Tout était parfait - merveilleux séjour -
---
Très satisfaites de notre séjour en Martinique, la Villa était superbe et bien située
---
Cadre superbe et grand confort avec tout à disposition pour passer un agréable séjour dans cette magnifique villa. Très bonne position géographique pour découvrir l'île et très proche des belles plages du sud.
---
excellente villa, très bon confort, trés belle vue, belles qualités des prestations
---
villa Diamant: 5/5 Villa Anses d'Arlet: 4/5 (Impact Chantal)
---
Nous sommes très contents de notre séjour. Tout était parfait. Nous remercions Antilles Exception pour leurs conseils et leur gentillesse. La villa était super. Petit bémol : La piscine aurait été plus pratique s'il y avait pied au départ.
---
Villa avec une vue exceptionnelle sur le Rocher du Diamant dont on ne se lasse pas. Une literie d'excellente qualité et une cuisine extérieure très bien équipée (plancha, barbecue gaz). Un excellent séjour avec simplement un petit regret pas de plage accessible à pieds.
---
Nous avons passé d'excellentes vacances dans cette très belle villa, confortable et bien située. Résidence très calme. Merveilleux couchers et levers du soleil en face du Diamant. On ne se lasse pas de la vue....! Piscine très agréable et sécurisée pour les petits. Très bon accueil d'Antilles Exception. A conseiller vivement!
---
Belle villa qui a tenu ses promesses avec vue magnifique sur le Diamant, confortable et très pratique. Idéal pour une grande famille avec enfants de tous âges. Je la recommande et je suis prête à y retourner dès demain!
---
agence très sérieuse, contact facile par téléphone , grande disponibilité , villa parfaite correspondant bien aux photos du site,accueil chaleureux , magnifique souvenir !
---
La maison est bien située dans une résidence calme une très belle vue.
---
Notre séjour a été tout simplement excellent. Villa au calme avec vue magnifique, très bien située et tout à fait conforme à ce ce que nous souhaitions. Les prestations complémentaires (location de véhicule, ...) ont été également parfaites. Notre premier contact avec cette île magnifique et ses habitants ne sera sans doute pas le dernier... Grand merci à vous.
---
Superbe endroit très belle vue, grand calme lieu où il fait bon vivre.
---
Organisation sans faille pour les voyageurs individuels qui souhaitent le rester. Disponibilité avérée et efficacité immédiate pour les détails d'intendance locale.
Mask
---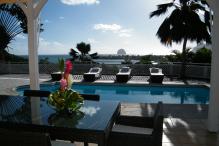 Luxury villa & Swimming pool
Nearest beach :
O'Mullane beach at 250m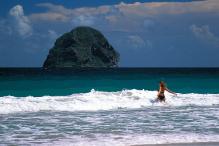 Surrounded by the hills of Mornes Larcher and Clochette, lined with shady underbrush, the beach of the Diamant is simply
Read more